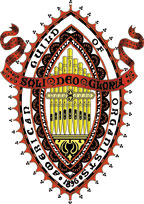 Newsletter
October 2015

Click here for the Newsletter Archive

Click here for a printable copy of the current newsletter



Dear Members and Friends,

I write this Dean's Letter past deadline. However, one advantage of a late submission is that I can rave about the October 3 concert Bach to Broadway, Two Organs, Two Organists, All Fun. Fun indeed it was!

This was a remarkable and unique show, and I am very proud that we were able to present it as a chapter. Particular congratulations go to Laura Russell, our sub-dean and chapter programming chair, and John Vanderlee, CHVAGO member and programming chair for the New York Theatre Organ Society. I also want to thank the new rector of Christ Church, the Rev. Susan Fortunato, who graciously officiated at the installation of officers which began the concert and offered free use of the church for the performance, also serving as co-sponsor with the CHVAGO and NYTOS for the event. It is wonderful when communities come together to create such a fine result.

Finally, not enough good can be said about the superlative performers, Nathan Avakian and member James Fitzwilliam. Nathan was brilliant, composing many of the duel arrangements they played and demonstrating youthful energy and enthusiasm. James came alive also, providing a fun companion for and repartee with his partner. Nathan's technique and memory were dazzling, showing mastery over the church's Gress-Miles pipe organ as well as the Allen Touring Unit Orchestra theatre organ. James rendered beautiful and sensitive interpretations of Bach on the organ and Rachmaninoff on the piano. He also provided (not listed in the program) a brisk two-step rag ("The Easy Winners") by Scott Joplin.

If you missed this concert, you missed an extraordinary event. The way to make up for it is to pull out your calendar and immediately write down the next event which also promises to be a very fine concert not to be missed. On Sunday, November 8 at 7:00 PM, also at Christ Church, concert organist and Vassar College organ professor Gail Archer will present a recital of organ works by women composers. The concert will also include a cappella works of women composers performed by the Vassar College Women's Choir, directed by Christine Howlett. Both the organ playing and ensemble singing will be extraordinary.

Then more extraordinary singing will be rendered by the St. Thomas Choir of Men and Boys performing at Zion Episcopal Church, Wappingers Falls on Friday, November 20 at 6:00 PM. Please check ticket information in the Calendar. Seats are going quickly, so do not miss out!

It is very easy to be enthusiastic about our chapter's programs this fall. Please take the opportunity to attend these great events. Also check the Calendar for other fine events including Kairos, the Con Brio Concerts, West Point and other venues here in the Hudson Valley.

Take time to enjoy the beauties of fall inside and out!


Craig Williams, AAGO
Dean, Central Hudson Valley AGO

Membership News
Welcome to new member Banjamin T. Vise, formerly of the Canton, OH chapter. He is now Director of Music at Christ Episcopal Church in Suffern, NY. His contact information is:
Benjamin T. Vise
12 Rustic Drive
Airmont, NY 10952
330-327-0895
bvsoulmasseur@gmail.com


Welcome also to Mary Danyla-Gold. Mary is a returning former member. Her contact information is:
Mary Danyla-Gold
46 Pleasant View Avenue
Beacon, NY 12508
845-249-5448
marydanyla@gmail.com


Nancy Brown has a new phone number, effective immediately: 845-373-8122.


Grant Chapman has a new address, effective immediately:
Wm. Grant Chapman
PO Box 157
West Point, NY 10996-0157
Grant's other contact information remains the same.


Nancy Vanderlee's email address has changed, effective immediately: navanderlee@gmail.com.
Farewell to a Past Dean

We are saddened to report the death of Don Filkins, who has played such an important role in the formation and development of our chapter. He will be greatly missed.
His obituary, as printed in the Poughkeepsie Journal, is reproduced in part below:
Filkins, Donald Earl of Fishkill, beloved husband and father, entered into rest Thursday, September 17, 2015 at Vassar Bros. Medical Center, Poughkeepsie. He was 81.
Born August 25, 1934 in Troy, NY, he was the son of the late Harold Filkins and Janet Noonan. He is 1964 graduate of Hartwick College.

Donald was a retired Organist and Musical Director for the First Presbyterian Church of Beacon where he renovated the music program, starting a bell choir, which was the first of its kind in the area. He also was the former Organist for Webb Horton Presbyterian Church, Middletown and the First Presbyterian Church, Wappingers Falls, returning home to the Beacon church before retiring last year. He performed charity concerts once or twice a year for over 35 years, collaborating with other local musicians in the Hudson Valley. 

He was a member of the American Guild of Organists and served five terms as Dean of the Central Hudson Valley chapter as well as a term as Dean of the NYC chapter. He was a representative of the Presbyterian Association of Musicians to the Presbytery for many years as well as a member of the First Presbyterian Church of Beacon.

On August 28, 1954 in Beacon, NY he married Doris Helen Johnson, Mrs. Filkins survives at home.

In addition to his wife, survivors include: four daughters, Margaret Rifenburg of Wappingers Falls, Anne Degli-Angli of Whitney Point, Miriam Tully of Hopewell Junction and Janet Reynolds of Eaton, GA. 10 grandchildren, seven great-grandchildren and several nieces and nephews.

In lieu of flowers, memorial contributions may be made to The First Presbyterian Church of Beacon, 50 Liberty St. Beacon, NY 12508.

Membership Questions

Please address all questions regarding membership and ONCARD to our Registrar/Membership Coordinator, Barb Bayers. Her phone number is 203-260-4295 and her e-mail address is babayers@gmail.com.

Deadline for Next Newsletter

We are always glad to receive input for the chapter newsletter in the form of calendar items, reviews of recent concerts and events, biographies, letters, photographs, etc. In order to make sure these submissions can be processed in a timely fashion, please make sure they are received by the 23rd of each month. However, material such as calendar items may be submitted at any time; even if the material may not make it into the printed newsletter, it can be quickly posted on our web site at www.chvago.org.

You may submit newsletter or web site material by mail, e-mail, fax or phone. Just contact the editor, Susan LaGrande, using the information given above. Remember, the deadline for the next printed newsletter, to be available the first week in November 2015, is October 23.

Editor's Corner

This newsletter is published by the Central Hudson Valley Chapter of the American Guild of Organists. The editor is:
Susan LaGrande
12 Montrose Lane
Wappingers Falls, NY 12590
Phone: 845-226-6496 (home) - e-mail: SUSANEL2@OPTONLINE.NET