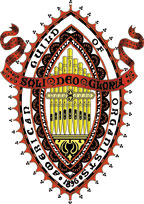 Newsletter
November 2015

Click here for the Newsletter Archive

Click here for a printable copy of the current newsletter



Dear Colleagues,

Past is prologue. Looking at this past month and then looking at the coming month, we see this truism in a way that is exciting but also another way that is sad.

Looking at the way which is sad and solemn, we posted in last month's newsletter a "Farewell to a Past Dean," dedicated to Don Filkins who served the Central Hudson Valley chapter and the overall cause of organ music for decades. We were sorry to announce his passing and feature several passages from his obituary. If you have not read the article, I invite you to look in the archives and read about the life of a fascinating and creative man.

That said, we feature another "Farewell to a Past Dean" this month. This is not a repeat of last month's article. This is dedicated to Patricia Maimone who served the AGO and the Hudson Valley for many years. Her most notable position here was to dedicate almost 29 years of her career to the West Point Post Chapel. The Post Chapel is one of four chapels on West Point different from the Cadet Chapel, serving soldiers, officers and the general community of West Point. The music programs of the Post Chapel are ambitious and were particularly so under Ms. Maimone's direction. When she took over that position, she immediately inherited an organ project which made the pipe organ at the Post Chapel the second largest in the Hudson Valley! When she retired from West Point, she continued to serve with distinction first at St. Mary's Episcopal Church in Cold Spring and then moved to southern California to be closer to her son's family – and there served at Mt. Olive Lutheran Church in Santa Monica. We salute Pat, along with Don Filkins and also two other deceased members, Anita Drake and Martha Miller, who may not have served as officers but were still vital parts of our community.

Turning to the exciting way history repeats itself, we remember the announcements of the Bach to Brooklyn Concert last month. This month there are two concerts being co-sponsored by our chapter which are being presented by first class musicians with international reputations. First, concert organist and Vassar College organ professor Gail Archer will present a recital of organ works by women composers. The concert will begin with a cappella works of women composers performed by the Vassar College Women's Choir, directed by Christine Howlett. This recital will take place on Sunday, November 8 at 7:00 PM, at Christ Church, Poughkeepsie. Please check out the flyer and also the Calendar for more information. Tickets will be sold at the door.

Then Hudson Valley residents will be the chance to hear the St. Thomas Choir of Men and Boys performing at Zion Episcopal Church, Wappingers Falls on Friday, November 20 at 6:00 PM. Please check ticket information in the Calendar. Seats are going quickly, so order sooner rather than later!

As we approach the season of Thanksgiving, we do truly give thanks for those who worked hard for the cause of the AGO in the past and for those opportunities which continue for us in the present.


Craig Williams, AAGO
Dean, Central Hudson Valley AGO

Membership News
Members, please update your Chapter Roster with any new contact information included in this section of the newsletter each month.


If your contact information changes, please inform Membership Chair Barbara Bayers. Don't forget to log into ONCARD (https://www.agohq.org/oncard-login/) and make the updates there as well.


Benjamin T. Vise has an alternate-mail address: btvise@yahoo.com
Another Goodbye

We bid a fond farewell to Past Dean Patricia Maimone, who died on October 15, 2015. Her obituary was published in the Los Angeles Times on November 3, 2015, augmented by information supplied by her sister Barbara Rogers, is reproduced below:
Patricia Rogers Maimone was born in Teaneck, New Jersey, and attended public schools there. She earned the B. A. in Music from Douglass College in New Brunswick, NJ, and the M.M. in Organ Performance from Westminster Choir College in Princeton, NJ. Her organ teachers were Thomas Richner, Edmund Shay, Edward Brewer, John Weaver.

She served as Organist or Organist-Choir Director at Presbyterian, Lutheran, Baptist, Unitarian, Methodist and Episcopal churches Her major experience as organist-choir director occurred during 27+ years at West Point, NY, as Organist and Director of Musical Activities at the Post Chapel for staff, faculty and their families.  There she directed or oversaw the direction of four choirs (three singing choirs and one handbell choir). For several years she also directed a summer music camp for children on the base. She gave frequent impromptu organ recitals for visitors, and occasional formal concerts, on the large Cadet Chapel pipe organ. In the year 2000 she was named Interim Organist-Choirmaster at the Cadet Chapel. Her most recent appointment was at Mt. Olive Lutheran Church in Santa Monica, CA, where she served for about six years, beginning in March 2009, founding the 3rd Sunday @ 3 Classical Concert Series there in 2010. 

Ms. Maimone, a member of the American Guild of Organists on both coasts, has always enjoyed collaborating with fellow musicians, from her first experience in kindergarten with a violin-playing classmate to playing for choirs, vocal and instrumental soloists in many contexts. She also enjoyed playing organ concertos with the Rutgers University Orchestra, the First Park Baptist Church Chamber Orchestra of Plainfield, NJ, the West Covina, CA, Methodist String Quartet, the Orchestra Santa Monica, and other works with ensembles such as the Hudson Valley Brass Quintet, the SaMoHi Alumni Brass Quintet and the Los Angeles Flute Orchestra. She has worked with many well-known conductors and composers, including Louis Hooker, Helmuth Rilling, Roger Wagner, Robert Shaw, Dave Brubeck and Duke Ellington. In 1987 she enjoyed an organ study tour of Europe whose highlights included playing organs in places where Bach had lived and worked, and an organ actually played by Handel himself. She toured Taiwan as a last minute substitute pianist for the Shippensburg Cumbelaires of Pennsylvania in 1988.

Ms. Maimone was pre-deceased by her parents, Asa L. and Dorothy W. Rogers, sister Joanne D. Rogers-Samuda, and ex-husband John J. Maimone. She is survived by her son, Mark, daughter-in-law Alice Mei-King Cheung Maimone, granddaughter Selena Maimone, sister Barbara J. Rogers, brother-in-law Richard D. Weis, many cousins, and many nieces and nephews.

Membership Questions

Please address all questions regarding membership and ONCARD to our Registrar/Membership Coordinator, Barb Bayers. Her phone number is 203-260-4295 and her e-mail address is babayers@gmail.com.

Deadline for Next Newsletter

We are always glad to receive input for the chapter newsletter in the form of calendar items, reviews of recent concerts and events, biographies, letters, photographs, etc. In order to make sure these submissions can be processed in a timely fashion, please make sure they are received by the 23rd of each month. However, material such as calendar items may be submitted at any time; even if the material may not make it into the printed newsletter, it can be quickly posted on our web site at www.chvago.org.

You may submit newsletter or web site material by mail, e-mail, fax or phone. Just contact the editor, Susan LaGrande, using the information given above. Remember, the deadline for the next printed newsletter, to be available the first week in December 2015, is November 23.

Editor's Corner

This newsletter is published by the Central Hudson Valley Chapter of the American Guild of Organists. The editor is:
Susan LaGrande
12 Montrose Lane
Wappingers Falls, NY 12590
Phone: 845-226-6496 (home) - e-mail: SUSANEL2@OPTONLINE.NET