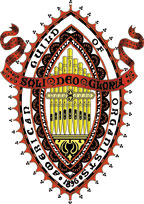 Newsletter
June 2004

Click here for the Newsletter Archive

Click here for a printable copy of the current newsletter



Greetings on a BEAUTIFUL May Saturday! Partly cloudy with a cool breeze – who could ask for anything better?

Thanks to John Sullivan for leading us in the Liturgy workshop on the 7th. He didn't tell us there would be a test! John shared some great advice for us "non-liturgical types" to help prepare in case someone asks us to fill in, even in case of emergency. We had 11 people attending – I'll be saving those hand outs!

Voting for chapter officers is underway – the ballots are due June 4th – I can't believe that I have served as Dean of the CHVAGO for 4 years already! Time has surely moved quickly. A note to those who have agreed to be on the ballot and serve if elected: Thank you so much for being able and willing to juggle your schedules to allow you to serve. In advance, thank you for making sacrifices in your lives to serve and lead the chapter for the next year or two (or more!). My reason for stepping off of the board completely is that I am preparing for the completion of my Master's degree. I am preparing to do a solo handbell recital in April, and then after exams I will graduate in May, 2005. It will have taken me five years to complete the program, but it has been well worth it – even as a Presbyterian studying at a Lutheran school.

We will be recognizing our 2004-2005 officers and board members at the Members' Recital, which will take place at the Reformed Church of Poughkeepsie on June 13th at 4:00 PM. There may still be room on the program for you procrastinators out there – if you are interested in playing, call or e-mail Jack Davis right away!! More details about the recital can be found below. (A reminder to the Convention Steering Committee – the official photograph of the committee for inclusion in the Convention Program Booklet will be taken at the recital.)

Speaking of the Convention, preparations are in full swing – it's just a year away – so be sure to reserve your place in chapter history by volunteering today. No gift is too small, whether your gift is money or time. What a wonderful statement it would be if we had some level of participation by 100% of the chapter membership!

I am happy to report that for the first time in about 20 years, the USMA Band has won the Superintendent's Trophy for overall sports competition among the military units at West Point. Sports included were softball, basketball, bowling, volleyball, tennis and golf. As it has been said before, NOBODY beats the band in leisure time activities! It's so much fun being one of the "old people" beating the 18- to 24-year-olds in sports.

I expect this to be the last time that I author the CHVAGO Dean's Letter. It has been an honor to serve the membership and a privilege to serve with the officers and board members over the last five years.

In closing, remember that, as we heard at the liturgy workshop, there are two Sundays during the church year when rose vestments are used. On these Sundays it is essential to have a good organist to lead the music. The rest of the year you can get along with manuals only, but on rose Sundays, you must use PETALS!!!!!



Membership News
Don Filkins sent us the following update:
Many thanks to all the members of the chapter who have called, sent cards, or in some way expressed an interest in my medical adventures. I survived the surgery and for the last six weeks have been mending and frustrating everyone around me as I make feeble attempts to regain my wits, my physical capabilities, and my equilibrium. I expect that most restrictions on activity will be lifted within a week or so and I will once more be permitted to enter the fray. - Don


Pat Maimone has a new e-mail address: patmai@gmail.com. She has also been newly appointed as Organist at St. Mary's [Episcopal] Church in the Highlands, Cold Spring, NY, and Adjunct Professor of Organ, SUNY New Paltz. Congratulations, Pat!


There was an error in the biographical sketch of Nancy Harle which was distributed with the ballot. The paragraph should read:
Nancy Harle – Nancy has studied and performed extensively as a pianist, organist, and singer. For 25 years she has taught music and directed choruses in public and parochial schools, as well as in her private studio. She is also organist and cantor at St. Augustine RC Church, New City.
We apologize for any misunderstanding resulting from the error.


Jennifer Geibel has a new address:
7 Riverview Drive
New Paltz, NY 12561
845-658-3218


Directions to the Reformed Church, Poughkeepsie

NOTE CORRECTIONS, due to changes in one-way streets!
From the west, or from the Mid-Hudson Bridge, take Rte 44-55 EAST. Turn RIGHT onto Academy Street. Turn LEFT onto Montgomery Street. Turn RIGHT onto Hooker Avenue. Continue about ¼ mile until you come to the traffic light at the three-way intersection of Hooker Avenue, So. Clinton Avenue, and Forbus Street. Bear LEFT onto Forbus Street. After one block, turn RIGHT onto Hanscom Avenue (behind the church). Park on the street or in the parking lot on the left.

From the south, take Rte 9 north past shopping centers to the traffic light by the Holiday Inn Express in Poughkeepsie; turn RIGHT onto Sharon Drive at the light. At the end of Sharon Drive, turn LEFT onto Beechwood Avenue, which merges with Ferris Lane. Follow Ferris Lane until it ends at Hooker Avenue. Turn LEFT onto Hooker Avenue and proceed about ½ mile until you come to Dwight Street. The church is on the right far corner. For parking, go one block past the church to the next traffic light. Take a hard RIGHT turn onto Forbus Street. After one block, turn RIGHT onto Hanscom Avenue (behind the church). Park on the street or in the parking lot on the left.
Practice Times for Members' Recital

Jack Davis reports that the following members have signed up to play in the members' recital: Susan Guse, Al Reese, Denise Bassen, Susan LaGrande, John Sullivan, Joe Bertolozzi, Tom Sheehan, Jennifer Geibel and Jack Davis. If your name is missing from this list, please contact Jack right away. If you want to add your name to the list, please be sure to do so by Monday, June 7.

During the week prior to the recital, June 7-11, the church will be open every day between 8 AM and 3:30 PM. For other practice times, you will need to make special arrangements with Jack Davis. You can contact him at 845-831-1761 or by e-mail at jdavisjr@localnet.com. Click here for specifications for the Schantz organ.
Pipe Organ Encounter – Progress Report
We recently received this communication from Naomi Rowley, Director, Committee on the New Organist, AGO:
Pipe Organ Encounters are proving to be very popular this summer! Already five of the six original POE sites have reached their maximum capacity and have closed enrollment.(These include Atlanta (33), Central Texas lst (20), Fox Valley Suburban Chicago (36), Duquesne (40), and Tacoma (24). Of the original sites, the one remaining location still accepting registrations is Worcester, MA. (July 19-23). Please forward all inquiries immediately to Director Patricia Snyder. Their registrations figures are soaring! Those who delay run the risk of being disappointed!
POE+s: Please remember the AGO also sponsors POE+s or Pipe Organ Encounters for Adults. This year's POE+ will be held in Detroit from July 20-25. The Director is Tom Trenney. The POE+ is a summer program filled with practical information and instruction for adult pianists and other musicians interested in improving their service playing skills. Participants will be introduced to basic organ skills through private instruction and classes. The week-long experience will lead to greater confidence and competence at the organ. (Age span is 19 and upwards.) THE DETROIT POE+ STILL HAS OPENINGS; PLEASE FORWARD REGISTRATIONS IMMEDIATELY.
Recital Review
by Susan LaGrande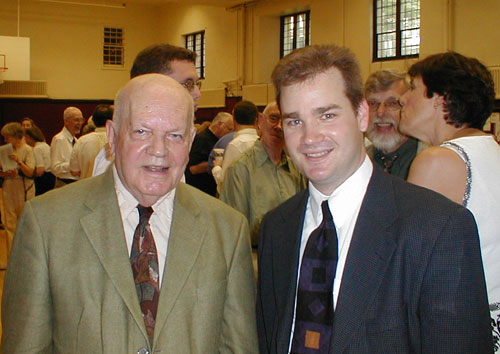 A gratifying number of chapter members were present on May 23 when Ken Cowan played the Organ Dedicatory Recital at The Reformed Church in Poughkeepsie. This personable young organist played a program which impressively displayed not only his skill as a player, but also the variety of sounds and styles offered by the new Schantz organ. The pieces were:
Franck: Chorale in E major


Vierne: Scherzo, from Symphony No. 6, Op. 59, and Clair de Lune, from Pieces de Fantasie, Op. 53, No. S


Bach (arr. Reger): Chromatic Fantasy and Fugue, BWV 903


Karg-Elert: Valse Mignonne, Op. 142, No. 2


Reubke: Sonata on the Ninety Fourth Psalm


Encore: piano etude by Moszkowski

The audience's experience of the recital was greatly enhanced by the use of a large screen at the front of the church, on which was projected real-time video imaging of the otherwise hidden console. This allowed the audience to see as well as hear Mr. Cowan's seamless registration changes. In addition, I found that my perception of the musical structure of each piece was reinforced by seeing the patterns of Mr. Cowan's movements.

In all, this recital confirmed the quality of the new Schantz organ, and established the Reformed Church in Poughkeepsie as a highly valuable venue for future events.

Pipe Organ for Avery Fisher Hall?

A recent article in the New York Times ("Philharmonic to Give Home a New Interior" by Robin Pogrebin, May 20, 2004) mentions the possibility of adding a pipe organ to Avery Fisher Hall as part of a major renovation which could begin in 2009.

"Last June, Mr. [Zarin] Mehta [executive director of the Philharmonic] said in an interview that he hoped to earmark $3 million to $4 million for a new pipe organ when Avery Fisher Hall was rebuilt or renovated. Reynold Levy, the president of Lincoln Center, said the possibility of an organ had yet to be resolved, along with many other issues."

The article cites the successful opening of Frank Gehry's Walt Disney Concert Hall, home to the Los Angeles Philharmonic, in October. Let's keep our fingers crossed!