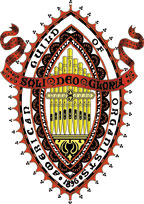 Newsletter
December 2015

Click here for the Newsletter Archive

Click here for a printable copy of the current newsletter



Dear Fellow Artists,

Another season of Advent and Christmas is upon us. I am always amazed how after weeks of diligent preparation, planning and hard work, the season always seems to surprise me when it arrives! Somehow after all the choir rehearsals and receiving of music in the mail from various performance groups not to mention home preparations – raking and sweeping, putting away fall decorations, putting up Christmas decorations – I still do not feel quite ready when I see the Lighting of the First Advent Candle in the upcoming Sunday bulletin. Then I think – is it not supposed to be that way?

In the books of the Maccabees, the Jews held out all kinds of hope for deliverance – yet when the lights stayed on, was that not still a bit of surprise? Joseph and Mary were well prepared for the arrival of their Child – yet the events of that night in the manger must have been full of surprises – not to mention everything with which they would have to deal in the first two years of their Child's life. Is not every Christmas Eve service full of unplanned events – some pleasant, perhaps some not? So we see the rhythm of the new church year and our musical calendar reflecting the greater rhythms of life.

This past year we said good-bye to many we did not know were going to leave – despite long-term conditions in the case of some. We also were treated to many wonderful concerts as a part of our AGO calendar and others given by communities surrounding us. We have expected good choirs to perform and still have been moved to an elevated sense of surprise when the beauty of their sound far exceeded our expectation of what we thought we were going to hear.

One message of Advent, Hanukkah and Christmas is that ultimately we are not in control. We organists say that we are in the business of serving a Power greater and different than we – yet at the same time, we work with a medium that speaks to our sense of wanting control. More than any other instrumentalists, we need to coordinate, organize and plan how our instrument is going to deliver our music – setting pistons (or pre-planning the movement of stops), knowing which manual we are going to play at which time, making sure the bench is at just the right height – all the while trying to appear to our choirs that we are all over it! Control is the name of the game. Then we push the on switch, and the blower refuses to turn on…! And suddenly, God is there speaking in the stillness – a stillness we never wanted! We have all been there. In the gap stands the message of our season. Dr. Seuss understood that overriding truth very well.

I wish you all a wonderful holiday season! May you enjoy the fruits of your hard work among your volunteers and colleagues, may you be surrounded by wonderful music, and may the surprises of the season only serve our greater call to making and listening to the music given to us and cultivated by us in our hearts.


Craig Williams, AAGO
Dean, Central Hudson Valley AGO

Membership News
Welcome to new member Iouri Grichetchkine, Music Director at St. Savior's Church in Brooklyn and at Temple Beth Am in Parsippany, NJ. His contact information is:
Mr. Iouri Grichetchkine
828 Proctor Rd.
PO Box 186 
Glen Spey, NY 12737
917-974-6231
iourigrichetchkine@gmail.com


Welcome also to Neil Gould, a former member who served as chapter treasurer many years ago. His contact information is:
Mr. Neil Gould
71 Ferris Lane
Poughkeepsie, NY 12601
Phone: 845-452-7857 (home) or 914-474-8420 (cell)
No email address
Neil is included in our Sub List.


Welcome back to Alice Cann, a long-time Chapter Friend. Her contact information is:
Ms. Alice Cann
27 Dogwood Trail
Lagrangeville, NY 12540
alicecann@frontier.net


Fr. George Hafemann has added a cell phone: 845-206-9557.
Membership Questions

Please address all questions regarding membership and ONCARD to our Registrar/Membership Coordinator, Barb Bayers. Her phone number is 203-260-4295 and her e-mail address is babayers@gmail.com.

Deadline for Next Newsletter

We are always glad to receive input for the chapter newsletter in the form of calendar items, reviews of recent concerts and events, biographies, letters, photographs, etc. In order to make sure these submissions can be processed in a timely fashion, please make sure they are received by the 23rd of each month. However, material such as calendar items may be submitted at any time; even if the material may not make it into the printed newsletter, it can be quickly posted on our web site at www.chvago.org.

You may submit newsletter or web site material by mail, e-mail, fax or phone. Just contact the editor, Susan LaGrande, using the information given above. Remember, the deadline for the next printed newsletter, to be available the first week in January 2016, is December 23.

Editor's Corner

This newsletter is published by the Central Hudson Valley Chapter of the American Guild of Organists. The editor is:
Susan LaGrande
12 Montrose Lane
Wappingers Falls, NY 12590
Phone: 845-226-6496 (home) - e-mail: SUSANEL2@OPTONLINE.NET