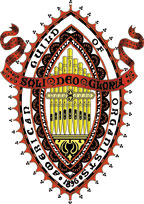 Newsletter
January 2016

Click here for the Newsletter Archive

Click here for a printable copy of the current newsletter



Dear Friends,

Happy New Year! I hope you had a blessed holiday season full of musical celebrations! There is so much planning that goes into Christmas for me that I come out from the season feeling a little confused. I have definite concerts and other events on my 2016 calendar and let's face it, Ash Wednesday is already on February 10th! However, I always get these vague feelings like "I need to make sure this is ready – oh wait, we already had that concert or service." Sometimes the concluding thought is "That was three weeks ago!" These rapid-fire events all become a blur after a while.

In some ways, we are in a new time of planning for the AGO as well. If you look on our Calendar, you will see two events: Our Spuds 'n' Sundaes annual event which will take place on Sunday, January 24 at 5:00 PM in the fellowship hall of the First Reformed Church, Fishkill. We used to have this event at this great location years ago, and it will be nice to meet there again. Connie Lacey is the Organist/Music Director there, and you may feel free to contact her (the number is on the Calendar) if you have more questions.

The second event is our Annual Members' Recital on Sunday, May 29 at North Congregational Church in Middletown. The church houses a lovely 20-rank E.M. Skinner organ in near-original condition which speaks into a reverberant room with marble walls in an historic stone church. Please plan ahead for this wonderful concert!

Though it looks like there are only two events, there are plans for many more in the spring and the coming fall which will be listed on the Calendar shortly. Please continue to check our website or your newsletter for updates. We have an exciting year ahead.

I mentioned that I already have events on my calendar. With a couple of these dates, I have decided to set challenges for myself. It is very easy to get into a rut with the church work, other performances and different kinds of jobs. After a while, one year pretty much feels like the same. I once knew a dear colleague who could always tell you what hymns he was playing the next few Sundays, because he played the same collection of hymns year after year. With the exception of some popular Christmas carols and other seasonal hymns, I could not keep such a schedule – it would drive me nuts! Even if our hymn selection is more varied than that, however, it is easy to get into a rut. Therefore, I decided that I would challenge myself with some new repertoire (or old more difficult repertoire) and also working with the West Point chaplains on some new approaches to music in the service. I would like to stimulate your thought processes in a similar direction: Are there areas where your work may improve or take on a fresh direction in this new year? Perhaps learn that prelude and fugue you have been telling yourself you wanted to take on for the last few years. Or re-examine and re-set some of your piston combinations. Or work with the clergy to add some new Mass settings to your church's cycle. Or go for the next (or first) level of AGO certification. There are many ways to make the old new as they say.

Whatever you do, make it the best you are able. I hope to see you soon at one of our chapter events!


Craig Williams, AAGO
Dean, Central Hudson Valley AGO

Membership News

Benjamin Vise has a new address - yes, different from the one reported here a couple of months ago. Ask Ben the story when you see him! His new contact information is:
Benjamin T. Vise, MM
106 Kings Highway
New City, NY 10956
(same phone number and email)

Organ in the Mall

In December some of us had a chance to hear organ music at the Galleria Mall in Poughkeepsie, thanks to the New York Theatre Organ Society (NYTOS). We asked John Vanderlee, a member of both NYTOS and CHVAGO, how that came about; the following is his report.
One of NYTOS's functions is to acquaint the general public with organs. We call that our outreach. The organ we use for these things is our "traveling organ"; a late model Allen Organ donated to our chapter some years back by a generous gentleman. We use a custom trailer to move it around. We customized it for easy set up, and added a sound system that can accommodate any space.

To wit: it's been used in intimate spaces, as well as to fill up the West Point Cadet Chapel. Vassar College hires us for their silent film presentation as part of their annual FilmFest program. In October many AGO members enjoyed the traveling organ at Christ Church in Poughkeepsie where Nathan Avakian played it for the "Bach to Broadway" program, which also featured James Fitzwilliam on the Gress-Miles. While primarily a theater style organ (highly unified), it can hold its own with much of the classical repertoire.

Several years ago we had an organ in the Broadway Mall on Long island and subsequently in Terminal 4 of JFK Airport. This year we approached two different Malls on the idea of an organ for Holiday music. The first one didn't work out, but the Galleria Mall in Poughkeepsie was all excited, and most cooperative.

Finding organists on short notice was a bit tough. I found that Carl Hackert from upstate New York was available for Friday, December 11 in the early afternoon, followed by Nathan Avakian in the evening. On Saturday Juan Cardona Jr. from Danbury, CT did the honors for several hours. On Sunday evening Claudia Bracaliello from the Catskill area played, followed by Sue Ward who is a regular at the LaFayette theater in Suffern. We skipped Monday but on Tuesday Nathan Avakian returned for a full day with his sister Claire who has a gorgeous voice and terrific stage presence (think Karen Carpenter). They literally stopped shoppers in their tracks. The Galleria management just loved it and they want us back next year.

On Wednesday, December 16, we packed up the organ and took it to UPAC to start rehearsals for the "Messiah" presented by the Hudson Valley Philharmonic and Cappella Festiva.

I thank my NYTOS crew for all their help with transport and set up: Robert Lumb, Paul Roughgarden, and William Hayter.

BTW, the organ is available to the AGO as well. Contact me for info.

Other Organs in the News

Thanks to Stu Ballinger for providing a link to the web site for the  Historic Organ Restoration Committee, which is chartered by the state of New Jersey for the restoration and preservation of the two pipe organs of Historic Boardwalk Hall in Atlantic City, NJ.

Membership Questions

Please address all questions regarding membership and ONCARD to our Registrar/Membership Coordinator, Barb Bayers. Her phone number is 203-260-4295 and her e-mail address is babayers@gmail.com.

Deadline for Next Newsletter

We are always glad to receive input for the chapter newsletter in the form of calendar items, reviews of recent concerts and events, biographies, letters, photographs, etc. In order to make sure these submissions can be processed in a timely fashion, please make sure they are received by the 23rd of each month. However, material such as calendar items may be submitted at any time; even if the material may not make it into the printed newsletter, it can be quickly posted on our web site at www.chvago.org.

You may submit newsletter or web site material by mail, e-mail, fax or phone. Just contact the editor, Susan LaGrande, using the information given above. Remember, the deadline for the next printed newsletter, to be available the first week in February 2016, is January 23.

Editor's Corner

This newsletter is published by the Central Hudson Valley Chapter of the American Guild of Organists. The editor is:
Susan LaGrande
12 Montrose Lane
Wappingers Falls, NY 12590
Phone: 845-226-6496 (home) - e-mail: SUSANEL2@OPTONLINE.NET