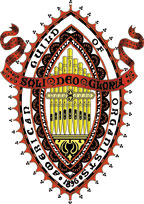 Newsletter
February 2016

Click here for the Newsletter Archive

Click here for a printable copy of the current newsletter



Dear Colleagues,

I have just returned from a great trip down in North Carolina, celebrating the musical achievements of two very talented young people. I confess to some bias in my admiration, because one of the young folks is my student and the other is my daughter. Still, I had a great trip and discovered how traversing the great state of North Carolina certainly puts miles on your car. I stayed in Greenville which is the home of East Carolina University (Go Pirates!), but I "commuted" two days in a row to an organ competition in Winston-Salem. Traveling roughly 700 miles (and that does not include the trip to and from New York) was well worth it however.

Bruce Xu, my student and one of our esteemed members of the Central Hudson Valley chapter, was accepted as a finalist in the University of North Carolina School of the Arts organ competition. The competition is open to high schoolers, or – in Bruce's case – to a middle schooler. I was proud to see that Bruce played very well, with considerable poise, and was awarded third place in a field dominated by 17- and 18-year-olds!

Bruce was by far the youngest contestant, having celebrated his 13th birthday two weeks ago. If you see Bruce, please congratulate him on this wonderful achievement. Not only did he win third place but he is now seriously considering attending the UNC School of the Arts high school, studying organ with Dr. Timothy Olsen. This may be a transformational time for this very talented young man.

I stayed three hours away from UNC, however, so that I could have time to visit my daughter who is presently a freshman at Eastern Carolina University (ECU). She is studying Music Education with an emphasis on Voice and Choral Conducting. She was one of three freshman females to be accepted in ECU's prestigious Chamber Singers and is finding acceptance among her professors. Thanks to her seven years of piano study, she has gained the particular notice of her piano professor who recently hired her as soprano scholar (paid student soloist) in his choir at First Presbyterian Church in Kinston, NC (home to a fine Aeolian-Skinner pipe organ, but I digress). This weekend I not only got to sit in on a splendid rehearsal of the Chamber Singers where the director told them they would be competing in a prestigious competition in Bulgaria this spring (!), but I also got to hear Abigail sing a solo and help lead the choir in church. Yes, it was a great week of celebrating the talent and enthusiasm of youth! And if the progress of Bruce and Abigail is not enough, I see Bruce's twin brother Reilly (my other student) and Abigail's brother Stewart (my son) both diligently practicing for future goals as well!

This is the true joy of parenthood and mentorship which lies fully in the mission of the AGO. With education and open opportunities, we are developing a new generation sharing our joy of creating and ministering through music. If you take a look at our Calendar, you will see many opportunities we have ahead – everything from exploring how to cultivate our artistic expression with the help of the discipline of Pilates (this February 21st) to our Members' Recital in May. I hope to see you at one of our events. And by all means, please bring someone you wish to encourage in our art.


Craig Williams, AAGO
Dean, Central Hudson Valley AGO

Membership Questions

Please address all questions regarding membership and ONCARD to our Registrar/Membership Coordinator, Barb Bayers. Her phone number is 203-260-4295 and her e-mail address is babayers@gmail.com.
Deadline for Next Newsletter

We are always glad to receive input for the chapter newsletter in the form of calendar items, reviews of recent concerts and events, biographies, letters, photographs, etc. In order to make sure these submissions can be processed in a timely fashion, please make sure they are received by the 23rd of each month. However, material such as calendar items may be submitted at any time; even if the material may not make it into the printed newsletter, it can be quickly posted on our web site at www.chvago.org.

You may submit newsletter or web site material by mail, e-mail, fax or phone. Just contact the editor, Susan LaGrande, using the information given above. Remember, the deadline for the next printed newsletter, to be available the first week in March 2016, is February 23.

Editor's Corner

This newsletter is published by the Central Hudson Valley Chapter of the American Guild of Organists. The editor is:
Susan LaGrande
12 Montrose Lane
Wappingers Falls, NY 12590
Phone: 845-226-6496 (home) - e-mail: SUSANEL2@OPTONLINE.NET