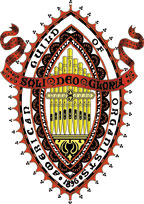 Newsletter
March 2016

Click here for the Newsletter Archive

Click here for a printable copy of the current newsletter



Dear Friends,

The groundhog did not see his shadow this year and for once, it looks like he may have been right! Along with our early spring weather (not that we had much of a winter and not that I am complaining) comes an early western Holy Week and Easter. I imagine that many of you were very busy with Lenten preparations even before the Christmas decorations were put away. I wish all of you wonderful celebrations of the holidays rapidly approaching!

Spring – especially in an even-numbered year – also brings AGO elections. This spring there will be many changes in the Central Hudson Valley chapter officers and board. I will be stepping down as dean for example. I have served now for four years and many years as sub-dean and board member before that. I will continue to serve the chapter as a member-at-large in one of the board's committees. There will be other changes of personnel as well.

My appeal in bringing up this topic of conversation is two-fold: First, I ask your kind attention to the process of selecting the slate of candidates, and I request that all members take time to vote. Details about voting will be coming up in a future newsletter. Second, I ask that members-at-large consider serving the Central Hudson Valley chapter in a more active way – either as a board member or member of one of the committees – Membership, Programming, etc.

At present, the Nominating process is being conducted by board member, Wesley Joseph CAGO. If you think you would like to serve or have questions, please feel free to contact him. His number is 845-546-0104, or you may e-mail him at wt.joseph@gmail.com. Your participation is vital to the continued health and legacy of our chapter.

I want to take a brief opportunity to thank Barbara Bayers, our Membership chair. Many of you have become members of our chapter, because you have been encouraged by her personal connection to everyone and her attention to detail. Our chapter covers a wide geographical area in a part of our country where it is a challenge to be served by the professional benefits of the AGO. It is ironic that not far to the south of us is an area with numbers of chapters in the double digits, while we pretty much cover an area from the New Jersey border to Albany, the Pennsylvania border to Connecticut. There is much going on in the cities of our area – Poughkeepsie, Kingston, Middletown, Beacon, Newburgh and others – not to mention the many universities and colleges in our midst. Your personal commitment to the AGO in our area will help us to continue serving the rich musical heritage of the greater Hudson Valley. I thank you for all you have done and will continue to do.

Have a blessed Easter and Passover season.


Craig Williams, AAGO
Dean, Central Hudson Valley AGO

Membership Questions

Please address all questions regarding membership and ONCARD to our Registrar/Membership Coordinator, Barb Bayers. Her phone number is 203-260-4295 and her e-mail address is babayers@gmail.com.

Deadline for Next Newsletter

We are always glad to receive input for the chapter newsletter in the form of calendar items, reviews of recent concerts and events, biographies, letters, photographs, etc. In order to make sure these submissions can be processed in a timely fashion, please make sure they are received by the 23rd of each month. However, material such as calendar items may be submitted at any time; even if the material may not make it into the printed newsletter, it can be quickly posted on our web site at www.chvago.org.

You may submit newsletter or web site material by mail, e-mail, fax or phone. Just contact the editor, Susan LaGrande, using the information given above. Remember, the deadline for the next printed newsletter, to be available the first week in April 2016, is March 23.

Editor's Corner

This newsletter is published by the Central Hudson Valley Chapter of the American Guild of Organists. The editor is:
Susan LaGrande
12 Montrose Lane
Wappingers Falls, NY 12590
Phone: 845-226-6496 (home) - e-mail: SUSANEL2@OPTONLINE.NET