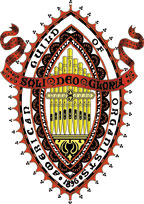 Newsletter
April 2016

Click here for the Newsletter Archive

Click here for a printable copy of the current newsletter



Dear Colleagues,

Now that Easter is over (unless you are Orthodox), I want to bring your attention to three events coming up for our chapter. These events are marked in red on our website calendar. The first is an organ recital on Saturday, April 9 at 4:00 PM, presented at St. Andrew's Episcopal Church, 17 South Avenue in Beacon. The performers are Bruce and Reilly Xu, twin brothers who just celebrated their 13th birthday in January. If you attended last spring's Membership Recital at Poughkeepsie United Methodist Church, then you are already familiar with the brothers' very advanced performance skills. Bruce and Reilly have been playing in churches since age 9 and have been students of Jimrae Lenser for years. Jimrae worked with both of them developing very refined hymn playing skills and introducing them to advanced organ repertoire. Two years ago, Jimrae recommended them to me for the study of the works of Johann Sebastian Bach. I have been pleased to see them take a very serious approach to performing on the organ for concerts as well as recognizing the role of organ in church music and leading worship. Bruce and Reilly's recital at St. Andrew's will feature fine playing of hymns as well as focusing on the music of Bach, some of the French symphonic masters and others. You do not want to miss it.

On April 24th at 3:00 PM, Meredith Baker will be giving an organ recital at West Point Cadet Chapel. Though the building has gone through extensive renovations and the organ has been working at about a third capacity, I am pleased that we have been able to continue having concerts at the chapel. This program will be special, because it will be Meredith's last concert at West Point in her official capacity as the Organist/Music Director of West Point's Catholic Chapel. This will be a culmination of Meredith's 25 years of service at West Point! Come help us celebrate.

I also want to highlight our Members' Recital coming up on May 29th, the Sunday of Memorial Day weekend. This year's recital will be at North Congregational Church in Middletown. North Congregational houses a 20 rank E.M. Skinner organ in nearly original condition. Not only does the organ have beautiful voices – noble diapasons, colorful flutes and wonderful orchestral voices – strings and reeds – but, if one of the most important stops on any organ is the room in which it plays, this organ is one of the jewels of the Hudson Valley. The sanctuary of North Congregational is a warm reverberant space accentuated by the church's unique stone structure, lending great power to the organ. I encourage all to participate. The one caveat is that the console does not have working pistons. Therefore, do not bring repertoire that requires many piston adjustments. You or your assistant will be pulling drawknobs by hand. If you are interested in playing, please contact me at craigwilliams@hvc.rr.com or call me on my cell – 845-239-2262. I will begin arranging practice times and coordinating the program in May.

Finally, take a look at the Calendar and see the many musical events the Hudson Valley has to offer. Also, if you want to post something in our Calendar, please contact Susan LaGrande. We in the Central Hudson Valley chapter want to support as much as possible our mutual contributions to the region's rich musical heritage


Craig Williams, AAGO
Dean, Central Hudson Valley AGO

Membership Questions

Please address all questions regarding membership and ONCARD to our Registrar/Membership Coordinator, Barb Bayers. Her phone number is 203-260-4295 and her e-mail address is babayers@gmail.com.

Deadline for Next Newsletter

We are always glad to receive input for the chapter newsletter in the form of calendar items, reviews of recent concerts and events, biographies, letters, photographs, etc. In order to make sure these submissions can be processed in a timely fashion, please make sure they are received by the 23rd of each month. However, material such as calendar items may be submitted at any time; even if the material may not make it into the printed newsletter, it can be quickly posted on our web site at www.chvago.org.

You may submit newsletter or web site material by mail, e-mail, fax or phone. Just contact the editor, Susan LaGrande, using the information given above. Remember, the deadline for the next printed newsletter, to be available the first week in May 2016, is April 23.

Editor's Corner

This newsletter is published by the Central Hudson Valley Chapter of the American Guild of Organists. The editor is:
Susan LaGrande
12 Montrose Lane
Wappingers Falls, NY 12590
Phone: 845-226-6496 (home) - e-mail: SUSANEL2@OPTONLINE.NET