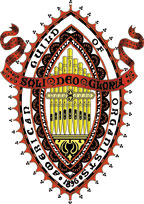 Newsletter
May 2016

Click here for the Newsletter Archive

Click here for a printable copy of the current newsletter



Dear Friends,

It used to be that when Easter was over, we could look forward to the end of our academic and church seasons and begin to relax. Lately, though, it seems like May is just as busy a month as all the months preceding. There are many advantages to the busy season, including the many concerts available in the Hudson Valley. Please take a look at our Calendar and see many opportunities to attend great music in our area.

Please also note that our Members' Recital is coming up on May 29 at 3:00 PM. I already have several people who have expressed interest in participating. This year's recital will be at North Congregational Church in Middletown, which houses a 20-rank E.M. Skinner organ in nearly original condition. If you are interested in playing, please contact me at craigwilliams@hvc.rr.com or call me on my cell – 845-239-2262. I will begin arranging practice times and coordinating the program two weeks before the performance. Also, please plan to support your colleagues as they perform in this beautiful landmark church. Distances on Interstate 84 are not as great as one might think.

Further on in the summer, there will be a memorial concert given to honor Patricia Maimone, past dean of the Central Hudson Valley chapter and resident of many decades here in the Hudson Valley. She served at the Post Chapel of West Point for 29 years and then at St. Mary's Church in Cold Spring for many years afterward. This concert will take place at the West Point Post Chapel on the evening of Friday, July 29. This will be a wonderful opportunity to pay respects to one of the most dedicated musicians in our community while wishing members of her family well.

Recently we lost another member of our chapter as well. Peter Hall, who served at First Baptist Church in Middletown and then continued to serve in the choir at Grace Episcopal Church there, passed away at age 86 in March. He was a faithful member of our chapter, as well as being president of the Middletown Chapter of the National Guild of Music Teachers. Further information may be found by clicking on Obituaries at this website: http://www.connellfuneralhome.com/

The American Guild of Organists continues to allow us to be a community which can encourage our young artists who are working hard to take our heritage into the next generation, support the part-time and full-time professionals among us, and give honor to those who have passed on. I ask everyone's support to keep the cause of great organ music alive and well in the Hudson Valley.


Craig Williams, AAGO
Dean, Central Hudson Valley AGO

Membership News
Welcome to new member Sarah Rodeo, a junior music major at Vassar studying organ, piano and voice. Her contact information is: 10 Gracie Square Apt. 6D, New York, NY 10028. Phones: 212-585-0547 (Home) and 646-775-1939 (Cell) - Email: sarodeo@vassar.edu. She is a new addition to our Sub List. We are happy to have her in our midst!


Chapter member Iouri Grichetchkine has just had an organ work published in the Lorenz collection "Mixture." Sample pages are available to view at https://www.lorenz.com/keyboard/browse-by-composer?itemId=Composer:20444. The same link may be used to order the collection. Three additional organ preludes/postludes are yet to come this year from the same publisher. Congratulations, Iouri!
Membership Questions

Please address all questions regarding membership and ONCARD to our Registrar/Membership Coordinator, Barb Bayers. Her phone number is 203-260-4295 and her e-mail address is babayers@gmail.com.

Deadline for Next Newsletter

We are always glad to receive input for the chapter newsletter in the form of calendar items, reviews of recent concerts and events, biographies, letters, photographs, etc. In order to make sure these submissions can be processed in a timely fashion, please make sure they are received by the 23rd of each month. However, material such as calendar items may be submitted at any time; even if the material may not make it into the printed newsletter, it can be quickly posted on our web site at www.chvago.org.

You may submit newsletter or web site material by mail, e-mail, fax or phone. Just contact the editor, Susan LaGrande, using the information given above. Remember, the deadline for the next printed newsletter, to be available the first week in June 2016, is May 23.

Editor's Corner

This newsletter is published by the Central Hudson Valley Chapter of the American Guild of Organists. The editor is:
Susan LaGrande
12 Montrose Lane
Wappingers Falls, NY 12590
Phone: 845-226-6496 (home) - e-mail: SUSANEL2@OPTONLINE.NET