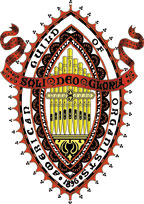 Newsletter
June 2016

Click here for the Newsletter Archive

Click here for a printable copy of the current newsletter



Dear Colleagues,

Still reflecting on our recent successful Members' Recital enjoying a fine historic pipe organ in a beautiful space, North Congregational Church in Middletown, I realize what a wealth of pipe organs we have here in the Central Hudson Valley. As a member of this AGO chapter I have been privileged to experience many, and as a concert performer I have been able to experience many more. I sit every week at one of the largest pipe organs in the world at West Point's Cadet Chapel, and I regularly play two other very effective organs for services of worship at West Point's Catholic Chapel and Old Cadet Chapel. The 57 rank pipe organ in West Point's Post Chapel, the largest in the Hudson Valley outside of the Cadet Chapel and Vassar College, will be featured in a memorial concert honoring Patricia Maimone – longtime Post Chapel organist and former Central Hudson Valley chapter dean – the evening of Friday, July 29. I hope you will put that date on your calendar.

Vassar College boasts two very fine pipe organs, including the Fritts organ in the recital hall and one of the largest Gress-Miles organs in the chapel. Please watch postings for frequent opportunities to hear these organs in recital and choral concerts. The city and town of Poughkeepsie has many other pipe organs which are featured on a regular basis at chapter events. The Austin organ largely designed by Ray Corey at First Lutheran Church and now maintained as a labor of love by Eric Hepp is more versatile than its stoplist might suggest – I managed to pull off a performance of Messiaen's La Nativité du Seigneur on that organ. Other organs which testify to the art of providing a fine instrument in a challenging space on a limited budget are the organs at Christ Church Episcopal, St. John's Lutheran and Poughkeepsie United Methodist Church. Also, the unusually fine Möller organ at Redeeming Life Worship Center (formally First Presbyterian Church) gets played once a year for Marist College's Christmas concert. The organ is not maintained, unfortunately, but it keeps providing Christmas carols and the "Hallelujah" Chorus every year regardless.

North, south and east of Poughkeepsie, the notable organs are too many to name. Hopefully, our chapter will keep up its mission of visiting and hearing these organs in coming years. One organ that should be pointed out is the historic one-manual pipe organ in St. Andrew's Church, Beacon, where Susan LaGrande plays, which has recently been brought into playing condition by the church.

The chapter has taken organ crawls in Kingston and Middletown. Both cities have clusters of very fine organs, including the historic organ played by James Fitzwilliam and the large pipe organs in the uptown district including Old Dutch Church, St. James Methodist Church and Fair Street Reformed Church. We previously visited North Congregational in Middletown on an organ crawl which also featured First Congregational and Grace Episcopal Church, two of the highest steeples in the Hudson Valley. On that organ crawl, we took time to visit one of the many fine theatre pipe organs we have here in our region – the Paramount Theatre. Two other very prominent theatre organs are found at the Bardavon in Poughkeepsie and also the Lafayette Theatre in Suffern.

The list goes on and on. In the next year or so, we will be featuring a concert of music specifically written for an organ housed in New Paltz. The former West Point organ curator, Henry Van Seters, built many organs in Cornwall and surrounding cities. His organ at Cornwall Presbyterian will be featured in one of the Hudson Valley Bachfest Concerts this upcoming month.

I have had the honor of playing recitals on historic (or historically designed) pipe organs in Blooming Grove and the famous cemetery at Sleepy Hollow (fortunately I encountered no horsemen while preparing for that recital). There are many others I have yet to visit.

Another Hudson Valley city which has a number of very good pipe organs is Port Jervis. At Immaculate Conception Church there, the Levsen organ company very successfully renovated a Delaware organ enlarging it to 43 ranks speaking out into one of the largest free standing sanctuary spaces in North America. There are other significant organs there also, including a very historic tracker for which our member Maris Kristapsons composed a commissioned organ work (a set of variations on "Amazing Grace").

I imagine that reading this letter there are many members who could be inspired to add many more instruments on which they have personally performed or have had the privilege to hear. This just goes to show how important the pipe organ culture is to this particular region.

For this and many other reasons, I encourage each and every member to continue supporting the cause of the pipe organ in our area through actively participating in the Central Hudson Valley chapter of the American Guild of Organists. In the course of our busy routines, it is easy to lose the overall vision of maintaining the role of the organ in the arts here in the Hudson Valley. North of New York City, west of Boston, not far from the other vital urban centers of the northeast and Canada, it can be easy to lose the "forest" of truly fine pipe organs for the idyllic trees we enjoy watching every day and which inspired Louis Comfort Tiffany to paint his breathtaking scenes still captured in many windows we have in our area.

So I want to take this time in early June to remind us of the riches we possess here in the Hudson Valley, the rewards we enjoy even though sometimes the work is hard and the daily grind is tough, and especially the responsibility we all share as stewards of a great legacy here in this beautiful area of New York.

Have a great summer!


Craig Williams, AAGO
Dean, Central Hudson Valley AGO
Editor's Note: Please see the Local Organs page on our chapter web site for a list of 65 instruments in the Hudson Valley, including those listed above. Some of the information provided may be out of date; if you can supply current photos, history, and specifications, please contact the Editor, Susan LaGrande, at 845-226-6496.

Membership News

Justan Foster has accepted a position at Old Dutch Church in Kingston, effective September 11, 2016. He has also announced his engagement to Paige Convis. Congratulations, Justan! We wish you all the best.

Instruments for Sale

Two instruments belonging to the late Peter Hall are being offered for sale:  
1. Yamaha Gran Touch KGT2IIXG 034002. This is a digital grand piano. $3500.00
2. Allen Organ 2 manual Church size organ.$500.00
For more information, please call Nancy at 845-775-4467.

Membership Questions

Please address all questions regarding membership and ONCARD to our Registrar/Membership Coordinator, Barb Bayers. Her phone number is 203-260-4295 and her e-mail address is babayers@gmail.com.

Deadline for Next Newsletter

We are always glad to receive input for the chapter newsletter in the form of calendar items, reviews of recent concerts and events, biographies, letters, photographs, etc. In order to make sure these submissions can be processed in a timely fashion, please make sure they are received by the 23rd of each month. However, material such as calendar items may be submitted at any time; even if the material may not make it into the printed newsletter, it can be quickly posted on our web site at www.chvago.org.

You may submit newsletter or web site material by mail, e-mail, fax or phone. Just contact the editor, Susan LaGrande, using the information given above. Remember, the deadline for the next printed newsletter, to be available the first week in July 2016, is June 23.

Editor's Corner

This newsletter is published by the Central Hudson Valley Chapter of the American Guild of Organists. The editor is:
Susan LaGrande
12 Montrose Lane
Wappingers Falls, NY 12590
Phone: 845-226-6496 (home) - e-mail: SUSANEL2@OPTONLINE.NET