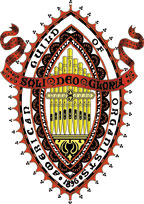 Newsletter
July 2016

Click here for the Newsletter Archive

Click here for a printable copy of the current newsletter



Dear Colleagues,

One of my favorite memories at a concert was during one of the Bach Birthday Bashes, hosted by Pat Maimone while she was organist at St. Mary's Episcopal Church, Cold Spring. After a series of performances by local instrumentalists, vocalists and organists – including myself – we had a reception in the church sanctuary which featured a birthday cake. During this time, Pat sat at the organ and led us in a rousing chorus of "Happy Birthday." My wife who was attending began asking me whose birthday was it? I said, Bach's of course! In this way, Pat brought a real human dimension to our music making and history. Her celebrations were not about historical musicians idolizing and solemnly recreating great music of the past; she understood that music was created by human beings and was to be shared and enjoyed with a communal spirit by people who could learn to appreciate great music. In many ways, the Hudson Valley Bachfest, which had its 17th annual series of concerts recently in Cornwall and Poughkeepsie, is very much part of Pat Maimone's legacy.

It is with this in mind that her family and I wanted to have a concert dedicated to her memory, given by her colleagues in the chapel where she served for almost 29 years. Pat Maimone's Memorial Concert will be on Sunday, July 31st at 3 pm, in the West Point Post Chapel – 692 Biddle Loop. I hope many of you are able to come. The concert is free to the public, and there will be a short reception following in the chapel basement. Please allow for extra time to enter the gate at West Point due to increased security checks. You can see more details about the concert in the Calendar section of the newsletter and website.

Also, please do not forget about our Annual Picnic which will be taking place at Eric Hepp's house – 24 LorMar Court, Wappingers Falls. This will be on Sunday, July 17th at 3 pm. Please let Eric know if you will be providing a salad or dessert. You can reach Eric at 845-489-2625.

Membership in our Chapter continues to be a concern. If you have not renewed your dues, please follow the link to ONCARD: The process is so easy that even I have renewed my dues on time the last two years, and I was always notoriously late in renewing. Many of you received an e-mail from Barbara Bayers. Please take it to heart, and renew today.

Another concern is that Barbara Bayers, our Membership Coordinator/Registrar, has moved out of the area. Therefore, we need to find someone who is willing to handle our membership information and work with other Board members in communicating with our membership at large. Handling the information as she left it will be rather simple for those who work well with Microsoft Excel. If you think you may be able to assist the chapter in this way, please contact me at 845-239-2262.

I hope you continue to have a nice summer, and please plan to attend our wonderful events in July.



Craig Williams, AAGO
Dean, Central Hudson Valley AGO

Membership News
Congratulations to two of our members from the Vassar College community who have recently been honored for excellence in music:


Patrick Walker was awarded the Jean Slater Edson Prize in music composition for his Symphony no. 1 in D minor. Patrick has also passed the Colleague examination of the American Guild of Organists.


Sarah Johnson was awarded the Francis Walker prize for the graduating senior who, in the judgment of the faculty displays the greatest proficiency in the study of the piano.

 

Congratulations also to Denise Bassen, who achieved the Masters Degree in Organ Performance at Binghamton University, studying under Jonathan Biggers. She graduated on May 20.


Sarah Rodeo has accepted the Organist/Choir Director position at St. Paul's & Trinity Parish in Tivoli.
Membership Questions

Please address all questions regarding membership and ONCARD to our Registrar/Membership Coordinator, Barb Bayers. Her phone number is 203-260-4295 and her e-mail address is babayers@gmail.com.

Deadline for Next Newsletter

We are always glad to receive input for the chapter newsletter in the form of calendar items, reviews of recent concerts and events, biographies, letters, photographs, etc. In order to make sure these submissions can be processed in a timely fashion, please make sure they are received by the 23rd of each month. However, material such as calendar items may be submitted at any time; even if the material may not make it into the printed newsletter, it can be quickly posted on our web site at www.chvago.org.

You may submit newsletter or web site material by mail, e-mail, fax or phone. Just contact the editor, Susan LaGrande, using the information given above. Remember, the deadline for the next printed newsletter, to be available the first week in August 2016, is July 23.

Editor's Corner

This newsletter is published by the Central Hudson Valley Chapter of the American Guild of Organists. The editor is:
Susan LaGrande
12 Montrose Lane
Wappingers Falls, NY 12590
Phone: 845-226-6496 (home) - e-mail: SUSANEL2@OPTONLINE.NET