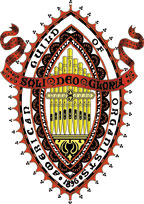 Newsletter
August 2016

Click here for the Newsletter Archive

Click here for a printable copy of the current newsletter



Dear Colleagues,

This has been a busy summer as we have memorialized friends. In the past couple of weeks, the congregation of Grace Church in Middletown said good-bye to Jennifer Ponzoni, a singer who participated in many Hudson Valley Bachfests and who served as soloist in many area churches, and also at West Point we gave a Memorial Concert in honor of Pat Maimone, past dean of the Central Hudson Valley Chapter. It was gratifying to see many organist colleagues and other musicians pay tribute to those who have enriched our musical lives. You will see a review of Pat's concert below.

I hope you are enjoying this beautiful summer.


Craig Williams, AAGO
Dean, Central Hudson Valley AGO

Review - The Longwood Gardens Organ Competition

Thanks to Joanne Reed for the following review:
On June 14, 2016, three of us drove down to the preliminary round of the organ competition in Longwood Gardens, Kennett Square, PA. The total information about the competition takes up a good sized booklet, but in brief, it was hosted by Michael Barone, of Pipedreams fame. There were ten competitors playing pieces from three predetermined categories, vying for the Pierre S. duPont First Prize of $40,000, Firmin Swinnen Second Prize of $15,000, Clarence Snyder Third Prize of $5,000, and Audience Choice Prize of $1,000. But the very valuable first prize was the Phillip Truckenbrod Concert Artists contract of one year and all the surrounding publicity which that includes. The three young organists we heard were Alcee Chriss III, an alumnus of Oberlin Conservatory of Music; Ryan Kennedy, a fourth-year student of Paul Jacobs studying at the Juilliard School; and Alessandro Pittorino, an Australian organist also studying with Paul Jacobs at the Juilliard. This latter flamboyant player brings Virgil Fox to mind immediately.  

In the competition booklet, the opening paragraph about The Longwood Organ states that it has the distinction of being the largest residential Aeolian ever constructed. Built in 1930 to replace the original 1921 organ, it is a "stunning specimen of American Art Deco organ design and engineering."  

We hope they have another competition next year, or certainly by the year after, because it is a fantastic place to visit - spend the week there, tour the over 1,000 acres of gardens, hear the lectures, listen to the music - stunning!

For more information about the Longwood Gardens Organ Competition, click here.

Review: The Pat Maimone Memorial Concert
By Susan LaGrande
On July 31, members and friends gathered at the West Point Community Chapel (Post Chapel) at West Point to pay tribute to former Dean Pat Maimone. The venue was appropriate, since Pat had spent nearly 29 years there as organist before moving first to St. Mary's-in-the-Highlands in Cold Spring and then to Mt. Olive Lutheran Church in Santa Monica, CA. Pat's death in November 2015 saddened us all, but has been the occasion for many wonderful, warm reminiscences, including this concert.
Craig Williams opened the program with a piece that had been composed by Pat's sister, Barbara J. Rogers, who was in the audience. The concert continued with eleven more short pieces performed by soloists who had, in one way or another, been "roped in" by Pat to participate in one of her many musical endeavors. A brief eulogy was given by the Rev. Dr. Shane Scott-Hamblen, Rector of St. Mary's in Cold Spring.
The performers pictured below are, from left to right: The Rev. Shane Scott-Hamblen, eulogist: Catherine Flynn, mezzo-soprano; Anthony Cinelli, tenor: Eun H Chung, piano; Jeremy Moore, bass-baritone; Susan Guse, organ; Craig Williams, organ; Emily Faxon, violin; Joel Evans, oboe and English horn; and Boyd Herforth, organ.
Membership Questions

Please address all questions regarding membership and ONCARD to our Registrar/Membership Coordinator, Barb Bayers. Her phone number is 203-260-4295 and her e-mail address is babayers@gmail.com.