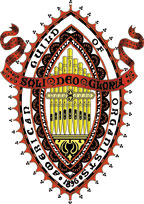 Newsletter
September 2016

Click here for the Newsletter Archive

Click here for a printable copy of the current newsletter



Dear Friends,

The choir teacher at my son's high school lost his wife to cancer this past month. She was only in her early 40's and a teacher herself, so the community was hit hard along with the husband and the deceased's ten-year-old daughter. The husband posted frequently about how it was a great comfort to him that he was able to serve in the music ministry of his Catholic parish and have many friends and co-workers participate in the funeral Mass. This is what we organists, singers, and choir directors do. We provide comfort to those who suffer loss and are beginning the long journey of a new life without friends and loved ones. Our hours can be long, the preparation can be tedious, but this is what we feel called to do.

We also provide the joyful backdrop of music at weddings. Ironically, I know many colleagues who greatly prefer playing funerals to playing weddings. This is because the preparations for weddings – behind all the smiles, pretty clothes and festivity – are struggles. Childbirth is called "labor" because it is excruciatingly difficult. Women know this in a way that men can never know. Weddings are a birth of sorts also – two families being involved in bringing two persons together to create a new life and perhaps family. Funerals are also a birth of a different kind – letting someone go and now facing a life without that person which will be different forever. Fortunately, organists are not called upon to provide music for childbirth – at least I hope no one of us has that in the job description! But we are intimately involved in the planning of the two other occasions which represent some of life's greatest struggles. No wonder we are so tired so much of the time! Fortunately, we are well compensated for our multiple talents of performance, counseling, and mediation – okay, perhaps a Dean's Letter is not a suitable forum for sarcasm.

Recently, I heard a priest give a homily about martyrdom. We all know about the kind of martyrdom where a witness (the word "martyr" means "witness") is killed heroically for the cause of his or her faith. However, this priest spoke about many other kinds of martyrdom, which included suffering for the cause of practicing one's vocation well. I think many organists can relate to the idea of being a representative of the church, stage, and art and many times having to hold one's tongue and just do the job. If the job is done well, gracefully, and in a way that renders beautiful music, hopefully we derive some satisfaction from that. Play on!

Then, we can come together as colleagues and share each other's burdens after a fashion – learning new skills, sharing experiences, and sometimes simply enjoying music for music's sake. This is one of the great benefits of being a member of the American Guild of Organists. Looking at experiences in the magazine is fine, but sharing together in person is even better.

We have a couple opportunities to come together very soon. On Sunday, October 2nd, there will be a Choral Evensong service at Zion Episcopal Church in Wappingers Falls. Then on Saturday, October 15th at Christ Episcopal Church in Poughkeepsie, there will be the second Bach to Broadway Concert featuring classical and theatre organs, following the wonderful concert last year! Please check the Calendar for details of these events and many other musical happenings here in the Central Hudson Valley.

I look forward to seeing many of you as we continue to celebrate music and life through our art.


Craig Williams, AAGO
Dean, Central Hudson Valley AGO

Membership Questions

Please address all questions regarding membership and ONCARD to our Registrar/Membership Coordinator, Barb Bayers. Her phone number is 203-260-4295 and her e-mail address is babayers@gmail.com.

Archdiocese of New York Substitute Musician List

The Office of Liturgy for the Archdiocese of New York manages an online list of those musicians who are available to play or sing for parishes on an "at need" basis. Musicians who would like to be added to this list are invited to send the following information to the Office of Liturgy:
1. Name
2. Instrument(s)/Voice
3. County(ies) served
4. Availability (days and times)
5. Address
6. Phone number
7. Email address

Deadline for Next Newsletter

We are always glad to receive input for the chapter newsletter in the form of calendar items, reviews of recent concerts and events, biographies, letters, photographs, etc. In order to make sure these submissions can be processed in a timely fashion, please make sure they are received by the 23rd of each month. However, material such as calendar items may be submitted at any time; even if the material may not make it into the printed newsletter, it can be quickly posted on our web site at www.chvago.org.

You may submit newsletter or web site material by mail, e-mail, fax or phone. Just contact the editor, Susan LaGrande, using the information given above. Remember, the deadline for the next printed newsletter, to be available the first week in October 2016, is September 23.

Editor's Corner

This newsletter is published by the Central Hudson Valley Chapter of the American Guild of Organists. The editor is:
Susan LaGrande
12 Montrose Lane
Wappingers Falls, NY 12590
Phone: 845-226-6496 (home) - e-mail: SUSANEL2@OPTONLINE.NET