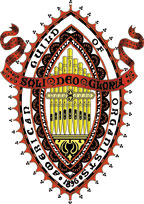 Newsletter
July 2004

Click here for the Newsletter Archive

Click here for a printable copy of the current newsletter



Hello Friends

Greetings from your new dean (and convention coordinator--now you only have to read one letter each month). It is truly an honor to serve the guild in this position. As I said at our convention brainstorming session in November of 2002, this is our project; it is our organization. We have been a highly successful chapter to this point precisely because we have all participated and taken our mission seriously. It is the work of many, not of a few.

Now that we are past the days of Easter, First Communion, Confirmation and most of the weddings, take a deep breath, let out a sigh of relief and relax into the relative calm of summer to refresh and renew. Hopefully your summer will include some time to practice new material, attend a workshop or convention, and some time to read all those items you didn't have time for during the hectic season.

But don't get too comfortable. We have a hectic year ahead. Our regular programming will be fairly limited because of the convention. (This is recommended by National and simply makes good sense in order to avoid burnout). We are planning our traditional picnic at a nontraditional time, tentatively Saturday, September 18, at a location to be announced in our next newsletter.

And about that convention … We are anticipating performances by visiting artists Ken Cowan, Joan Lippincott, and John Weaver – all well known names on the national level. And no less significant recitals will be given by our own Merellyn Gallagher and Craig Williams, at the Vassar and West Point chapels respectively. Don Filkins will be favoring us with a newly composed hymn, and Joe Bertolozzi will also premier a new work. Other worship leaders will include Pat Maimone, Laura Russell and yours truly at local churches.

As you can see, much has been done; much needs doing. It is my goal when I return from a week in the Finger Lakes to speak to each member of the chapter individually and ascertain what role can be found for each person. Some folks are truly in need of help and we need to try to spread the wealth here. So enjoy the summer, even when it feels like fall, and think about ways in which you can become involved. This project ceases to be overwhelming when many folks contribute, no matter how small that contribution may seem.

Peace and prayers,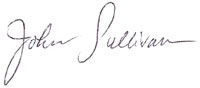 Letter from the Past Dean

I came on to the CHVAGO Board 5 years ago. Pat Maimone was the Dean, Bob Zeliff was the Sub-Dean. We all expected Bob to become Dean when Pat's term was up, but when Bob moved and was unwilling to commute from New Hampshire, the search was on. When I got the call from Connie Lacey, asking me if I would consider being a board member, I was surprised. I was fairly new to the area, and especially new to the organ. When I was asked a year later if I would serve as Dean of the chapter, I was shocked. Surely you need to be a concert organist with many years of organ experience, have a repertoire list bigger than the state of Texas, be able to recite the stop list of the Wanamaker Organ and personally have known every major organist from Virgil Fox to Widor to Fred Swann! Having learned that the prerequisites were less imposing than I believed, and that all of my reasons (excuses) were eliminated, I agreed. I made sure that the nominating committee and the board knew that I was quite new to the organ and therefore "unqualified" for the position of Dean, but they welcomed me anyway.

Some of the highlights of my time as Dean include:



Torturing John Sullivan (and others) with my puns and jokes. There is a lot to be said for a captive audience at board meetings.


Instituting what has become the annual "Spuds & Sundaes" event. I am disappointed that others have forced salad into an otherwise perfect nutritional spectacle.


The Bach/Krebs masterclass in February 2001: What a treat to hear and see the interaction between "less experienced" players and "more experienced" mentors. It was like having 5 or 6 lessons in one session. We all learned soooooo much.


The Choral Vespers/Evensong event at the beginning of this year: I'm not certain what the correct title was, but it was a fabulous event.


An increase in the chapter membership: I believe we have 67 members now.


The chapter web site: Especially for someone like me, whose desk and table are disaster areas, this has be incredible – and ours is one of the best AGO chapter web sites around!


Having the opportunity to work with some very talented and wonderful people on a monthly basis: the officers and board members for the last 5 years – I won't list them in case I miss somebody.


Meeting all the members that I have!

It has been a wonderful learning experience during this time – I look forward to being "just" a member for awhile. Thank you all for your comments, suggestions and support to me and to the chapter as a whole.


Membership News
We have received word via Jack Davis that Kay Pearson's longtime friend Rosalie Tucker died on June 26 at the age of 96. Rosalie was a charter member of the Central Hudson Valley chapter when she lived in the area and worked at Vassar. More recently she has resided in Philadelphia, where she continued to play for Vesper services until a few months ago. A memorial or celebration service was being planned for Sunday, June 27. Our condolences to Rosalie's family and friends.


Joseph Bertolozzi of Beacon has been named a recipient of the 2004 Individual Artist Fellowship by the Dutchess County Arts Council. This fellowship recognizes resident artists of Dutchess County for excellence in Music Composition. Former member Peter Krauss of Poughkeepsie was also named. Congratulations, Joe!
Organ Dedication in Cold Spring
by Susan LaGrande
Several chapter members attended the Blessing and Dedication of the new pipe organ at the Church of Our Lady of Loretto in Cold Spring on June 27. The new instrument was built by Sebastian M. Glück (Opus Ten, 2004). Like the original organ, it has two manuals and pedal, now in a modern keydesk. Its eleven ranks incorporate many of the original pipes from 1872.
After the blessing and some words of introduction, Mr. Glück played a collection of short works to demonstrate the range and colors of the new organ, which he likened to a box of eleven really good, distinctive crayons. He was followed by Lana Kollath, Director of Sacred Music at St. Elizabeth Ann Seton Church in Shrub Oak, who played three Bach chorales, and Dr. Jennifer Pascual, Director of Music at the Cathedral of St. Patrick in New York City, who played short works by Zipoli and Mozart and the Sonata in F minor by Mendelssohn-Bartholdy. The Music Director at Our Lady of Loretto, Frances Pergamo, also participated in the program.
I find it very encouraging that this is the second dedication recital to be held in the Hudson Valley in just over a month (the first being the Schantz organ at the Reformed Church in Poughkeepsie). Despite rumors to the contrary, the pipe organ is not a dying breed!
Editor's Corner

This newsletter is published by the Central Hudson Valley Chapter of the American Guild of Organists. The editor is:
Susan LaGrande
12 Montrose Lane
Wappingers Falls, NY 12590
Phone: 845-226-6496 (home)
Fax: 845-226-1035
e-mail: SUSANEL2@HOTMAIL.COM

Contributions to this newsletter are always welcome. We have been very pleased to offer a member profile in previous issues. If you would like to be profiled, you may write your own biography (up to 500 words) or contact the editor to arrange an interview.

Please be sure to contact the editor if you have changes to your contact information. We also welcome notices of position openings and calendar events, as well as reviews of recitals and other events.

Don't forget to check our chapter web site at www.chvago.org, which is updated very frequently with new calendar events and position openings. There have been recent additions to the Organs page as well. We are also beginning work on the Convention pages. You can also find membership forms and the membership roster, as well as sub lists and a photo gallery. It's worth taking a look!