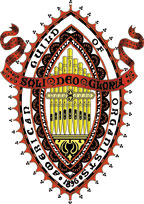 Newsletter
October 2016

Click here for the Newsletter Archive

Click here for a printable copy of the current newsletter



Dear Colleagues,

Over the last four years, I have had the great pleasure of being Dean of the Central Hudson Valley chapter of the American Guild of Organists. In this unique region, we serve some of the oldest religious and artistic legacies in our nation amidst a stunning backdrop of natural beauty. Please take some time to lift your head from the busy chores of the day and admire your surroundings!

I look forward to passing the mantle on to wonderful and gifted colleagues and friends, many of whom who have served this chapter for years. The slate below was recently submitted by our Nominations Officer, Wesley Joseph, CAGO, and gratefully received by the entire Executive Board. This election process is late this year for a number of reasons, many of them impacting both the personal and professional lives of our current officers as they considered how to continue serving while transitioning into new positions.

There are no persons competing for office or board positions. Therefore, this entire slate is presented for a "YES" or "NO" vote. Because this is late in submission, I request that you vote sooner rather than later. Ideally, the tallies need to be collected no later than Friday, October 14. In this manner, if "YES" votes are in the majority, we will be able to install our new officers and board members at the Bach to Broadway Concert on October 15 at 7:30 pm (please mark your calendars). If "NO" votes are in the majority, we need to begin the process again in quick fashion.

Votes may be submitted in one of two ways:
1. E-mail me directly at craigwilliams@hvc.rr.com; the only text required in the body of the message is "YES" or "NO" which will indicate your approval or disapproval of the entire slate.
2. Place your decision in an envelope and mail to me at 6 View Point Drive, Slate Hill, NY 10973.

The slate is as follows:
Laura Russell, Dean
Eric Hepp, Sub-dean
Eric Hepp, Acting Treasurer
Nancy Vanderlee, Secretary
Craig Williams, Acting Membership Coordinator
Barbara Bayers, Registrar
Susan LaGrande, Newsletter Editor and Board Member
Charles Faverio, Board Member
Susan Guse, Board Member
Connie Lacey, Board Member
Glenn May, Board Member

Thank you very much for taking the time to participate in this process.


Craig Williams, AAGO
Dean, Central Hudson Valley AGO

Membership Questions

Please address all questions regarding membership and ONCARD to our Registrar/Membership Coordinator, Barb Bayers. Her phone number is 203-260-4295 and her e-mail address is babayers@gmail.com.

Deadline for Next Newsletter

We are always glad to receive input for the chapter newsletter in the form of calendar items, reviews of recent concerts and events, biographies, letters, photographs, etc. In order to make sure these submissions can be processed in a timely fashion, please make sure they are received by the 23rd of each month. However, material such as calendar items may be submitted at any time; even if the material may not make it into the printed newsletter, it can be quickly posted on our web site at www.chvago.org.

You may submit newsletter or web site material by mail, e-mail, fax or phone. Just contact the editor, Susan LaGrande, using the information given above. Remember, the deadline for the next printed newsletter, to be available the first week in November 2016, is October 23.

Editor's Corner

This newsletter is published by the Central Hudson Valley Chapter of the American Guild of Organists. The editor is:
Susan LaGrande
12 Montrose Lane
Wappingers Falls, NY 12590
Phone: 845-226-6496 (home) - e-mail: SUSANEL2@OPTONLINE.NET