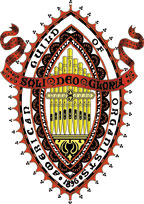 Newsletter
November 2016

Click here for the Newsletter Archive

Click here for a printable copy of the current newsletter



Dear Colleagues,

As I write my first letter to you as Dean of the Central Hudson Valley Chapter of the American Guild of Organists, I find myself reflecting on how important this Chapter has been to my development as an organist and how much it means to me to be a part of this amazing musical community. From 2001 until 2007 former Chapter Dean John Sullivan and I worked together as Organist and Choir Master at Christ Episcopal Church, respectively. When John moved to Maine I felt a great deal of trepidation as I tried to step into the combined position. I hadn't played organ seriously for many years, and I was totally daunted by how I was going to manage it.

I shouldn't have worried, however, because as soon as I joined our Chapter, many of you stepped up and offered encouragement, lent me music, and gave me lots of extremely helpful suggestions of repertoire. John Sullivan gave me music and pointers on the Gress-Miles organ; Gregory Citarella, who became Dean when John left, also gave me music and welcomed me onto the Board as Secretary almost immediately! Eric Hepp, Beverly Simmons, Craig Williams, and many others made me feel a welcomed and valued colleague.

I can't quite believe that I am now Dean of the Chapter that was so supportive of me, and I want to make sure that we continue to offer that support and encouragement to all of the organists and choir directors in our region – reaching out to young and old; to those well-established in their careers, and to "newbies" just starting out. That is one of the great strengths of our organization as a whole, and of our Chapter in particular. So as I move into the position of Dean I will continue to welcome your support. I also ask for your input into how the Board and Chapter can be supportive of your music programs and your careers. Please contact me with suggestions of programs: workshops, concerts, organ crawls – whatever you think would be useful and helpful! My email is laurarus629@gmail.com and my phone number is 845-485-1648. I look forward to hearing from you.

All of our work in life builds upon the work of those who came before us. Many, many thanks to our outgoing Dean, Craig Williams, and to those who served on the board these past two years. You have laid the ground work for what we will do in the future, and for that we are all deeply appreciative!

October is almost over as I write this letter, and our Chapter has already had two very successful programs this month. On October 2nd at Zion Episcopal Church in Wappinger Falls, we presented a Choral Evensong for the Feast of St. Michael and All Angels. I was privileged to conduct a combined choir from churches in the region, and five organists from our Chapter played for different portions of the service: Gregory Citarella of Zion Episcopal Church, Wappinger Falls; Patrick Walker of First Congregational Church, Poughkeepsie; Rob Brown of Christ Episcopal Church, Poughkeepsie, Eric Hepp of First Evangelical Church, Poughkeepsie; and Susan Guse of St. John's Lutheran Church, Poughkeepsie. Susan also brought handbell ringers to enhance the worship.

On October 15th NYTOS and CHVAGO collaborated to bring back the second "Bach to Broadway" concert at Christ Church, which was dedicated in memory and honor of Rev. Donald Hoger, husband of long-term Chapter member Lois Hoger. Organized by John Vanderlee, and featuring superb organ performers Nathan Avakian and James Fitzwilliam joined by vocalist Claire Avakian, the concert showcased the NYTOS Traveling Allen Theatre Organ and the in-house Gress-Miles pipe organ. They entertained an audience of more than 75 people and left them wanting more.

Our new Chapter Board will be meeting shortly to discuss plans for the upcoming season. Please contact any one of us with suggestions. I speak for the entire Board when I say that we look forward to serving you, our colleagues, in the upcoming year!

Sincerely,

Laura Ramsey Russell, DMA
Dean, Central Hudson Valley AGO

Membership Questions

Please address all questions regarding membership and ONCARD to our Registrar, Barb Bayers. Her phone number is 203-260-4295 and her e-mail address is babayers@gmail.com.

Deadline for Next Newsletter

We are always glad to receive input for the chapter newsletter in the form of calendar items, reviews of recent concerts and events, biographies, letters, photographs, etc. In order to make sure these submissions can be processed in a timely fashion, please make sure they are received by the 23rd of each month. However, material such as calendar items may be submitted at any time; even if the material may not make it into the printed newsletter, it can be quickly posted on our web site at www.chvago.org.

You may submit newsletter or web site material by mail, e-mail, fax or phone. Just contact the editor, Susan LaGrande, using the information given above. Remember, the deadline for the next printed newsletter, to be available the first week in December 2016, is November 23.

Editor's Corner

This newsletter is published by the Central Hudson Valley Chapter of the American Guild of Organists. The editor is:
Susan LaGrande
12 Montrose Lane
Wappingers Falls, NY 12590
Phone: 845-226-6496 (home) - e-mail: SUSANEL2@OPTONLINE.NET