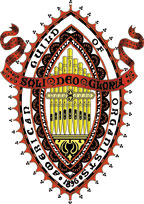 Newsletter
January 2017

Click here for the Newsletter Archive

Click here for a printable copy of the current newsletter



Dear Colleagues,

Happy 2017 to all of you! The past year was a challenging one on many levels for lots of us, but we are now beginning a new year together. Although the date – January 1,2017 –is an arbitrary one (like all anniversaries, birthdays, etc.), it also gives us an opportunity to take stock of where we are in our personal and professional lives.

As Dean, I would also like to take stock with you of where we as a chapter would like to go in the coming year. Part of 'taking stock' for me is to set priorities. A priority for me as your Dean this coming year is to reach out to you – our members! I would like to know what programs and activities you would like our chapter to offer. Below you will see a listing of proposed concerts and workshops and trips. Please let me know what you think of them and tell me what you would find most helpful and enjoyable. You may reach me via email anytime at laurarus629@gmail.com or you can telephone me at 845-485-1648.

If you know of colleagues who are not chapter members, please invite them to attend our programs. I would like to expand both our membership and participation in our programs in 2017.

Proposed CHVAGO offerings for 2017:
Spuds & Sundaes and annual music sale – Sunday, January 22, 2017 at 5:00 PM at Zion Episcopal Church, Wappinger Falls. Enjoy food and fellowship together. This is a good chance to look through your organ, piano, and choral music and to donate duplicate copies or music you don't use anymore. It is also an opportunity to discover new music. Money from music sales goes to our scholarship fund. Contact Nancy Vanderlee about this if you have any questions. Snow date is January 29, 2017, same time and place.


Possible Chapter trip to NYC in February – to attend some of the NYCAGO chapter's concerts and programs. More info to come from Eric Hepp. Do you have suggestions for other trips? Please contact me.


Digital/Computer aided music workshop – in late February or March. Get out of your comfort zone and learn to use computers and digital technology to enhance your music making! Eric Hepp will provide more info in the February newsletter.


AGO Certification: Past Dean Craig Williams is eager to work with members on acquiring AGO certification. He will be writing a column in the February newsletter about this. Take the plunge – experience the challenge and satisfaction of pushing yourself to the next level!


'Hymn Improvisation for Organists' workshop – offered in the spring – culminating in a Chapter Hymn Sing – stay tuned for more information.


'Using bells and chimes in your worship service' workshop – offered by Susan Guse this coming year – stay tuned for more information.


Reformation Evensong – celebrating 500 years: autumn, 2017 at St. John's Lutheran Church. More info to come!


Duo Organ Concert – From Bach to Broadway: for the third year, we will bring together the NYTOS Traveling Theatre Organ and the Gress-Miles Pipe Organ at Christ Episcopal Church – played by Nathan Avakian and James Fitzwilliam. Date TBD.


Annual Members' Recital – a chance to play for your colleagues and to raise money for our chapter scholarship fund. Date and Venue TBD.


Montreal Organ Festival: July 2-6, 2017. This is a collaboration between the North East American Guild of Organists, The Royal Canadian College of Organists, and the Canadian International Organ Competition. Consider attending this festival in a beautiful old city with many outstanding world-class organs, at a wonderful time of year!

I look forward to hearing from you about these and other program ideas. I hope to see you at the Spuds & Sundaes event on January 22. A new year awaits us!

Laura Ramsey Russell, DMA
Dean, Central Hudson Valley AGO

Membership Questions

Please address all questions regarding membership and ONCARD to our Registrar, Barb Bayers. Her phone number is 203-260-4295 and her e-mail address is babayers@gmail.com.

Deadline for Next Newsletter

We are always glad to receive input for the chapter newsletter in the form of calendar items, reviews of recent concerts and events, biographies, letters, photographs, etc. In order to make sure these submissions can be processed in a timely fashion, please make sure they are received by the 23rd of each month. However, material such as calendar items may be submitted at any time; even if the material may not make it into the printed newsletter, it can be quickly posted on our web site at www.chvago.org.

You may submit newsletter or web site material by mail, e-mail, fax or phone. Just contact the editor, Susan LaGrande, using the information given above. Remember, the deadline for the next printed newsletter, to be available the first week in February 2017, is January 23.

Editor's Corner

This newsletter is published by the Central Hudson Valley Chapter of the American Guild of Organists. The editor is:
Susan LaGrande
12 Montrose Lane
Wappingers Falls, NY 12590
Phone: 845-226-6496 (home) - e-mail: SUSANEL2@OPTONLINE.NET