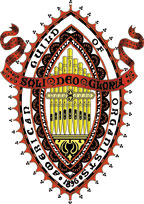 Newsletter
May 2017

Click here for the Newsletter Archive

Click here for a printable copy of the current newsletter



Dear Colleagues,

Spring has finally arrived in the Hudson Valley! It is a season of rebirth, full of joy and expectation. It also brings our annual Members' Recital, which will take place on Friday evening, June 2nd at 8:00 PM at St. John's Lutheran Church in Poughkeepsie. Every year the recital offers members an opportunity to play for each other in a collegial, welcoming environment. The recital also raises funds for the Margaret Pecoraro Scholarship Fund, which was established to support and encourage young organists.

This year we will dedicate the recital to members of our Chapter who have died since the last time we honored deceased members – back in 2008. That year we honored Mary S. Caskey, Bob Brittenham, and Clara Pankow-Miller – all of whom died that year.

We ask you to help us make sure that we include all of our members who have died since 2008. At this point we have the following names. Please contact Susan LaGrande right away if we have left somebody out!

Ray Corey (August 2008)
Jack Davis (April 2010)
Kay Pearson (April 2010)
Martha Miller (July 2015)
Anita Drake (August 2015)
Don Filkins (September 2015)
Pat Maimone (November 2015)
Peter Hall (March 2016)

We strongly encourage members to sign-up to play on the recital. There is no musical theme – you are welcome to play whatever you would like. Please send your name and tentative musical selection to Susan LaGrande as soon as possible so that we can begin to organize the program – June 2nd will be here before you know it! Once you have signed up, you should contact Susan Guse to arrange for practice time on the St. John's Casavant organ. You may go to this link for the organ specs: http://stjohnselc.org/wp/music-2/organ/

We will have a "meet & greet" reception following the recital, and we welcome your contributions of finger foods to share.

Summary of Upcoming Chapter Programs:

Annual Member's Recital: Friday, June 2nd at 8:00 PM at St. John's Lutheran Church.
Annual Picnic: Sunday, July 16th at 3:00 PM at the home of Susan Guse. More info to come in next month's newsletter.
Third Annual "Bach to Broadway" dual organ concert: Saturday, October 7th at 7:30 PM at Christ Episcopal Church
Celebration of the 500th Anniversary of the Reformation in Music and Discussion: the weekend of October 28-29 – in venues on both sides of the Hudson River. Bach Cantatas, Organ works, panel discussion – all in the planning stages. Stay tuned for more information, and save the weekend. This should be a very special event!
Early 2018: Combination of our Annual "Spuds 'n Sundaes" event with an organ demo and crawl on the organ at Roosevelt High School, Hyde Park. More details to follow.
If you have suggestions for Chapter programs, please be in touch with any Board member. We want to present programs that are of interest and value to YOU – our members.
I look forward to seeing many of you at our upcoming events.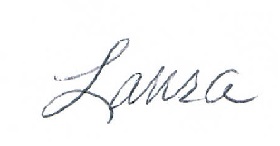 Laura Ramsey Russell, DMA
Dean, Central Hudson Valley AGO
Membership Questions

Please address all questions regarding membership and ONCARD to our Membership Chairman, Craig Williams. His phone number is 845-239-2262 and his e-mail address is craigwilliams@hvc.rr.com.

Deadline for Next Newsletter

We are always glad to receive input for the chapter newsletter in the form of calendar items, reviews of recent concerts and events, biographies, letters, photographs, etc. In order to make sure these submissions can be processed in a timely fashion, please make sure they are received by the 23rd of each month. However, material such as calendar items may be submitted at any time; even if the material may not make it into the printed newsletter, it can be quickly posted on our web site at www.chvago.org.

You may submit newsletter or web site material by mail, e-mail, fax or phone. Just contact the editor, Susan LaGrande, using the information given above. Remember, the deadline for the next printed newsletter, to be available the first week in June 2017, is May 23.

Editor's Corner

This newsletter is published by the Central Hudson Valley Chapter of the American Guild of Organists. The editor is:
Susan LaGrande
12 Montrose Lane
Wappingers Falls, NY 12590
Phone: 845-226-6496 (home) - e-mail: SUSANEL2@OPTONLINE.NET