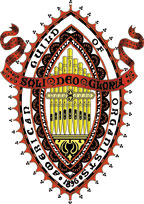 Newsletter
June 2017

Click here for the Newsletter Archive

Click here for a printable copy of the current newsletter



Dear Colleagues,

As we enjoy the beautiful Hudson Valley spring weather, I want to tell you about several programs happening in June and July. Two of them take place here in the Hudson Valley, and the third is happening up in Montreal, Canada.

Chapter Members' Recital: Friday, June 2nd at 8:00 PM at St. John's Lutheran Church, Poughkeepsie. This year our Chapter dedicates the annual recital in honor of eleven members of our Chapter who have died since the last memorial members' recital in 2008: Ray Corey, Robert H. Palmatier, Jack Davis, Kay Pearson, Robert F. Dorum, Don Hoger, Martha Miller, Anita Drake, Don Filkins, Pat Maimone, and Peter Hall. Each of them made important, and unique contributions to organ and choral music in the Hudson Valley. Nine of our Chapter members will be playing a variety of organ works, from Bach to Mendelssohn; from Dupré to improvisations created in the moment at the recital! A reception follows where you can meet and greet the performers and socialize. You are invited to bring food to share. The recital is free, but donations to the Margaret Pecoraro Scholarship Fund are always welcome. Please attend this event to honor our deceased members for their many contributions, to enjoy organ music performed by your colleagues, and to share each other's company!


Chapter annual summer picnic: Sunday, July 16th at 3:00 PM at the home of Susan Guse (53 Marges Way, Hopewell Junction). Join us for this relaxing afternoon of sharing food, drink, and conversation. Invite your music friends who might like to find out more our Chapter.


Montreal Organ Festival: July 2nd – July 6th - Sponsored by AGO Northeast Region, Royal Canadian College of Organists, and Canadian International Organ Competition. Featured performers include internationally known organists and choirs; Choral Evensong services; winners of the AGO and RCCO competitions. Venues include Montreal Symphony Hall, Notre-Dame Basilica, and many more historic churches and amazing organs in Montreal! Although time is getting short, you can still register to attend this exciting festival. Several of our Chapter members plan to attend.

Looking ahead to October, we have two exciting programs planned:

Third Annual "Bach to Broadway" Duo-Organ Concert – Saturday, October 7th at 7:30 PM at Christ Episcopal Church, Poughkeepsie. This concert will feature Nathan Avakian on the NYTOS Traveling Theatre Organ and James Fitzwilliam on the Gress-Miles Pipe Organ. A collaboration between CHVAGO and NYTOS, this is a great event to invite your friends! As the title indicates, there is music to please everyone.


NEW: Special 500th Anniversary of the Reformation weekend October 28 and 29 on both sides of the Hudson River. Still in the planning stages, this event will be a collaboration between CHVAGO, Vassar College, Cappella Festiva, and the Bruderhof Community. It will include a combined choir of over 125 singers performing choral music on Reformation themes by Bach and Mendelssohn, along with a newly commissioned choral work; organ music by Bach, Mendelssohn and others performed by Chapter members; an interfaith panel discussion of area clergy and religion scholars about the history and significance of the Reformation in today's faith traditions. Stay tuned for updates as this weekend takes shape!

I am happy to note that most of these programs involve collaboration among several musical entities and across different musical styles. In a time where there are so many barriers and divisiveness between people, it is heart-warming to see groups coming together and finding common ground through music! There are lots of great musical events to look forward to this season and in the autumn. I will be eager to see you at many of them!


Laura Ramsey Russell, DMA
Dean, Central Hudson Valley AGO


Membership Questions


Please address all questions regarding membership and ONCARD to our Membership Chairman, Craig Williams. His phone number is 845-239-2262 and his e-mail address is craigwilliams@hvc.rr.com.


Deadline for Next Newsletter


We are always glad to receive input for the chapter newsletter in the form of calendar items, reviews of recent concerts and events, biographies, letters, photographs, etc. In order to make sure these submissions can be processed in a timely fashion, please make sure they are received by the 23rd of each month. However, material such as calendar items may be submitted at any time; even if the material may not make it into the printed newsletter, it can be quickly posted on our web site at www.chvago.org.

You may submit newsletter or web site material by mail, e-mail, fax or phone. Just contact the editor, Susan LaGrande, using the information given above. Remember, the deadline for the next printed newsletter, to be available the first week in July 2017, is June 23.


Editor's Corner


This newsletter is published by the Central Hudson Valley Chapter of the American Guild of Organists. The editor is:
Susan LaGrande
12 Montrose Lane
Wappingers Falls, NY 12590
Phone: 845-226-6496 (home) - e-mail: SUSANEL2@OPTONLINE.NET