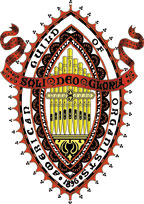 Newsletter
September 2004

Click here for the Newsletter Archive

Click here for a printable copy of the current newsletter



August 25, 2004

Hello Friends -

Welcome back to another exciting season of music making! Hopefully the summer months were productive and refreshing and we are all ready to plunge into the new church year with increased vigor and imagination. The Guild is here for you, so do take advantage of the resources available Ė newsletter, web site, magazine, workshops, conversations with colleagues. And if there is something that needs to happen, bring it to the attention of the board.

Our convention continues to be a major priority for this season. In fact, Iíve taken a leave of absence from my teaching job to be able to immerse myself in it. But on the other side, it really is exciting and hopefully it isnít going to be a burden as much as an opportunity. Still, since so many of us are spending so much time on it, our other programs for the year will be fewer and less labor intensive than in the past.

Our two fall programs are things weíve done before and done well. The first is a party (How could you go wrong?) with pot luck at the deanís house on Saturday, September 18. See you around 4:00 PM. In case of inclement weather, there will be a phone message on my answering machine at 845-454-7150, and the festivities will be moved to Susan Guseís home. See directions to both locations below.

Our second event will be the Pedals Pipes and Pizza gatherings for piano students on November 6. Please consider lining up prospective candidates. Itís always a fun time. This year we will again have two locations: 1) Union Presbyterian Church in Balmville, hosted by Margaret Small, and 2) Poughkeepsie Methodist Church, hosted by Nancy Harle and Gregory Citarella. Thank you all for your willingness to continue this one.

I look forward to seeing you all on the 18th. Good luck with that first choir rehearsal, and keep in touch.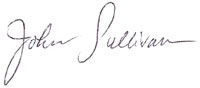 Directions to John Sullivanís House

From Poughkeepsie and points West:
Take the Mid Hudson Bridge and stay on Rts. 44/55 through the City of Poughkeepsie. Watch for signs for Vassar College. At the next light, where 44 and 55 split, bear RIGHT at the fork, remaining on Rte. 55. Continue for about 1-1/2 to 2 miles, staying in the center or left lane. When the road narrows to two lanes, you have passed through the Noxon Road intersection. In about 1/2 mile, having passed the LaGrange firehouse, turn LEFT onto Vail Road. Continue 1/2 mile. Carol Drive is on the LEFT side. Johnís house (#8) is the fourth house on the right. In case of inclement weather, there will be a phone message on the answering machine at 454-7150, and the festivities will be moved to Susan Guse's home.

Directions to Susan Guseís House

From Newburgh and points South:
From I-84, take Rt. 9 north about 3.5 miles. Turn RIGHT on County Rte 28 (Old Hopewell Road). (Landmarks: At the intersection of Rt 9 and Old Hopewell there is a 7-11 Store on the N/E corner; Wappingers Toyota & the old La Fonda del Sol restaurant on the N/W corner; Hark office complex on the S/W corner, and an out of business gas station building on the S/E corner.)
Follow Old Hopewell Road east about 3 miles to the traffic light at All Angels Hill Road. Continue straight on Old Hopewell Road past the horse farm on the left. Turn LEFT onto Marges Way (the first left turn after the traffic light). Susanís house is the seventh one on the left (#53) - a white colonial with blue trim.
From Poughkeepie and points North:
Take Rt. 9 south. After you pass the Poughkeepsie Galleria Mall, continue for about 3.5 miles. Turn LEFT on County Rte 28 (Old Hopewell Road). Then proceed as above.


Organs Available Ė Free

We have received word about two electronic parlor organs that are available "free to a good home."

2-Manual Viscount model 310 organ with 13 pedals Ė call Jean Bocha in New Windsor at 845-534-2979


Lowery Organ Ė call Hilda Pascale in New Windsor at 845-567-3049
Membership News
Joseph Bertolozzi will be performing The Bronze Collection at the US Tennis Open, Flushing Meadows, Corona Park, NY. Dates are August. 30 from 3:00 - 7:00 PM, September 4 from 4:30 - 7:30 PM, September 5 from 9:00 AM -1:00 PM, and September 6, 3:00 - 7:00 PM. As youíre following the US Open on your favorite sports channel or in the newspaper, look for Joe - he just might turn up!


Thanks to all the members who contacted the editor to confirm their intention to renew their membership for 2004-2005. An updated list of renewed and new members will be published in the next newsletter. According to the official AGO Operating Procedures, reports forwarding the national portion of dues payments must be sent in to headquarters within 30 days of the chapter renewal deadline, which was June 30, 2004. If you need a copy of the membership renewal form, please call Susan LaGrande at 845-226-6496.