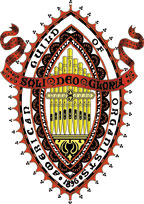 Newsletter
February 2006

Click here for the Newsletter Archive

Click here for a printable copy of the current newsletter



Dear Friends,

At this time of year it seems difficult to find significant things to say. The earth is in repose, the weather often keeps us indoors, Lent has not even begun, and the spring flurry of holy days and concerts seems a long way off. So as I thought about writing this letter, it occurred to me that instead of trying to be brilliant, it might be well to follow nature's lead and use the time to recuperate from all the winter performances and prepare leisurely for the upcoming events. In fact, I've been reading a really helpful book titled Sabbath by Wayne Muller, in which the author talks about the need to rest, to stand back and simply be – a fairly foreign concept in our frantically driven society. Perhaps it's time to review the hymnal leisurely, to look over our repertoire thoughtfully, to dream about what we'd really like to do come spring, and not to worry about whether it actually comes to pass. As Oscar Hammerstein wrote, "If you don't have a dream, you'll never have a dream come true."

Now having said all this, let me encourage you once again to take advantage of the very fine workshops and performances that are offered through the Guild and through other groups as well. Many are free or available at a minimal charge. Check our web site; check the Vassar and New Paltz calendars; make sure you're on the West Point mailing list. Did I miss anything?

And finally, let me say thanks to our hard working board for all that they do to keep the chapter afloat and support our members. I'd especially like to thank Sue LaGrande and John Vanderlee (of NYTOS) for a wonderful event at the Bardavon last weekend, attended by over 100 people including many young people who had a great time playing the Mighty Wurlitzer. Thanks also to Jennifer Geibel who, assisted by her husband Michael, has assumed responsibility for hospitality for the fine Spuds and Sundaes social the week before, and to Connie Lacey, whose church customarily provides a space for this event. (Call Jennifer if hospitality is your forte as well; she'd love to hear from you.) And lastly congratulations to Pat Maimone who did a wonderful concert along with soprano and English horn, on the same day, based on Epiphany themes – very unique and very enjoyable.

See you at our next event, Grant Chapman's workshop on February 25 (see the calendar for details).

Sincerely,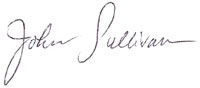 Membership News
We received word from Jeff Alban that he no longer lives in Baltimore, but in Miami, FL. He writes, "I've just started my second week of doctoral study, and having a blast! I have the first piece for my Doctoral Qualifying Exam on Feb. 4 with the UM Men's Chorale. Exciting stuff."
His new contact info is:
Jeffrey M. Alban
22155 SW 88th Path
Miami, FL 33190
305-253-7369
914-456-9199 cell
bombarde32@hotmail.com


News was also received from Al Reese, our former dean, who retired from the Army last summer and moved to Virginia. He writes:
Greetings y'all – hope you're enjoying mild winter weather (relatively speaking). I finally found a church position down here – I'm the Organist/Director of Music (love the order of the title!) at Cradock Baptist Church in Portsmouth, VA. Right now, just the adult (Chancel) choir, but hope to be forming a handbell choir soon and also look to the possibilities of finding enough youth for graded choirs down the road. The organ is a nice 2M Moeller (c.1976) – it's pretty flexible considering its small scope. I wish it had a 16' principal in the Pedal, but I have to get by on 2 different 16' flutes or a fairly sizable reed. The Great principal chorus is pretty good, but the big mixture has a pretty predominant 2 2/3 sound in it, and it's REALLY loud. Unless I'm going to play really loud, I end up coupling the smaller mixture from the Swell. It has unison off for Great and Swell, plus Great 4, Swell 4, Swell 16 plus Swell to Great 4, 8 and 16. Both the Great and Swell have independent tremolos, but they both run way too fast – it's not very deep, so I won't be playing for roller skating, but it just doesn't sound good on the solo reed for chorale preludes. Hopefully I can get those adjusted.

Say hi to the gang – Pat, I'm sure the concert with Joel and Connie was absolutely wonderful. Oh yeah, Lois and I were at the dedication service at 1st Pres VA Beach – you know, the cover feature on TAO this month! The organ sounds GREAT! Three of the folks in their choir sing in the opera chorus with me.

We miss you, Al!



Erna Loerch will have hip surgery February 9 and would appreciate your prayers. Erna says she will be off the organ bench for six weeks.


Pat Maimone reports that she has joined the 21st century and acquired a cell phone. The number (not for general distribution, please) is 845-820-1245.
Bardavon Wurlitzer Event Draws Crowd

On Saturday, January 28, about 100 children and adults attended a workshop at the Bardavon 1869 Opera House in Poughkeepsie, NY. The workshop, which was co-sponsored by our Central Hudson Valley chapter in collaboration with the New York Theatre Organ Society (NYTOS), was entitled "The Mighty Wurlitzer: Why It's NOT Just a Big Piano." The Bardavon is home to a Wurlitzer 2 manual 7 rank style "E" instrument (expanded to 10 ranks) which is owned and maintained by volunteer members of NYTOS. The organ is one of a few surviving Wurlitzer organs to still play in their original location, making the Bardavon and its Wurlitzer a unique combination.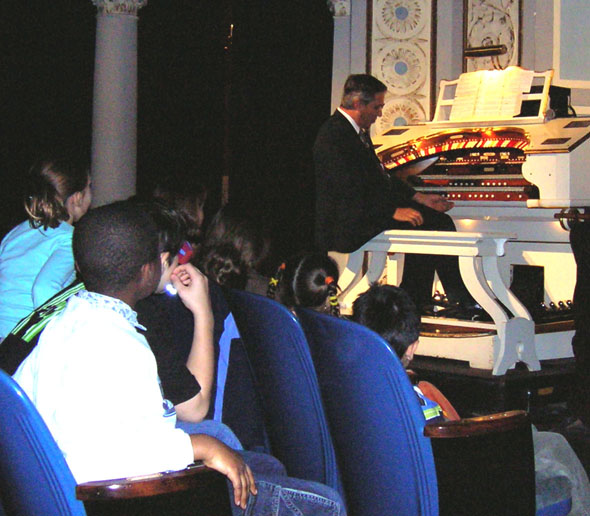 The workshop began with introductory remarks and pipe demonstrations by NYTOS Volunteer Organ Crew Chief John Vanderlee. Organist for the event was John Baratta, house organist for the historic Newton Theatre in Newton, NJ, and also staff organist for the Lafayette Theatre in Suffern, NY. After inviting all children to come up close to the console, Mr. Baratta elaborated further on the inner workings of pipe organs in general and theatre organs in particular, and then began his program with a rendition of the theme song from "The Flintstones," followed by Bach's Gigue Fugue and John Philip Sousa's Semper Fidelis.
Mr. Baratta next provided a wonderful improvised accompaniment to a short silent film, Harold Lloyd's 1921 thrill comedy Never Weaken. Before turning over the console to the young musicians in the audience, Mr. Baratta invited volunteers to the stage to blow into individual wooden flute pipes while he provided organ accompaniment, producing a chorus of "Do-Re-Mi" from The Sound of Music. This demonstration of the "one note, one pipe" concept helped the audience appreciate the size and complexity of a pipe organ.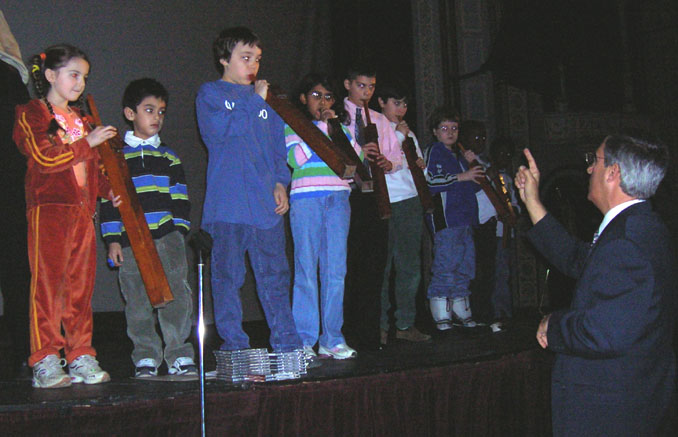 During open console time, audience members were invited to look into the chambers. Then the entire group proceeded to the former Wallace building on Main Street in Poughkeepsie, which is now home to Indotronix International Corporation. This software development facility donates warehouse and workshop space for NYTOS volunteers to work on their ongoing project, the construction of a theatre pipe organ to be placed in the auditorium of Roosevelt High School in Hyde Park. Indotronix also generously provided pizza and soda for all workshop attendees in their company cafeteria.
After lunch, the group descended into the basement workshop for a closer look at the way pipe organs are constructed. NYTOS volunteers pointed out that extra help is always needed at the Tuesday evening work sessions. Anyone interested in volunteering should contact Tom Stehle at tjskinura@aol.com or call him at 845-457-5393.
Editor's Corner

This newsletter is published by the Central Hudson Valley Chapter of the American Guild of Organists. The editor is:
Susan LaGrande
12 Montrose Lane
Wappingers Falls, NY 12590
Phone: 845-226-6496 (home) - Fax: 845-226-1035
e-mail: SUSANEL2@HOTMAIL.COM