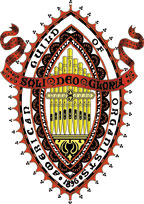 Newsletter
October 2006

Click here for the Newsletter Archive

Click here for a printable copy of the current newsletter



Dear Friends,

The leaves are turning and summer is truly over. Perhaps in your area the first frost has hit. Children are starting to fantasize about their Halloween personas. You may have begun to look at your Christmas music already. As nature comes to its culminating point in our beautiful valley, it seems to be time to look forward and to do some serious work. Serious, not solemn. It should be fun too. I know if I'm not enjoying the gift of music, I need to stop and take time to say thank you for that gift, just as I need at this lovely time of year to say thank you for all of God's creation. And then turn my attention to doing my part of fulfilling those dreams of the slow season before they turn into regrets.

We have already had one very successful chapter event in our workshop with Richard Torrence. Thanks to Greg Citarella and his committee for doing such a great job with this one. Unfortunately a family commitment kept me from attending, but I understand it was totally worthwhile and I hope you got something useful from it. Upcoming this month: Agnes Armstrong on Saturday the 21st. Agnes has worked with us before and she has great ideas about rehearsal techniques and choir building. She was also one of the judges at our RCYO competition last year. Donít forget the Dutchess County Interfaith Music Festival, Sunday the 22nd at Vassar Chapel Ė an annual event dear to the hearts of many; please support it if you can.

The 27th of October, Friday evening at 8:00 PM, will bring us a recital in the Donald M. Pearson Memorial series at the Vassar Chapel, to be given by French organist Pierre Pincemaille. It occurred to me while preparing this letter, that we make presumptions sometimes. I think of Don Pearson as somebody we all knew, but in fact he retired from Vassar in 1982, having been college organist for many years. Don and his wife Kay were founding members of our chapter back in 1952, and we do expect Kay to make the trip from Florida to be here for this event. Do mark your calendar now.

Two more chapter events will be coming up the first weekend in November: on Saturday the 4th we will conduct our annual Pipes, Pedals and Pizza to introduce young piano students to the king of instruments; and on Sunday the 5th our Annual Membersí Recital will take place at the Reformed Church in Poughkeepsie. Please check the calendar for details about these events and give serious thought to participating in some way.

While we try to support each other, let me encourage you to continue to enjoy your own music, Godís great and special gift.

Sincerely,

John Sullivan, FAGO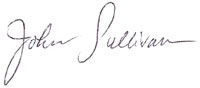 Membership News
We have just received word that Hans Weber, husband of chapter member Carol Weber, died rather unexpectedly on September 9. Please keep him and Carol in your prayers.


We are pleased to welcome several new members to our chapter:
Nancy DeMilio Scott
5 Cobb Lane #K
Middletown, NY 10940
843-341-0951
ndvoice@aol.com
Organist, Beacon Reformed Church
Several of us had the opportunity to meet Nancy and her husband at the chapter picnic in July.

Daniel Lemieux
538 West Seneca Tpke
Syracuse, NY 13207-2645
866-759-7807
dan@pipeorganspecialist.com
Dan is President of Lemieux & Associates Pipe Organ Specialists and is an accomplished organist in his own right.

Claire Longden
27 Stonehouse Rd
Rhinebeck, NY 12572-3210
845-876-7190
Claire is a fan of organ music, although she does not play herself. We welcome good audiences!

Gregory S. Quaglieri
269 West Main Street
Stony Point, NY 10980
845-786-0011
tractornut32489@aol.com
Gregory is an organ student in search of church experience.
Welcome all new members!
Free Organ Music

We received the following communication from Stephen Best of the Central New York Chapter:
As part of the celebration of the 200th anniversary of its founding, First United Methodist Church of Schenectady, NY, commissioned me to write an organ piece. Dominick Giaquinto, the church's director of music ministries, asked for an exuberant piece that would not only catch the spirit of this celebration, but would also be usable by organists of various skill levels. In further negotiations with the church's bicentennial committee, I suggested the possibility of the church's making the piece available to anyone who wanted it free of charge. To my delight, the church agreed to do so! Accordingly, I am pleased to announce the availability of "Celebration!", a piece inspired by "Rejoice" from Handel's "Messiah." You may download "Celebration!" at: http://www.evensongmusic.net/celebration.html

Simply click on the word "Celebration" and you will receive the piece in a pdf file. You will need a pdf reader to open the piece. If you don't already have one, go to http://www.adobe.com and click on the link for the free Adobe reader.

Please feel free to pass this link on to any organists in your email directory.

I hope you find this musical offering useful for a joyous event at your church

Stephen Best
Minister of Music
First Presbyterian Church
1605 Genesee Street
Utica, NY 13501

Adjunct Faculty
Hamilton College
Clinton, NY 13323

Dean, Central New York Chapter, American Guild of Organists
Deadline for Next Newsletter

We are always glad to receive input for the chapter newsletter in the form of calendar items, reviews of recent concerts and events, biographies, letters, photographs, etc. In order to make sure these submissions can be processed in a timely fashion, please make sure they are received by the 23rd of each month. You may submit newsletter material by mail, e-mail, or phone. Just contact the editor, Susan LaGrande, using the information given below. Remember, the deadline for the next newsletter, to be available the first week in November, is October 23rd.

Editorís Corner

This newsletter is published by the Central Hudson Valley Chapter of the American Guild of Organists. The editor is:
Susan LaGrande
12 Montrose Lane
Wappingers Falls, NY 12590
Phone: 845-226-6496 (home) - Fax: 845-226-1035
e-mail: SUSANEL2@HOTMAIL.COM