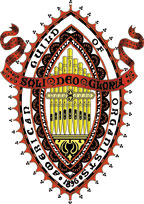 Newsletter
November 2006

Click here for the Newsletter Archive

Click here for a printable copy of the current newsletter



Dear Colleagues,

It is sometimes amazing how apparently by coincidence God enables us to hear what we would really rather not hear. At this time of year, many of us, myself definitely included, may feel a little overwhelmed. Summer is over – the basil has given up, the leaves have fallen, and there is too much to do between now and Christmas and I wish I were back on the beach reading my favorite mystery writer. The (Episcopal) Book of Common Prayer currently has appointed readings from the Book of Ecclesiasticus – one of the Apocrypha. Last Friday's reading concluded: Persevere in your duty, take pleasure in doing it, and grow old at your work (ch. 11, vs. 20). Yesterday, at the installation of Blake Rider, new rector of Christ Church, I heard these words: Be careful of beginnings and endings; they have a way of taking on a life of their own. The real living and doing is in the everyday. I know I needed to hear these messages. We move forward when we plug away and plod along. The old saying is "90% perspiration, 10% inspiration." We all know it on some level. So as we approach the wonderful holiday of Thanksgiving, this year it might be well to thank God not only for the mountain top experiences, the concerts and standing ovations, but for the day-to-day grind that brings us to those moments, and to ask for his grace to continue in that path. But do get started on your Christmas music anyhow.

On a very practical note, I have included in this letter an outline of the requirements for the Service Playing Certificate. Your board has authorized both a course of preparation and a date for us to hold the examination. I strong encourage you to consider doing this – either just the exam or taking the course or both – not only because I plan to teach the course, but also because of what you can learn in preparing for it. Having done two Guild certificates, I can honestly say that the real satisfaction was not in the piece of paper – of course it's nice to have – but in the process of learning and discovering new things and new dimensions of oneself. The cost of the course, including one private lesson, is $150. The exam fee is additional, $60 payable to headquarters. The details of both the exam and the course follow. Please contact me soon to let me know of your interest at jtcsul@earthlink.net or 845-454-7150. Click here for a printable registration form.

A blessed Thanksgiving to you.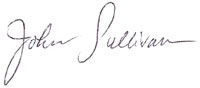 John Sullivan, FAGO

Membership News

• Member Joseph Bertolozzi is proud to announce the publication of his "Partita on 'People Look East'" (Besancon) in the new periodical "The Keyboardist's Year" published by Wayne Leupold Editions. "TKY" features easy organ music for organ or keyboard, with no or limited use of pedals. Look for more of his compositions in future issues. (The first, complimentary edition was to have been mailed to every liturgical church in the USA [Catholic, Episcopal, Lutheran, etc.], so you may have already received a copy.)

Service Playing Requirements

The following information is provided by the American Guild of Organists, and can be downloaded in PDF form:
The Service Playing Test shall be recorded on cassette tape or CD at a site with suitable organ and recording equipment, then sent to National Headquarters for evaluation by two national examiners. A proctor will be appointed, and will be the only person in the room with the candidate when the test is given. (If a singer is employed for question S4, he or she will be permitted in the room only at that time.)
S1. (20 points) The candidate will prepare and perform one work from each of Groups A, B, and C.
GROUP A
Any chorale prelude from Bach's Orgelbüchlein.
Any fugue by Bach, including the fugues from the so-called "Eight Little Preludes and Fugues," sometimes attributed to Bach.
GROUP B
A single movement from any work by Mendelssohn, other than the hymnlike opening sections of Sonatas 5 and 6.
One of the Ten Trios, Op. 49, by Rheinberger (any edition).
Any movement with indicated pedal from Vierne's Vingt-quatre Pièces en style libre (Durand).
Any piece with pedal (Nos. 3–16) from Sixteen Chorales (Le Tombeau de Titelouze) by Dupré (H.W. Gray; reprinted by Warner Brothers Music).
GROUP C
Any one of Schroeder's Sechs Orgelchoräle (Schott).
Any movement from Langlais's Organ Book (Elkan-Vogel).
Any piece from Saint Augustine's Organbook by Gerald Near (Aureole Edition, distributed by MorningStar Music).
Any one of Bloch's Six Preludes (G. Schirmer).
Candidates seeking NPM certification should either choose a work from the Dupré collection as their Group B piece, or a work from the Near collection as their Group C piece. (Or they may choose both.)
S2. (10 points) The candidate will select one hymn from the revised Examination Hymn Booklet, which may be requested from National Headquarters. He or she will transpose the hymn into two keys, not more than a major second in either direction. The keys will be chosen (and announced on the recording) by the proctor. The transposed versions are not to be written out in advance, and the hymn is not to be played in the original key first.
S3. (20 points) The candidate will select two hymns from the revised Examination Hymn Booklet, different from the hymn chosen for question S2 above. He or she will play two stanzas of each of these hymns as if accompanying a large enthusiastic congregation. Some contrast in the presentation of the two stanzas is expected, as is sensitivity to the text. NPM candidates are required to select, as one of their hymns, "We Have Been Told" from the 1997 Service-Playing Supplement to the revised Examination Hymn Booklet (available from Headquarters). Use of pedals for at least one stanza of each hymn is mandatory.
S4. (10 points) The candidate will select one of the three psalm accompaniments in the 1997 Service-Playing Supplement to the revised Examination Hymn Booklet, and will play two verses of the psalm as though it were being sung in a service of worship. Depending on the candidate's choice of psalm, a singer may be required in order to render a satisfactory performance on the test. (The aforementioned 1997 Service-Playing Supplement indicates which psalms require a singer.) If a singer is needed, the candidate may engage (at his or her own expense) any singer, including one with whom he or she performs regularly. Neither the candidate nor the examination proctor may serve as the singer. (The singer will be permitted in the examination room only during this portion of the test.) The identity of the singer will not be revealed on the recording to examiners, in order to preserve the candidate's anonymity. For NPM certification candidates, the required selection is the Gelineau setting of Psalm 33/34.
S5. (20 points) The candidate will select two of the following anthems, and will play the accompaniment as though accompanying a competent choir.
Mathias—As Truly as God Is Our Father (Oxford). (The candidate may choose to play choral parts during the pauses.)
Haydn—Awake the Harp (from The Creation) (G. Schirmer 50293660). Mendelssohn—How Lovely Are the Messengers (from St. Paul) (E.C. Schirmer No. 1134).
Howells—My Eyes for Beauty Pine (Oxford). Play accompaniment throughout, including the passage in cue-sized notes.
Near—Adam Lay Ybounden, No. 1 of Two Carols (Aureole/MorningStar No. AE 145).
S6. (20 points) The candidate will sight-read a short passage of music. The candidate's grade will be based on his or her ability to maintain the indicated tempo with accuracy of notes and rhythm. (The sight-reading question and information regarding examination procedure will be sent from Headquarters to the chapter dean prior to the test date.)
Preparation for Service Playing Exam

Format and Dates
A series of six two-hour classes, Sunday afternoons, 3:00--5:00 PM
February 4 Overview/Intro to sight-reading
February 11 no class; practice week
February 18 Literature Master Class
February 25 Transposition
March 4 no class; practice week
March 11 Hymn playing/Psalm accompaniment
March 18 Anthems
March 25 no class, practice time; snow date
Private sessions scheduled between now and
April 15 wrap-up session
Exam administered: Saturday, April 21. "Rain Date" April 28.
The cost of the course, including one private lesson, is $150, payable to CHVAGO. The exam fee is additional, $60 payable to AGO headquarters. To sign up for the course or to register for the Service Playing Exam, please contact John Sullivan, FAGO, at jtcsul@earthlink.net or 845-454-7150. Click here for a printable registration form.

Deadline for Next Newsletter

We are always glad to receive input for the chapter newsletter in the form of calendar items, reviews of recent concerts and events, biographies, letters, photographs, etc. In order to make sure these submissions can be processed in a timely fashion, please make sure they are received by the 23rd of each month. You may submit newsletter material by mail, e-mail, or phone. Just contact the editor, Susan LaGrande, using the information given below. Remember, the deadline for the next newsletter, to be available the first week in December, is November 23rd.


Editor's Corner

This newsletter is published by the Central Hudson Valley Chapter of the American Guild of Organists. The editor is:
Susan LaGrande
12 Montrose Lane
Wappingers Falls, NY 12590
Phone: 845-226-6496 (home) - Fax: 845-226-1035
e-mail: SUSANEL2@HOTMAIL.COM