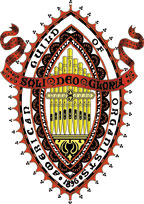 Newsletter
May 2007

Click here for the Newsletter Archive

Click here for a printable copy of the current newsletter



May 2007

Dear Friends,

I hope you had a wonderful Easter celebration, finding and sharing inspiration in the message of rebirth and infinite hope that this season brings. For me it is always an exciting and enjoyable challenge to find opportunities to continue programming one joyous hymn after another Ė it seems weíve waited so long for them.

Later in this newsletter, you will find the ballot for our annual election of officers. Since it is a single-slate ballot, your job is easy: check the form and mail it. Of course, you may write in the name of any chapter member whom you believe to be qualified to serve on the board. And you are probably now asking what the qualifications are. Simple. The include a willingness to spend a few hours a month, maybe one a week, on some of the leg work that keeps our organization running, and the open-mindedness to be receptive to the ideas of professional colleagues. Of course, since we often gather around meal time, it doesnít hurt if you like to eat.

Iím making this point at this time, because frankly it isnít always easy to get folks to serve, and speaking for myself, I have to say thatís sad Ė not just because it takes longer to get even a single-slate together, but because people are missing out on a great experience. I can honestly say in retrospect that Iíve enjoyed every minute Iíve spent on the board, as dean, as convention chair. The effort that was demanded of me was miniscule compared the satisfaction of seeing the enthusiasm my friends brought to our projects and ultimately to our art. I have received way more than Iíve given.

So in closing, may I invite you at this time, as you mail back your ballot, to reflect on your own relationship to your chosen art, to our organization and to yourself, and see how you might benefit by finding a new way to serve. We exist to promote the organ and its literature and every contribution of time, talent or money that enables us to do this is valuable beyond words. None is too small to be of note. What will be your song?

In the name of the risen Savior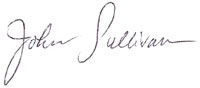 John Sullivan, FAGO

Membership News

Boyd Herforth has a new e-mail address: nancy.herforth@verizon.net.

Official Ballot

Click here for a printable ballot which you may mail to Nancy Demilio-Scott, our new secretary. Please be sure to return your ballot by June 1, 2007.

Editorís Corner

This newsletter is published by the Central Hudson Valley Chapter of the American Guild of Organists. The editor is:
Susan LaGrande
12 Montrose Lane
Wappingers Falls, NY 12590
Phone: 845-226-6496 (home) - Fax: 845-226-1035
e-mail: SUSANEL2@HOTMAIL.COM

Deadline for Next Newsletter

We are always glad to receive input for the chapter newsletter in the form of calendar items, reviews of recent concerts and events, biographies, letters, photographs, etc. In order to make sure these submissions can be processed in a timely fashion, please make sure they are received by the 23rd of each month. You may submit newsletter material by mail, e-mail, or phone. Just contact the editor, Susan LaGrande, using the information given below. Remember, the deadline for the next newsletter, to be available the first week in June, is May 23rd.