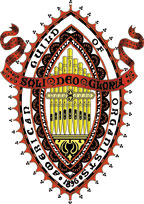 Newsletter
June 2007

Click here for the Newsletter Archive

Click here for a printable copy of the current newsletter



Dear Friends,

Welcome to "ordinary time," the post-Easter/Pentecost season, when things have finally calmed down and we think about the opportunities for personal reflection and growth available during the summer months. I hope you will take advantage of the regional convention and/or a workshop that will be useful to you. BUT FIRST, please call Greg and sign up to play in our members' recital on June 17. If you are unable to play, do come and support those who do, and of course, bring a friend or two. Or more. The music enthusiasts in your congregation typically love events like this.

As you realize, this is my last dean's letter and you may look forward to the indomitable wit of Greg Citarella in the coming months. Please step up and congratulate him and offer your support as you are able.

If I may, I would like to take this opportunity to say a few parting words. In the summer of 1973, when I had completed my master's degree in music education, I began studying with Don Pearson. The next fall, while I was practicing for a program at First Presbyterian, Virginia Hopkins handed me a membership application for the Guild. At that time, I honestly thought you had to pass an exam or prove some kind of competence for membership, so it was a relief to learn that all you needed to do was sign up.

Through the years, I had the opportunity to serve as treasurer, education coordinator, and board member at large. I took and passed (not on the first try) the AAGO and FAGO exams, and learned an incredible amount about music, the organ and myself in the process of preparing for these tests. I attended conventions, workshops, classes, and helped to organize some of them too. During some of the darkest hours of my life, when I couldn't get to anything at all, I kept getting calls–mostly from Alice Cann – to say we're thinking about you and hope you can be at the next event. And when I did come back after my wife's death, Bob Zeliff's first words were: Your friends in the Guild are here for you. All in all, it's been quite a trip.

I know that I have been incredibly blessed in ways that I sometimes don't even recognize. So when the opportunity to give back came in the form of this office and in the convention planning, it was a simple matter to say yes. And I can honestly say that having taken advantage of this opportunity has given me an incredible sense of usefulness and joy.

In closing, I have to say thank you to a wonderful board that was so inspiring to work with, and to all of you for your contributions to our communal growth. I encourage you to consider serving in whatever capacity you can, for the benefit of others and for the satisfaction that such service will bring to you.

God bless you.

Sincerely,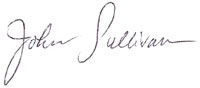 Correction

The ballot included with last month's newsletter contained an error in the biographical sketch for Nancy Harle. It should read as follows:
Nancy Harle – Nancy holds a Master of Arts in Teaching from Manhattanville College in New York and a Bachelor of Arts in Teaching from Auburn University in Alabama. She has studied and performed extensively as a pianist, organist, and singer. For 25 years she has taught music and directed choruses in public and parochial schools, as well as in her private studio. She is currently Organist/Cantor at both Laydentown United Methodist Church and Viola United Methodist Church.
Membership News

Boyd Herforth has a new e-mail address: nancy.herforth@verizon.net.
Time to Renew

It is now time to renew your membership in the AGO, and to invite a friend to join as well. Click here to download a membership application, which you should complete and mail with your check to the address listed on the form. Note that there is a slight increase in dues across the board this year, except for Chapter Friends. Please make sure to send in your renewal before June 30.
Free Organ Recitals to Promote New Bach CD Release

Organist Brian Hoffman of the Eastern New York Chapter is in the process of organizing a concert tour for Fall 2007 - Spring 2008 in promotion of his newest CD release "J.S. Bach: Preludes and Fugues". The concert repertoire for this year's tour will be the 24 Preludes and Fugues of J.S. Bach and each recital will feature different selections from that list. Every recital is offered free of charge to churches and AGO guilds which, in turn, may charge an admission/donation fee for their own fundraising purposes.

Brian Hoffman is a church and concert organist from New York's Capital District. He began studying the piano and organ at age 4 and became a church organist at age 11. In his career, he has performed over 100 recitals throughout the Northeast United States, mainly focusing on the masterworks of Cesar Franck and other French Literature. He was the Organist and, eventually Choirmaster at St. Georges Episcopal Church in Schenectady, NY for 12 years where he accompanied and directed the St. Cecilia Choir, a semi-pro ensemble specializing in sacred music from the Medieval Period through the great English Cathedral music of the 20th Century. A composer as well, he has written 5 Masses (Rite 1) and numerous sacred choral anthems as well as much organ music. Previous to the current Bach recording, he has recorded the masterworks of Cesar Franck
If you are interested in scheduling a free recital, please contact Mr. Hoffman at goodra@capital.net or 518.797.3346.

Editor's Corner

This newsletter is published by the Central Hudson Valley Chapter of the American Guild of Organists. The editor is:
Susan LaGrande
12 Montrose Lane
Wappingers Falls, NY 12590
Phone: 845-226-6496 (home) - Fax: 845-226-1035
e-mail: SUSANEL2@HOTMAIL.COM

Deadline for Next Newsletter

We are always glad to receive input for the chapter newsletter in the form of calendar items, reviews of recent concerts and events, biographies, letters, photographs, etc. In order to make sure these submissions can be processed in a timely fashion, please make sure they are received by the 23rd of each month. You may submit newsletter material by mail, e-mail, or phone. Just contact the editor, Susan LaGrande, using the information given below. Remember, the deadline for the next newsletter, to be available the first week in July, is June 23rd.