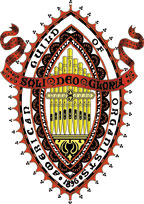 Newsletter
August 2007

Click here for the Newsletter Archive

Click here for a printable copy of the current newsletter



Dear Friends:

I cannot believe how quickly the month of July has flown by. For those of you who were able to attend our Annual Chapter Picnic on Saturday, July 28, 2007, you know that we have the market cornered on catering! We organists sure know how to party and have a good time. The food offerings were excellent as usual. We had a very good turnout. This time of year is so busy with vacations that it is understandable that some of our members could not be with us. For those who could not make it, you were missed. I am confident we will see you at future events.

A BIG THANK YOU to Susan, Frank and Sarah LaGrande for hosting our Annual Picnic. Everybody certainly enjoyed the hospitality, friendship and the beautiful day which was on tap!

Over the last weekend of July, I visited with two of our colleagues who are not able to be with us. These are long-time members Mary Caskey and Raymond Corey. I brought them each a "Certificate of Appreciation" for all their contributions and hard work to God, to his people and to our chapter. The certificates were signed by myself and Beverly Simmons. At a future event I will have a sample certificate so our membership can see what Mary and Ray received.

The visits were filled with stories and memories of organists, organs, school, students, events and history of the local area. I asked Mary and Ray if they would enjoy having phone calls or visitors. Both answered that indeed they would enjoy and appreciate hearing from or seeing their colleagues. Please remember in your prayers Mary and Ray and all our organists who are retired or at home. All of us give so much to God, his people and to our profession. It seems only fitting and proper to drop a note, a phone call or a brief visit to those who helped make this chapter and profession Swell & Great! Yes, every pun intended, but with great sincerity. Thank you, Mary and Ray, for your many contributions and for allowing me to come and visit. For those of you who would like to keep in touch, Mary Caskey's phone number is 845-534-2938; Ray Corey's is 845-229-5438.

Things are looking very exciting for our Choral Evensong in September, which will be held at Christ Church in Poughkeepsie. On Tuesday, July 31, 2007 I had a meeting to firm up plans with Rev. Blake Rider, rector of Christ Church, and Laura Russell, who will direct our choir for the event. Click here for a printable flyer, or you may call Susan LaGrande at 845-226-6496 to receive a copy by mail. Get yourself some flyers and distribute them to many!

Let's see what all of us can do together to make this event in a "Sacred Space and a Sacred Moment" one to be remembered. I'm counting on all of you to invite your choirs to participate in the Evensong Choir and your congregations to come and be bathed in the moment. Services such as this remind me of the adage, "Learn to listen with your heart, not just your ears." There is truly a symphony of music to be heard in God's creation.

Singers are needed for the Evensong Choir. Please read the rehearsal information elsewhere in this newsletter.

Continued Blessings on all our Music Ministries!

I remain in His Happy, Joyful and Musical Service - Soli Deo Gloria!



Gregory J. Citarella+
(SDG)


Membership News

• Nancy DeMilio Scott has accepted a position as Music Director at the Meadow Hill Reformed Church in Newburgh, NY.
• John Sullivan has provided his new address:
John Sullivan
6-B Lillian Avenue
Saco ME 04072
207-282-0271
John's e-mail address remains the same: jtcsul@earthlink.net

Choral Evensong – Information for Singers

Chapter Members, please read the following very important information:
• Volunteers are needed to sing in the Evensong Choir for Sunday, September 23, 2007 at Christ Episcopal Church, 20 Carroll Street, Poughkeepsie, NY 12601
• Volunteers should be our chapter members and members of their choirs. In addition, if you know other people who enjoy singing, please consider asking them to participate.
• Choir directors, please contact Gregory Citarella at 845-297-7693 to advise how many individuals from your choir/church will be volunteering to sing. This is important for our host church to have a count for seating purposes. As Greg says, "If at home you do not find me, leave a message that will remind me!" We would like to advise our hosts no later than August 20 or August 25 as to how many people are going to be available to sing.
• Choir directors should call Gregory Citarella at 845-297-7693 to arrange to pick up the anthems if you do not already have these anthems in your Church Choir Music Library.
The anthems are:
1. "Magnificat & Nunc Dimittis" by Thomas Attwood Walmisley (Only the "Magnificat" portion will be sung) – This music is back ordered. Gregory will advise when it becomes available.
2. "The Lord Bless You and Keep You" by Peter Lutkin, edited by Ruth Heller – Gregory has copies available
3. "O Taste and See" by Ralph Vaughan Williams – Gregory has copies available

Rehearsals begin Thursday, September 6, 2007 at Christ Episcopal Church, 20 Carroll Street, Poughkeepsie, NY 12601 Singers should attend Christ Church's regular weekly rehearsals on Thursday Evenings beginning at 7:30 PM. The anthems will be rehearsed as "first items" beginning at 7:30 PM each week. Choir directors, please teach your choir(s) the above anthems along with your regularly scheduled repertoire of anthems in advance of any rehearsals.

Singers and Choir Directors please note: If you cannot attend the weekly rehearsals there will be a scheduled rehearsal at 3:00 PM on Saturday, September 22, 2007. If volunteers can't come to all three rehearsals, but are able to learn the music anyway, that is acceptable. If they can at least come to the Saturday rehearsal at 3 PM that is acceptable . Alternatively, if they cannot come to Saturday, but CAN come to at least some of the Thursdays, they are still welcome. Laura Russell, who will direct the choir, is being very flexible with rehearsals.

All singers should be appropriately attired with white shirts for men; white blouses for ladies, weather-appropriate length sleeves for both; black pants for men; black slacks or skirts for ladies. Ties for men are appropriate and should be black or very conservative; no bright patterns or colors. Black shoes. No colognes, aftershave or other scented accoutrements!

Deadline for Next Newsletter

We are always glad to receive input for the chapter newsletter in the form of calendar items, reviews of recent concerts and events, biographies, letters, photographs, etc. In order to make sure these submissions can be processed in a timely fashion, please make sure they are received by the 23rd of each month. You may submit newsletter material by mail, e-mail, or phone. Just contact the editor, Susan LaGrande, using the information given below. Remember, the deadline for the next newsletter, to be available the first week in September, is August 23rd.

Editor's Corner

This newsletter is published by the Central Hudson Valley Chapter of the American Guild of Organists. The editor is:
Susan LaGrande
12 Montrose Lane
Wappingers Falls, NY 12590
Phone: 845-226-6496 (home) - Fax: 845-226-1035
e-mail: SUSANEL2@HOTMAIL.COM