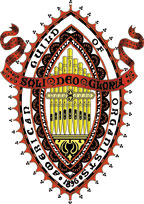 Newsletter
September 2007

Click here for the Newsletter Archive

Click here for a printable copy of the current newsletter



Dear Friends:

"When Autumn Leaves Drift By My Window". Ah, yes, September has arrived! I can tell you that this month is going to be tremendously busy for all of us. Summer vacations are for the most part behind us. A new choir season has begun. Yes, I am even planning Christmas Eve liturgy at this writing. I know, it's not a wellness!

"Evensong" is just a few weeks away on Sunday, September 23, 2007. Make sure you print out those flyers and encourage people from your choir to volunteer and sing with the Evensong Choir at Christ Church. Rehearsal schedules are listed in the Calendar of Events below. Call me if you need anthem music. Please encourage your clergy and congregations to attend too. Ask your clergy to put an announcement in the weekly bulletin. Remember, it pays to advertise!

This past month, August, was also busy month for me. I reached out to two more of our colleagues who have been devoted members of our chapter: Clara Miller and Erna Loerch. Clara has been a member for 50 years or more as she wrote in her "Thank you" note to me. Both Clara and Erna have individually received a "Certificate of Appreciation" on behalf of our chapter. Clara and Erna have given many years of dedication and service to God, the Church of God and his Family. This accomplishment cannot go unrecognized. Thank you Clara and Erna for all your dedication and service! Clearly these are people who have led our chapter to its great height and give credence to our motto "Soli Deo Gloria".

Since we instituted these "Certificates of Appreciation" I have received beautiful "Thank You" cards and notes from those recipients. I have asked Susan LaGrande to include these notes in our newsletter for all to read (see below). My feeling is this; we are an organization of professionals, we devote our life to Musical Ministry and should be recognized for our efforts.

Please remember that September has many wonderful offerings on our Calendar. I encourage you to attend as many of these events as possible, not only for the musical experience, but also for the support you give our members who work so diligently to bring these offerings to many. Check our calendar regularly. There are new additions being added all the time.

I would like to give notice and recognition to our newest members. There is a wave of growth happening in our chapter. As you know the Mid-Hudson Valley in general is growing demonstrably. We have one of the most active and diverse memberships north of New York City. I also feel confident in calling attention to our varied programs, workshops, lectures and recitals that we offer. If you know of an organist or choir director who is not a member of our ranks, encourage them to join us. Encourage Clergy to join too! We always have room for more.

Regular or Special
Mr. John J. Breitenbach
Dr. Charles Faverio (formerly a dual member)
Mr. Neil Gould
Dr. Laura Ramsey Russell
Mr. Jan S. Van Der Stad
Student
Mr. Michael C. Tangredi
Chapter Friend
Mr. John Vanderlee
Mr. Glenn May (formerly a dual member)


A gentle reminder: If you have not yet sent in your dues to Eric Hepp, our Treasurer and Membership Coordinator, please do so. You do not want to disrupt the mailing of your "The American Organist" Magazine or notification of our chapter events.

As we begin this Autumn Season I would like to reflect on the many blessings I receive every day. Not only do I get up and see the Sun and all that which has been created for us to enjoy on this planet, our island home – earth, but I also want to give thanks for all the hard work that each of you do individually. Keep our Motto shining brightly for all to take notice.

In closing I would like to quote what I learned as a Boy Scout and more particularly as a member of the Order of the Arrow. This adage, from the Native American tradition, although it is not attributed to any one tribe, it certainly has a message for all to enjoy:
"All that moves is sacred – only by understanding this can you realize the rhythm of Mother Earth, and thereby know how to place your feet for the journey…"
In my life journey this statement becomes more profound with each step I take and each day I live.

If you don't quite understand the above quote, then maybe this last verse quoted from Psalm 150 ties it together for all of us:

"Let everything that has breath praise the Lord!"

So be it! Amen!

In His happy service I remain….


Gregory+



Gregory J. Citarella+
(SDG)

Membership News

• Ray Corey still has an adjustable piano bench for sale. He also still has over a thousand pieces of music (organ, choir, piano, etc.) that he is willing to part with. All of it is cataloged by composer, title, etc. If you are interested, please call him at 845-229-5438 to make an appointment to look through it.

In Memoriam: Sue A. Quinn

On August 24, our colleague from the Hudson-Catskill chapter, Sue A. Quinn, succumbed after a long battle with cancer. Sue was an active AGO member, serving her chapter several times as Dean and Sub-Dean. A student of Ray Corey, she was organist and choir director at various churches for more than 40 years, including 15 years at Fair Street Reformed Church in Kingston, Christ Church in Red Hook and most recently at Catskill Reformed Church. Along with the late Barbara Lottridge, she organized the summer organ recital series at Old Dutch Church in Kingston. Those wishing to express condolences to the family may contact Burnett & White Funeral Homes, 7461 South Broadway, Red Hook, NY 12571 - Phone (845) 758-5042 or on the web at www.Burnett-White.com.

Notes of Thanks

As mentioned in the Dean's Letter, we have received notes of thanks from those who received certificates of appreciation. Excerpts from the notes are reprinted below:
From Heather and Ray Corey:
Dear Greg,
Just a note to thank you for Ray's plaque and to tell you how much that and your visit meant to us. Shortly after you left, one of Ray's organ students stopped by and was very pleased to see the plaque.
We understand you are very busy, but perhaps when the weather breaks, you might find a bit of time to stop and check out the aged and infirm. Even after 2 years, it is still hard not be able to pick up and go at will.
Again, many thanks.
Fondly,
Heather and Ray

From Mary Caskey:
To the very dear members of the Central Hudson Chapter, AGO, and its Board -
So many thanks to each one of you, and especially our Dean Gregory for his kind words in the Newsletter and for the bright and shiny plaque he delivered to my home.
Am about to leave for Ohio and my place on Lake Erie, at Catawba Island, for three weeks –
You will hear from me in the meantime!
All best,
Mary

From Clara Miller:
Dear Mr. Citarella,
I never expected this beautiful Certificate of Appreciation, even though I am a 50 year member of the AGO. I can't thank you and the Chapter for this. Just to know that you are appreciated is an honor. The wording, AGO logo, and signatures make this certificate worthy of a spot on my wall for anyone to see. I don't go out much but hope to attend one of the Bach festivals in September if my daughter will drive me.
Again, many thanks and I am honored to have this certificate.
Sincerely,
Clara P. Miller

Alban-Mehalko Nuptials

Reported by Gregory J. Citarella
On July 21, 2007, I attended the wedding of a former chapter member and organ student of mine, Jeff Alban. Jeff married the former Kay Johanna Mehalko. Kay is a beautiful young lady who graduated this past spring with a degree in Pharmacy. Their Nuptial Mass (a/k/a "The Mass of the Catechumens") was conducted in the Tridentine Rite; translation - all the parts of the Mass were in Latin. St. Alphonsus Catholic Church in the City of Baltimore was the setting for the wedding. The Rev. Msgr. Arthur Bastress was the Celebrant.

Music was performed on the organ by Jeff's friend and former teacher at Duquesne, Dr. John C. Walker. Dr. Walker is formerly Organist at Riverside Church NYC and Shadyside Presbyterian Church Pittsburgh, Professor of Organ at Duquesne University and now Professor of Organ at The Peabody Conservatory.

The choir was composed of friends of Jeff and Kay, including member of the Duquesne University Chamber Singers; former members of the Bach Choir of Pittsburgh members of St. Catherine of Siena Catholic Church Choir and members of the Calvert Hall College Hallmen. The choir was conducted by Mr. Neil E. Weston.

Music selections consisted of favorites of both Jeff and Kay:
A Pre-Nuptial Organ Recital: Arioso; Jesu Joy of Man's Desiring; Fugue in G ("The Jig") all by J.S. Bach.
The Seating of the Mothers - Aria - Paul Manz.
Processional Music - Sonata III in A major, Andante tranquillo and Con motto maestoso by Felix Mendelssohn.
The Mass setting - Messe, Op. 36 by Charles Marie Widor.
Offertory Anthem - Os justi meditabitur sapientiam by Anton Bruckner
Anthem at the Presentation of Flowers to the Blessed Virgin Mary - Ave Maria by John Rokosz
Recessional Finale from "Symphonie" VI by Louis Vierne

Needless to say there were many moments I had streams of tears rolling down my cheeks. I was filled with joy for Jeff and Kay. The setting of liturgy brought me back to my youth as a Roman Catholic, where I was raised in the Tridentine Liturgy. This was the first time that I worshipped in a Roman Catholic Church in 40+ years with Latin. There was a reverence for the liturgy that I had not witnessed since my childhood. I was moved beyond words.

I have to mention that there was plenty of incense to set the tone for the solemnity of the rite.

A reception was held at the Sheraton North in Towson, Maryland. Jeff and Kay embarked on a honeymoon to the Dominican Republic. Upon returning they will reside at the following address for those who might wish to send Congratulations:

Mr. and Mrs. Jeffrey M. Alban
800 Claughton Island Drive, #402
Miami, Florida 33131
bombarde32@hotmail.com

Over the years Jeff, his father and mother, Michael and Janis, and his brother Douglas have become a very large part of my family. The boys have adopted me as their "Uncle". I am truly honored to have been a part of this very important part in the lives of Jeff and my new niece, Kay along with their respective families.

I am confident that God's Grace and Peace will be upon Jeff and Kay as they begin their new life together.

Congratulations to Jeff, Kay and their loving families!
Deadline for Next Newsletter

We are always glad to receive input for the chapter newsletter in the form of calendar items, reviews of recent concerts and events, biographies, letters, photographs, etc. In order to make sure these submissions can be processed in a timely fashion, please make sure they are received by the 23rd of each month. You may submit newsletter material by mail, e-mail, or phone. Just contact the editor, Susan LaGrande, using the information given below. Remember, the deadline for the next newsletter, to be available the first week in October, is September 23rd.

Editor's Corner

This newsletter is published by the Central Hudson Valley Chapter of the American Guild of Organists. The editor is:
Susan LaGrande
12 Montrose Lane
Wappingers Falls, NY 12590
Phone: 845-226-6496 (home) - Fax: 845-226-1035
e-mail: SUSANEL2@HOTMAIL.COM