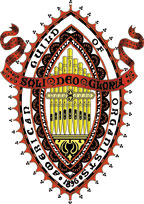 Newsletter
November 2007

Click here for the Newsletter Archive

Click here for a printable copy of the current newsletter



Dear Friends and Colleagues:

It seems like every note I write to you there is more to tell. This past October was a very ambitious month. Not that this would be a surprise! To borrow a phrase, I would like to call October "Nutrient Dense". We had a wonderful improvisation class by Donald Filkins – If you make a mistake – repeat it! "Jack and Friends" was an exceptional Organ, Trumpet and Brass Quintet concert where I was honored and pleased to publicly award Jack his Certificate of Appreciation. Finally, our Sub-Dean, Beverly Simmons gave a wonderful recital at her church, Trinity Church in Fishkill. All events were well received and well attended.

November is also looking to be a wonderful month for recitals and chapter sponsored events. Continue to check the calendar on our website. Updates are added as they are received.

There is so much going on in all our lives that I want to be as brief as possible with this note. The moment needs to be taken to pen this note in thanksgiving for all the hard work, support, creativity and patience that our AGO Board takes for programming, scheduling, arranging, suggesting new events, etc. The list goes on and on. Our chapter is one of the most successful and comprehensive chapters because of the wonderful teamwork that is shown by the dedication of each and every member of the board. When things seem impossible and challenging your board members step up to the plate. Then too, I must thank each and every chapter member who is contributing in your own individual way. No matter if you are a church organist, choir director, director of music at a temple, retired at home, student or teach in a school, many thanks has to be given for all your contributions and efforts in making this chapter what it is – Swell and Great!

During this time of preparation for Thanksgiving, Advent and Christmas, please take the time to give thanks for the simple things in your lives. Give thanks as well for the major moments and events that make us a community of faith, musicians, colleagues, friends, partners with our churches and clergy, parents, grand parents, children, pets … the list goes on. You know what I write comes from my heart to yours. When hearts speak to each other there is truly a connection and understanding that can never be denied.

In closing, remember the word "Holidays" is actually two words pulled together: "Holy Days". However you say it or celebrate…All Ways and Always give thanks to God because you can! Keep holy the days ahead!

Again, many thanks to all!

God's continued blessings and grace,



Membership News

• It is a pleasure to announce that Gregory S. Quaglieni, who studies organ with Pat Maimone, is the recipient of our Chapter Scholarship for this year. The Scholarship will go to pay for Gregory's ongoing lessons with Pat. We congratulate Gregory on his efforts to maintain high standards while working to become a church organist. Continued success, Gregory!
• Janet Nelson Nickerson has a new e-mail address: Janetinandout@earthlink.net. Please use this for all future correspondence.
• Pat Maimone has a new e-mail address: msbach2007@gmail.com. Her previous e-mail address of patmai@juno.com remains valid also, but patmai@gmail.com and patmai@erols.com should be deleted.


Deadline for Next Newsletter

We are always glad to receive input for the chapter newsletter in the form of calendar items, reviews of recent concerts and events, biographies, letters, photographs, etc. In order to make sure these submissions can be processed in a timely fashion, please make sure they are received by the 23rd of each month. You may submit newsletter material by mail, e-mail, or phone. Just contact the editor, Susan LaGrande, using the information given below. Remember, the deadline for the next newsletter, to be available the first week in November, is November 23rd.

Editor's Corner

This newsletter is published by the Central Hudson Valley Chapter of the American Guild of Organists. The editor is:
Susan LaGrande
12 Montrose Lane
Wappingers Falls, NY 12590
Phone: 845-226-6496 (home) - Fax: 845-226-1035
e-mail:
SUSANEL2@HOTMAIL.COM