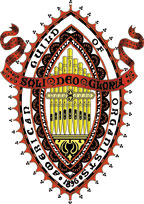 Newsletter
December 2007

Click here for the Newsletter Archive

Click here for a printable copy of the current newsletter



Dear Colleagues and Friends:

I will echo the sentiments of our National President, Fred Swann, in that we are all making a lot of music in Churches and Temples at this time of year. No doubt all of us are practicing extra diligently to ensure exceptional music for our communities of faith. I would love to survey the hours each of us practices, rehearses, meetings...etc. Add that all up from our chapter membership then add those numbers in to a larger roll up of time and talent across our national membership, and I suspect we would be at the top of the list of those who "burn the midnight oil." Corporate America has nothing on us! Each of you works very passionately to bring special music to our communities of faith at this time of year. Keep up the momentum!

Many of us are entering Advent and beginning the Liturgical Calendar Year "A". That means a new cycle of Scriptural Readings and a new round of hymns to complement those texts. I want to take this time to extend my deepest and sincerest gratitude and thanks to all of you who are making our AGO Chapter a very special organization. Of course that means everybody! The celebration of the Nativity of our Lord is a time of hope for the future. It's just not the presents we give, but the presence we are in each others lives. During this time of year, as we prepare our hearts for that celebration, please keep that hope alive by keeping a song on your lips. When you sing, you pray twice.

"Music is said to be the voices of Angels." In that we rest assured that there is a chorus of Angels singing "Soli Deo Gloria." We all work hard at our craft. Many are Swell, Great, accomplished and otherwise with their talents. But what is important is how we help each other in a fraternal and collegial manner to keep our motto shinning brightly. "Music expresses from the heart that which cannot be put into words." Each of you knows the aforementioned adage all too well. Our hearts talk to each other in the same manner and we understand.

Remember our hope for the future lies on a baby born in the City of David who shall be called "Wonderful Counselor, Mighty God, Everlasting Father, Prince of Peace..." (Isaiah 9:6)

My heart's warmest wishes to all for a Blessed Christmas, a Happy Hanukkah and a very Happy, Healthy and Prosperous New Year in 2008. "Rejoice, Rejoice Believers..."

As always I remain in His Happy, Musical and Joyful Service,



Membership News

• Correction to the Membership Roster: Joanne Reed is Organist/Music Director at Westwood United Methodist Church, Westwood. This was previously announced correctly in the September newsletter.
• We are pleased to report that several new members have joined or rejoined our ranks. Some of these individuals have been listed in these pages before, but the following list of new and returning members is complete as of November 25, 2007.
William Bozzetto
John J. Breitenbach
Neil Gould
T. Boothe (Terry) Earles
Dr. Laura Ramsey Russell
Dr. Ruthanne Schempf
Mr. Michael C. Tangredi
Mr. John Vanderlee
Mrs. Nancy A. Vanderlee
Mr. Jan S. Van Der Stad
Full mailing addresses and phone numbers will be added to our membership roster and posted in the private area of our web site at www.chvago.org. If you need a printed copy of the roster mailed to you, please contact the editor, Susan LaGrande, at 845-226-6496.

Choral Evensong CDs Now Available

A 2-CD set of our September 23 Choral Evensong at Christ Church is available for $12. This was a beautiful service, filled with music and readings. The CD set includes the 30 minute opening concert by Craig Williams, and contains the entire service, from opening procession to closing benediction. To obtain a CD, send e-mail or call Eric Hepp (erhepp@us.ibm.com, 845-790-3381) to reserve your copy. Then send a check for $12 to Eric Hepp, 24 Lormar Ct., Wappingers Falls, NY 12590. We will have pickup points at each church whose choir participated in the service. If you will be obtaining your copy at one of the participating churches, indicate the church in your e-mail. If you would like your CD mailed, specify that, and include $2 additional for postage, for a total of $14. If you order multiple copies and wish them mailed, check with Eric for shipping costs for the bundle. Please place your orders by December 15. Christmas is coming, and these would make a very nice and special gift that can be appreciated throughout the year.

Encore Choral Evensong Scheduled for February 3

-- From Program Chair Beverly Simmons
Once again we are co-sponsoring (with Christ Church) an ecumenical Evensong to take place at Christ Church in Poughkeepsie on Sunday, February 3, 2008, at 5:00 PM It will be preceded by a half-hour organ recital by Merellyn Gallagher at 4:30. If you missed our September event you will want to be sure to participate (along with members of your choir) and if you joined us then, you will hopefully want to do it again. My own choir members spoke about how much fun it was to sing with a really large group.

So here are the particulars: You will need to order the following three anthems. (The chapter is not doing it for you this time.)
• Candlyn:"Christ whose glory fills the skies" – with organ – CM 622 Carl Fischer Pub
• Rutter: "A Gaelic Blessing" – with organ – Hinshaw RSCM-501
• Rutter: "God be in my head" – a cappella – Oxford 94.326

As before, there will be a dress rehearsal the day before on Saturday, February. 2, 2008, probably at 1:00 PM. You may learn the music on your own and teach it to your choir or, if you are free on Thursday evenings you may join Laura Russell at Christ Church for their rehearsals.

Choirs are welcome to rehearse on their own, and then join us for the dress rehearsal on the day before the Evensong. Guest organists (at least those accompanying the choirs) would join us on the Saturday as well. I will have joint rehearsals at 7:30 PM at Christ Church on the three Thursdays leading up to the Evensong: 1/17, 1/24, and 1/31 for singers who do not have choir rehearsal on Thursday nights. They will run for an hour, tops.

If you have questions please contact me at beverlysim@verizon.net or call me at 845-463-1249.

Deadline for Next Newsletter

We are always glad to receive input for the chapter newsletter in the form of calendar items, reviews of recent concerts and events, biographies, letters, photographs, etc. In order to make sure these submissions can be processed in a timely fashion, please make sure they are received by the 23rd of each month. You may submit newsletter material by mail, e-mail, or phone. Just contact the editor, Susan LaGrande, using the information given below. Remember, the deadline for the next newsletter, to be available the first week in November, is December 23rd.
Editor's Corner

This newsletter is published by the Central Hudson Valley Chapter of the American Guild of Organists. The editor is:
Susan LaGrande
12 Montrose Lane
Wappingers Falls, NY 12590
Phone: 845-226-6496 (home) - Fax: 845-226-1035
e-mail: SUSANEL2@HOTMAIL.COM