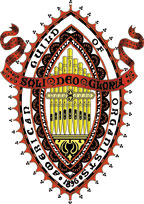 Newsletter
February 2008

Click here for the Newsletter Archive

Click here for a printable copy of the current newsletter



Blessings to all as we begin Lent 2008:

From the outset of my February Dean's Letter I want to acknowledge a very large "Thank you" to all our members who participated in Choral Evensong at Christ Church in Poughkeepsie on Sunday February 3, 2008. Those colleagues who participated at the organ console: Connie Lacey, Susan Guse, Beverly Simmons, Rob Brown and Joe Bertolozzi; to all a round of applause. Kudos go to our sub-dean, Beverly Simmons for the coordination effort in assembling this wonderful team who gave musical leadership that evening. Our colleague Laura Russell, Director of Music and Organist at Christ Church, is applauded as well. Under Laura's able direction the evening flowed musically and with dignified aplomb. To Rev. Rider, thank you for your leadership in prayer and for being a guiding light in building this successful partnership between your ministry, the larger community of faith and our AGO Chapter. The "Thank you" continues to Christ Church choir members, our AGO Chapter members who lent their voices along with the many combined churches choir volunteers. We thank each and every one of you for your contributions.

A very large round of applause goes to our colleague Merellyn Gallagher who gave a tremendously well-rounded and well-executed organ concert. When Merellyn completed her recital a thunderous applause arose from the community gathered. Brava Merellyn!

The reception after Choral Evensong was exceptional. A note of thanks goes out to "chefs du jour" for the reception and the tasty delights served up.

For those long-time members, you will be pleased to know that Clara Miller was present in church! It was wonderful to see Clara and have her with us. He son-in-law drove her. Likewise it was a pleasure to make his acquaintance. Clara received her music degree from SUNY New Paltz in 2002. Clara is retired and looks wonderful at 99! God Bless!

I dare mention that I think there might have been possibly more attendees this time around. For the community at large it was a thrilling evening. A friend of mine attended Choral Evensong and mentioned how he was moved to tears by the singing, prayers and musical expressions that evening. The Spirit was present!

There were some friends from different faith traditions that don't necessarily include Christianity. This too made the evening all the more poignant as I made my opening remarks to welcome those gathered in faith and community. When you consider that it was also Super Bowl Sunday, the turnout was even more gratifying.

Forgive my redundancy in repeating our host Rector's words - Rev. Blake Rider: "We please God best when we are in Community with each other." The community was present and accounted for at Choral Evensong. Our Guild is known by our professionalism and our commitment to our art and craft to which we devote time and effort to so lovingly. What a great way to start the International Year of the Organ! Likewise a very Spiritual way to begin Lent.

Now, Lent is defined: One of the four periods set aside each year when we are called upon to fast and pray fervently, it is a period of 40 weekdays from Ash Wednesday to Holy Saturday. Some catch phrases come to mind for the beginning of our journey: "Mardi Gras" and "Carnivale."

All those French majors out there should see that "Mardi Gras" translates to "Fat Tuesday." We have come to embrace this as the day which many of us stock up on fuel known as Pancakes and Syrup, also known as "Carb CITY." I will be lending my hand at St. Nicholas by flipping flap jacks for the community who will gather to enjoy an evening and friendship. This is a time to eat and "stock up" before we begin our fast or sacrifice leading up to the Easter Triduum (Three Days of Easter: Maundy Thursday, Good Friday and Holy Saturday).

"Carnivale" is for those who speak with a Latin influence. This is a contraction, or two words pulled together to form one. "Carni" translates to "Meat"; while "Vale" signifies "without," so the English translation for "Carnivale" is "Without Meat." Traditionally, those who followed the sacrifice of Lent, in this case eating no meat, but eating fish instead, were following in the footsteps of the "Fisher of men", Jesus Christ. Now you know the rest of the story.

"Sing to the Lord a new Song! He has done marvelous things. I, too, will praise him with a new song."

Soli Deo Gloria! Amen!

Best regards,


Gregory J. Citarella+
(SDG)

Membership News

• Ray Corey has a new phone number: 845-229-0359. His other contact information remains the same.
• Joe Bertolozzi is now available to sub on Saturday evening and Sunday mornings. Contact him at 845-831-0695 or info@JosephBertolozzi.com.

Deadline for Next Newsletter

We are always glad to receive input for the chapter newsletter in the form of calendar items, reviews of recent concerts and events, biographies, letters, photographs, etc. In order to make sure these submissions can be processed in a timely fashion, please make sure they are received by the 23rd of each month. You may submit newsletter material by mail, e-mail, or phone. Just contact the editor, Susan LaGrande, using the information given below. Remember, the deadline for the next newsletter, to be available the first week in March, is February 23rd.

Editor's Corner

This newsletter is published by the Central Hudson Valley Chapter of the American Guild of Organists. The editor is:
Susan LaGrande
12 Montrose Lane
Wappingers Falls, NY 12590
Phone: 845-226-6496 (home) - Fax: 845-226-1035
e-mail: SUSANEL2@HOTMAIL.COM