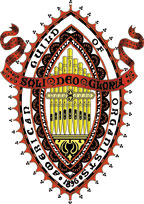 Newsletter
March 2008

Click here for the Newsletter Archive

Click here for a printable copy of the current newsletter



A Blessed Lent to one and all!

Here I am March 2 at 10:00 PM Sunday Evening of Laetare Sunday ("O be joyful" or "Rejoice"), penning the March Dean's Letter. I have just returned home from an AGO Board meeting at Trinity Episcopal Church in Fishkill. Prior to the beginning of our board meeting, Sr. Jean Campbell, rector of Trinity, conducted a Taizé Lenten Prayer Service with choir, organ and candles. Our Sub-Dean, Beverly Simmons, is Director of Music and Organist at this church. The prayer service was meditative, calming, soothing and tremendously spiritual. Exactly what the doctor ordered to conclude Laetare Sunday.

Many of you are asking "What is Laetare Sunday?"

Laetare Sunday (often pronounced le/tari in English), so called from the Incipit of the Introit at Mass, "Laetare Jerusalem" ("O be joyful, Jerusalem"), is a name often used to denote the fourth Sunday of the season of Lent in the Christian liturgical calendar. This Sunday is also known as Mothering Sunday, Refreshment Sunday, Mid-Lent Sunday (in French mi-carême), and Rose Sunday, because the golden rose sent by the popes to Catholic sovereigns, used to be blessed at this time. The term "Laetare Sunday" is used predominantly, though not exclusively, by Roman Catholics. This is also the Sunday where, if you are fasting or sacrificing for Lent, you can "Mother" or "Refresh" yourself with something that you might have given up or sacrificed not to indluge during this period of time. Do I see Chocolate in your hand?

During Lent itself, for me at least, it is a time to re-evaluate my journey as a Christian. Basically to reflect and pray more on my journey in life, not only as a Christian, but also as a part of the family of God. I often ask myself the questions "What is it that God wants me to do?" then, "What is it I can do to make my service to God and his people more effective?" These are not easy questions. I never seem to come up with right or wrong answers. Just more questions! Confidently, I know I am a work in progress. God is not finished with me.

What does all this have to do with this Dean's Letter? Perhaps nothing. Then again, perhaps everything. In life we are on a journey. What that journey holds for us is known only by God.

Lent is a time to ponder much. Soon we will be journeying through Holy Week which includes the three holiest days of the Christian Year. These are known as the Easter Triduum; Maundy Thursday (a/k/a Holy Thursday), Good Friday, Holy Saturday or Easter Vigil/Easter Sunday. Take the time from your already busy schedule and ask yourself where you are on your journey. Do you need a Spiritual or Musical Tune-up? Are you putting your best efforts forward as best you can to bring people closer to God through your musical ministry? Do not answer me. Perhaps you remember the late President John F. Kennedy's challenge when he stated: "Ask not what your country can do for you; but ask what you can do for your country". I would transpose his challenge thusly: "Ask not what God can do for you; but ask what you can do for God."

I pray in earnest that you have read this far. Hopefully I have sparked some questions that all of us need to ask ourselves as individual servants of God and servants of his people. Reflect. Ponder. Question.

Step up to the challenge and take this journey in Holy Week in a very spritual, musical and thought provoking manner.

The journey towards Jerusalem begins with one step at a time.

Dear Colleagues, ours is a very special and truly unique musical profession as Servants of God and of his people. In closing I would like to quote Psalm 108 verses 1 and 2:
"My heart is firmly fixed, O God, my heart is fixed;
I will sing and make melody.
Wake up, my spirit; awake, lute and harp;
I myself will waken the dawn."
The journey begins…

Easter Blessings on all our Music Ministries, Family and Friends!

In His Happy and Musical Service I remain….



Reminder: Daylight Savings Time begins when you go to sleep on Saturday, March 8, 2008. You lose an hour of sleep. Spring ahead your clocks and be on time for Sunday morning Liturgies.
Sunday March 16, 2008 - Happy Birthday J.S. Bach? Good Friday is March 21, Bach's Birthday. Hence a transfer of Bach's Birthday Celebration! On Palm Sunday, March 16, 2008 – 3:00 PM I hope to see many of you celebrating J. S. Bach's 323rd Birthday at The Episcopal Church of St. Mary-in-the-Highlands located at One Chestnut Street, Cold Spring, New York. Our colleague, Patricia Maimone (Past Dean) is the Director of Music and Organist at St. Mary's. Following St. Mary's, I am going to journey to Poughkeepsie to experience the very beautiful and moving Fauré Requiem directed by our colleague Laura Russell at Christ Church, 20 Carroll Street. This begins at 7:00 PM. Eric Hepp (colleague and treasurer) will be the accompaniest for the Fauré. If anybody wants to coordinate and car pool with me, let me know. I have room for three comfortably or four intimately.
I encourage you to support as many of these events as possible.
Music expresses that which which cannot be put into words.
Begin practicing for our Members Recital to be held Sunday May 4, 2008 at 3:00 PM at The First Evangelical Lutheran Church in Poughkeepsie. Eric Hepp will be our host. Please call Eric (845-790-3381) or contact him at erhepp@us.ibm.com for more information regarding practice scheduling. My hopes is that many people will participate in the Members Recital. This is the International Year of the Organ. Let's Support as many initiatives as possible.
Deadline for Next Newsletter

We are always glad to receive input for the chapter newsletter in the form of calendar items, reviews of recent concerts and events, biographies, letters, photographs, etc. In order to make sure these submissions can be processed in a timely fashion, please make sure they are received by the 23rd of each month. You may submit newsletter material by mail, e-mail, or phone. Just contact the editor, Susan LaGrande, using the information given below. Remember, the deadline for the next newsletter, to be available the first week in March, is March 23rd.


Editor's Corner

This newsletter is published by the Central Hudson Valley Chapter of the American Guild of Organists. The editor is:
Susan LaGrande
12 Montrose Lane
Wappingers Falls, NY 12590
Phone: 845-226-6496 (home) - Fax: 845-226-1035
e-mail: SUSANEL2@HOTMAIL.COM