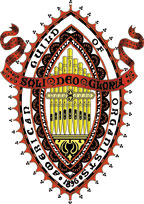 Newsletter
April 2008

Click here for the Newsletter Archive

Click here for a printable copy of the current newsletter



A Blessed Eastertide to all!

I am penning this note earlier this month because March was Animato. March went by so quickly it almost seems like it didn't even happen. All that being said, we were all, no doubt, tremendously busy with our usual practicing, Holy Week rehearsals and liturgies, Easter Vigil and Easter Sunday Morning preparations. We made it – proof positiv that we are a very composed and a highly organ-ized group of individuals.

Needless to say many local churches experienced a good gathering of the faithful. The church where I serve, St. Nicholas-on-the-Hudson, had record attendance. I want to add that the singing was truly uplifting. Many people who attended liturgy were visiting family in the local area and attended St. Nicholas for the first time. Yes, I even performed Handel's "Hallelujah Chorus" as a postlude. Although I have to be honest: those who attended church erupted into applause with greetings to each other that was very warming indeed. The children had a blast participating in the Easter Egg Hunt after the Sunday liturgy was concluded.

It is with a continued heavy heart that we note the passing of two very gifted organists, musicians, colleagues and supporters of our chapter and mission. William Robert "Bob" Brittenham died on Monday, March 17, 2008 and Mary S. Caskey (former chapter treasurer) died Thursday March 20, 2008. Our chapter is blest to have had these two long-standing members in our midst. Bob and Mary served God and the Family of God faithfully and with distinction throughout their careers as church musicians. They will be missed. Our prayers go out to their families, and to their family of friends during this difficult time of separation and grieving.

"Pray for the repose of the souls of the faithful departed..." After the loss of Mary and Bob, this phrase has had a more personal meaning this year more than in prior years, as we have journeyed through Holy Week and the Easter Triduum.

Mary and Bob, thank you for many years of Faithful Service to God - Requiescat in Pace.

A very moving funeral liturgy for Bob Brittenham was conducted on Saturday March 22, 2008, 3:00 PM at St. John's Evangelical Lutheran Church, Poughkeepsie. Many people attended, which is a testament to Bob's overall warmth and the friendly manner in which he interacted with all. His music will live on through his numerous CDs which memorialize his improvisations.

I will be attending the scheduled memorial service for Mary Caskey on Saturday, April 5, 2008, 1:00 PM at Grace Episcopal Church located at 58 North Street, Middletown. I hope to see many of you in attendance. For directions and further information, call the church at 845-343-6101.

In light of Mary's and Bob's ministries here on earth and their contributions and dedication to our chapter, it is only fitting that this year our chapter Members Recital be dedicated to the Honor and Memory of these two exceptional colleagues. Please consider performing in the Members Recital on Sunday, May 4, 2008 at 3:00 PM at the First Evangelical Lutheran Church located at 325 Mill Street, Poughkeepsie. For more information or to arrange practice time please call our host, Eric Hepp. Eric's number is: 845-790-3381 or email: erhepp@us.ibm.com

Remember too that Brian Hoffman will be giving an all Bach Organ Recital at Christ Episcopal Church on Sunday, April 6, 2008 at 7:00 PM. A suggested donation of $10.00 is appreciated. Christ Church is located at 20 Carroll Street, Poughkeepsie. For more information regarding this and other events always review our chapter calendar for details. The calendar is filling up with many Swell and Great events. Attend and support as many events as possible.

J. S. Bach was prophetic when he penned at the end of each of his compositions what would become our AGO Motto:

Soli Deo Gloria!

To God be the Glory!

God's continued Blessings and Grace to all of you.

In His Joyful and Musical Service I remain….



In Memoriam - William Robert "Bob" Brittenham

POUGHKEEPSIE Bob Brittenham, 82, of Poughkeepsie, entered into eternal life on Monday, March 17, 2008, with his wife and all of his children at his side, at the Cardiac Care Unit of New York Presbyterian Hospital in New York City. Born May 29, 1925 in Rock Island, Illinois, he was the son of Rollins Rex Brittenham and Sarah Faye Dresser. On August 5, 1950 he married, first, Lois Gene Varner, in Rock Island, Illinois. She predeceased him on December 15, 1958. On June 11, 1960 he married Marjorie Lorraine Schrader in Polar, Wisconsin. She survives at home. In 1950, he graduated from Augustana College in Rock Island, Illinois. He received a Master of Science Degree in Mathematics in 1952 from the University of Wisconsin, Madison, Wisconsin. He was a computer programmer with A.O. Smith Corporation, Milwaukee, Wisconsin. The family moved to Poughkeepsie in 1963, where Bob began work at IBM Corporation. Bob retired from IBM Corporation as a Senior Programmer in 1987. While working for IBM he received a number of awards, including a corporate award for creating and designing the system programming language PL/S. Bob began playing organ at the age of 14. He was Assistant Organist atCapitol Drive Lutheran Church in Milwaukee, Wisconsin from 1958 to 1963. He was then an Assistant Organist at Our Savior Lutheran Church in Fishkill, New York from 1964 to 1975. From 1975 to 1994 he was the Organist at First Presbyterian Church in Poughkeepsie, New York. He recorded many hours of his organ playing and had recently finished compiling a 10 CD "Musical History of First Presbyterian Church". He had also produced CDs from his recordings, entitled Organ Improvisations at Our Savior Lutheran Church, Organ Compositions and Improvisations from First Presbyterian Church and Christmas Music 1988-1990 with the choir of First Presbyterian Church. He served in the 33rd Seabee Battalion in the South Pacific in World War II. While serving on the island of Peleliu, he played the organ for church services. He was an avid genealogist. After their retirement, Bob and Marge traveled in the Eastern and Midwestern United States researching their family histories. He wrote and published two books, Descendants of Johann Nicolaus Emich and The Garter Family of New York and Michigan. He is survived by his wife, Marjorie, his five children and nine grandchildren: David and Carolyn Brittenham, and daughter Katy of Hastings-onHudson, New York; Peter and Abby Brittenham, and children Joshua, Gregory and Jessica of Pittsboro, North Carolina; Mark Brittenham and Susan Hermiller of Lincoln, Nebraska; Paul and Anne Brittenham, and children Sarah, Chloe and Leda, of Skaneateles, New York; and Julie and David Tuttle, and children Matthew and Deanna, of Poughkeepsie, New York. He is also survived by his brother, Rex Rollins Brittenham, of Mt. Clemens, Michigan, and seven nieces and nephews. Calling hours will be from 4:00 p.m. to 7:00 p.m. Friday, March 21, 2008 at Straub, Catalano & Halvey Funeral Home, 55 East Main Street, Wappingers Falls, New York. Funeral services will be held on Saturday, March 22, 2008 at 3:00 p.m. at St. John's Evangelical Lutheran Church, 55 Wilbur Boulevard, Poughkeepsie, New York. Burial will follow at the Wappingers Rural Cemetery, Route 9D, Wappingers Falls, New York. The family would like to express their sincere thanks to Dr. Virginia Klimekof Memorial Sloan-Kettering for her invaluable assistance in the treatment of Bob's Myelodysplastic syndrome and for her constant support to the family in Bob's final days. In lieu of flowers, the family has requested donations in Bob's memory be made to St. John's Evangelical Lutheran Church, 55 Wilbur Boulevard, Poughkeepsie, New York, 12603 and the Hematology Lymphoma Fund at Memorial Sloan-Kettering (www.mskcc.org/gifts/). For directions to the funeral home or to send the family a personal condolence, please visit our website at www.StraubCatalanoHalvey.com.

Published on March 19, 2008.
In Memoriam - Mary Sherman Caskey

CORNWALL, NY - On a blustery first day of spring in 2008, Mary Sherman Caskey died at her home in Cornwall, N.Y. She was 83. Mary was born in Fremont, Ohio, the daughter of J. Homer Sherman and Mary Williams Sherman. Upon the death of her mother, Mary was lovingly raised by Lucy McGormley Sherman. A graduate of Oberlin College with a degree in music, Mary also attended Westminster Choir College in Princeton, N.J., where she studied organ with her dear friend and mentor Claire Coci. Some considered her the "sound of music" as she taught and played music throughout Orange County for decades. During her 30-year career as organist at Grace Episcopal Church in Middletown, N.Y., Mary created the Festival Brass Group. It accompanied her to St. Patrick's Cathedral in New York City, where they had the honor of performing a concert. Prior to her tenure at Grace Church, Mary was the organist at Bantam Episcopal Church in Bantam, Conn.; Moulton Memorial Baptist Church in Newburgh, N.Y.; and St. John's Episcopal Church in Cornwall. Mary was a bookkeeper at the Storm King School in Cornwall. She was one of the original trustees and also served as treasurer of the Museum of the Hudson Highlands (originally known as the Cornwall Neighborhood Museum Association); secretary and a member of the Orange County Citizens Welfare Committee; a longtime volunteer with Meals on Wheels and The Guild of St. Margaret; treasurer of the local chapter of the American Guild of Organists; and treasurer of the Pine Hill Cemetery in Middletown. Besides her parents, Mary was predeceased by her husband, Robert; her brothers, John, Philip and Richard; and her nephew John H. Sherman. She is survived by her son, Jeremy Carroll, and his wife, Anne, of Maryland and Anne's son, Tyler; and many other family members, colleagues and dear friends. In lieu of flowers, memorial donations may be made to The Robert Caskey Organ Maintenance Fund, The Robert Caskey Memorial Holiday Dinner Fund, or The Guild of St. Margaret, all c/o Grace Episcopal Church, 12 Depot St., Middletown, NY 10940. Small of stature, Mary was a feisty woman with a heart bigger than herself. Her door was always open and many found refuge at Mary's at difficult times in their lives. She could often be seen in her trusty little station wagon with her dogs in the back, heading off to her next charitable deed or errand on someone's behalf. She was generous in sharing her love of music with others, especially children, whom she treated as equals. Many remember with pleasure her tours of the pipe organ at Grace Episcopal Church, an introduction to the mysteries of sound and acoustics. Her life was as many-layered and rich as a Bach fugue, and echoes in the hearts of those who loved her. There will be no visitation. A memorial service will be held at Grace Episcopal Church in Middletown at 1 p.m. on Saturday, April 5, 2008. Funeral arrangements by Quigley Bros. Cornwall-on-Hudson NY.

Published on March 26, 2008, The Poughkeepsie Journal.
Deadline for Next Newsletter

We are always glad to receive input for the chapter newsletter in the form of calendar items, reviews of recent concerts and events, biographies, letters, photographs, etc. In order to make sure these submissions can be processed in a timely fashion, please make sure they are received by the 23rd of each month. You may submit newsletter material by mail, e-mail, or phone. Just contact the editor, Susan LaGrande, using the information given below. Remember, the deadline for the next newsletter, to be available the first week in May, is April 23rd.

Editor's Corner

This newsletter is published by the Central Hudson Valley Chapter of the American Guild of Organists. The editor is:
Susan LaGrande
12 Montrose Lane
Wappingers Falls, NY 12590
Phone: 845-226-6496 (home) - Fax: 845-226-1035
e-mail: SUSANEL2@HOTMAIL.COM