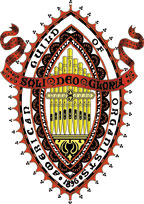 Newsletter
November 2003

Click here for the Newsletter Archive

Click here for a printable copy of the current newsletter


Letter from the Dean

This has to be the most beautiful time of the year to be in the Hudson Valley. This October marks my 9th year of being at West Point. It's hard to believe how much I've learned about the organ in nine years – and how much there is still to be learned!

Thanks to Susan Guse for setting up and presenting our last event, "Working with Children's Choirs." Although I was unable to attend, I am told that it was wonderful.

Our next event is a dinner meeting – a personal favorite of mine – that will include a presentation on financial matters just for us organists. Investments strategies and tax planning will be among the items discussed. I'm hoping to learn how to afford that new Ferrarri upon retirement! This will be held at Greenbaum & Gilhooley's Restaurant, on Route 9 in Wappingers Falls. Click here for directions. We'll start with dinner (click here for menu) at 6 PM. Please contact Susan LaGrande to let her know if you're going to be there so she can arrange setup for the appropriate number.

November will be a "double-header" for us program-wise. On Saturday the 22nd, we'll present "Pipes, Pedals and Pizza" at three locations from 11 AM to 1 PM. This program was quite successful last year, and by request, a third location was added this year. We'll be at Webb Horton Memorial Presbyterian (Middletown), Union Presbyterian (Balmville/Newburgh) and Zion Episcopal (Wappingers Falls).

We work together with the MTNA on this event, which is intended to reach out to the next generation of organists by inviting piano students to come play a piece on the organ. If you would like to help at any of the locations, please contact Don Filkins (Webb Horton), myself (Union Pres), or Beverly Simmons (Zion Episcopal) and let us know.

Hope you had fun on Hallowe'en. In my neighborhood I noticed that one family had their two children in "theme" costume this year. One kid was dressed as a Japanese princess in a beautiful robe, and the other wore a dinosaur or giant lizard costume. Together, they made a … … … "KIMONO DRAGON."

See you in Wappingers Falls!!


Financial Planning for Organists

Sunday, November 9 - 6:00 PM
Greenbaum & Gilhooley's Restaurant
1379 Rte 9
Wappingers Falls, NY
Presenter: David J. Mazzetti, American Express Financial Advisor

Dave holds Series 7 licenses in General Securities and a Series 66 license in Uniform State Law for Securities. He is licensed to sell Securities in NY, CA, CT, FL, NH, NJ, RI, & PA and is licensed for Insurance in Securities in NY, MA, NV, and RI. He is currently completing his studies in Marist College's Certified Financial Planning Program. Dave is a recipient of American Express Financial Advisors Inc., prestigious Mercury Award and a member of the American Express Silver Circle of Success 2002-3.

Recently Dave was appointed a member of the company's prestigious Personal Financial Advisors - Advanced Advisor Group. This is comprised of select members of the company's field organization. Financial advisors are selected for this group based on their experience as successful financial consultants, recognized professional designations, and superior financial planning, quality advice, and client service. Members of this group are among the highest ranked personal financial advisors in the company.

Dave is the president and co-founder of Hayde, Mazzetti and Associates, a financial advisory branch of American Express Financial Advisors. He currently has offices based in Goshen, Fishkill, Kingston, and Poughkeepsie. He and his wife Joy and their 6-month-old son Reilly reside in Wallkill, NY. Dave is the Warden of the Vestry of Holy Trinity Episcopal Church, Highland, NY, and a member of the Italian Center of Poughkeepsie.

Menu: Soup, Salad, Entree (Prime Rib, Salmon, or Stuffed Chicken), Dessert, Beverage - $26.00 per person

Directions:
From the Beacon-Newburgh Bridge (Rte I-84):

- Take Rte I-84 east to Rte 9D (exit number 11 - first exit after bridge). Turn LEFT at top of exit ramp.

- Take Rte 9D north for 5.8 miles to traffic light at County Rd 93/Middlebush Road.

- Turn RIGHT onto CR 93/Middlebush Road and continue eastbound for 1.2 miles. Watch for upcoming traffic light at Rte 9. Move into left lane.

- A few yards before traffic light, turn LEFT onto Old Rte 9 (in front of yellow Mexican Restaurant). Proceed a few hundred yards to the parking lot of Greenbaum & Gilhooley's

- If you miss the turn for Old Rte 9, turn LEFT onto Rte 9 and proceed north to the first available opening for a U-turn. Enter the parking lot from Rte 9.

From the Mid-Hudson Bridge (Rte 44-55):

- Take Rte 9 south for 7.25 miles.

- Watch for the traffic light at BJ's Wholesale Club/Stop&Shop - restaurant is just past this traffic light, on the right side.
Wanted - Free Piano
We recently received this note from Alice Cann:
A donation of a good second hand piano is needed and requested for the folk at ARC, a non profit organization.
For the past eleven years, except for summer months, I've been doing a weekly music program with an adult group at ARC, the Association for Retarded Citizens. You wouldn't believe the joyful sound and enthusiasm! What a reward.
The old wiggly-legged piano needs replacement. "Out of tune" doesn't quite describe it. Can you help?
ARC is located near Poughkeepsie, off Route 55 and in the town of LaGrange. The organization will do the moving of a donated piano, hopefully from not too far away. I would love a studio model on wheels, or a console, but please no uprights.
This gift will be greatly appreciated. Thank you for reading this note and passing the word.
Sincerely, Alice Cann
Editor's Corner
This newsletter is published by the Central Hudson Valley Chapter of the American Guild of Organists. The editor is:
Susan LaGrande
12 Montrose Lane
Wappingers Falls, NY 12590
Phone: 845-226-6496 (home)
Fax: 845-226-1035
e-mail: SUSANEL2@HOTMAIL.COM
All material in this newsletter (except for lists of members' addresses and phone numbers) is available on our web site at www.chvago.org
Newsletter Items Wanted
Contributions to this newsletter are always welcome. We have been very pleased to offer a member profile in previous issues. If you would like to be profiled, you may write your own biography (up to 500 words) or contact the editor to arrange an interview.
We also solicit news of upcoming events for our Calendar page, as well as reviews, particularly of recent chapter events. Articles and news items may be submitted to the editor by mail or by e-mail at the address above. Articles may be edited for length or clarity.
About Our Web Site
We are certainly pleased with the response to our web site, and we encourage everyone to visit it frequently to keep up with periodic updates and improvements. Once again this newsletter (as well as previous issues) is available on the web site. However, please be aware that while the entire text of the newsletter is reproduced on the web site, some sections have been split off into separate web pages. For example, the List of Substitutes is accessible from the Home Page by clicking on the "Sub List" button. This not only avoids duplication of this information across multiple issues of the newsletter, but also makes it easier for a visitor to find it.
Be sure to spread the word about our web site among fellow organists, other musicians, students, and members of the clergy, so that our web site can serve as wide an audience as possible.