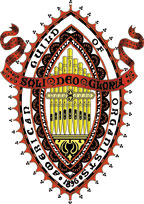 Newsletter
May 2008

Click here for the Newsletter Archive

Click here for a printable copy of the current newsletter



May 2, 2008

Dear Colleagues and Friends:

The Lost Chord
Music by Sir Arthur Sullivan
Words by Adelaide Anne Proctor

Seated one day at the organ, I was weary and ill at ease,
And my fingers wander'd idly over the noisy keys;
I knew not what I was playing, or what I was dreaming then,
But I struck one chord of music like the sound of a great Amen.
It flooded the crimson twilight like the close of an Angel's Psalm,
And it lay on my fever'd spirit with a touch of infinite calm.
It quieted pain and sorrow like love overcoming strife,
It seem'd the harmonious echo from our discordant life.
It link'd all perplexed meanings into one perfect peace
And trembled away into silence as if it were loth to cease;
I have sought, but I seek it vainly, that one lost chord divine,
Which came from the soul of the organ and enter'd into mine.
It may be that Death's bright Angel will speak in that chord again;
It may be that only in Heav'n I shall hear that grand Amen!

I open this May Dean's Letter with the words from "The Lost Chord" by Sir Arthur Sullivan. As you know from an earlier writing, our chapter again lost one of our long time colleagues, Clara Pankow Miller. When I spoke to Clara's daughter Wilma, at St. John's Lutheran Church in Poughkeepsie, just minutes before the funeral liturgy began, Wilma imparted to me that her mom passed our earth's bonds to be at rest and peace while sitting in her favorite rocking chair facing a window. Clara was just shy of her 100th Birthday! Wilma tells me that the family thought of their mother, grandmother and great grandmother as already being 100 and were celebrating her life in earnest. Life is worth living. Each day is a gift in its own special and unique way.

In that way too, when I read the words of "The Lost Chord", I would like to think that those words were with Clara when she left this life to join our colleagues whose loss we mourn, but whom we celebrate as we bathe in the light of the great musical legacies which they leave us.
Collectively, William Robert "Bob" Brittenham, Mary S. Caskey and Clara Pankow-Miller represented 264 years of experience.

On Sunday May 4, 2008 at 3:00 PM we will celebrate their life through musical expressions as many of our colleagues join to perform on the organ at the First Evangelical Lutheran Church, 327 Mill Street, Poughkeepsie NY during our annual chapter members recital. I encourage many of you to join us and bring family and friends. The music will be wonderful.

May is a beautiful time of the year! It is a time of renewal, rebirth and great anticipation for the months of extra daylight for growing flowers, fruits and vegetables. Enjoy God's musical experience outdoors too. Remember the organ has many sounds that liken to all of the natural world we live in. Don't close the Swell shades. Open them and absorb this wonderful crescendo of creation. Have you ever thought of the pipe organ as an extension of the natural world? I challenge you to think in terms of what stops on the pipe organ could represent wind; flowing water, breezes, thunder, lightening, and birdsong? Here's a good one: What represents snow flakes? Not many instruments are lucky enough to have snow flakes. Drop me a note and see if you can guess.

Psalm 84 (Quam dilecta!)
How dear to me is your dwelling, O Lord of Hosts!
My soul has a desire and longing for the courts of the Lord;

The sparrow has found her house and the swallow a nest where she may lay her young;
by the side of your altars, O Lord of hosts, my King and my God.

Happy are they who dwell in your house!
they will always be praising you.

With that, I will sign off for the time being. I ask you to please review the chapter calendar for upcoming events. They are growing in number. Always a big Thank You to all of you who support me in my Deanship and our collective mission. Thank you to our chapter board members who work so well together and bring wonderful ideas to the table. Thank you to each of you for being their to hold each other up in many ways as teachers, friends, organists, musicians, colleagues and professionals.

To our brothers and sisters who celebrated Passover - a belated Happy Passover! To our brothers and sisters who celebrated Easter in the Eastern tradition - a belated Happy Easter! To our brothers and sisters who celebrate 50 Days, Pentecost - a very Blessed Pentecost!

All things bright and beautiful...
Soli Deo Gloria - Amen!



Gregory J. Citarella+
(SDG)

In Memoriam – Clara Pankow Miller

Clara Pankow Miller, 99, died at home on April 23, 2008. She had been a professional organist at the First Church of Christ Scientist, United Methodist Church, First Baptist Church of Poughkeepsie, Dutch Reformed Church in Fishkill, and Hopewell Dutch Reformed Church.

Born in Ohio, Clara first began performing in public as an organist in the Emmaus Lutheran Church in Buffalo, NY, where her father, also a musician, was pastor. For many years, she gave private music lessons. While many of her students went on to professional careers, one in particular stands out in her memories. For 11 years, beginning when he was seven years old, Buffalo Bob Smith of "Howdy Doody" fame took private lessons with Clara. Growing up, he sang in her church choir and sometimes substituted for her at the church organ. He later named his clown, "Clarabelle," after her.

Clara was a long-time member of the AGO, first in Buffalo, where she and Dorothy Meade Beynon (mother of Polly James) were colleagues, and for the past 33 years here in the Hudson Valley. She served as Dean of the Buffalo Chapter and the Central Hudson Valley Chapter. More than once she retired from playing regularly, but she kept coming back to the instrument she loved.

As a young woman, Clara attended the Eastman School of Music. Then in 2002 Clara received a bachelor's degree in music from SUNY New Paltz. She once said, "Older people shouldn't give up what they are doing. They've still got a mind and a brain working. They should keep up with the rest of the world."

Calling hours, immediately followed by a funeral service, were held at St. John's Evangelical Lutheran Church in Poughkeepsie on Friday April 25, 2008. Burial took place in Buffalo NY. Memorial donations maybe made to Miles of Hope Breast Cancer Foundation, PO Box 405, Lagrangeville, NY 125
Membership News
Nancy Brown writes: "... we have recently installed an Allen Quantum Renaissance 325 organ in our church (First Congregational in Kent, CT). If anyone is interested in seeing our installation, I would be happy to show it off." You can contact Nancy at 914-373-8122 or nancybrown577@optonline.net.


Following a recent stroke, Ray Corey is currently residing at:
Lutheran Care Center at Concord
(A Nursing Home providing long term care for 160 residents)
965 Dutchess Turnpike, Poughkeepsie, NY 12603
845-486-9494
Please keep Ray in your prayers.


Jack Davis writes: "I just had a lovely visit by phone with Kay Pearson. She celebrated her 92 birthday this past weekend, AND her grandson, Patrick Pearson and his wife welcomed a baby girl, born at the West Point Hospital, just a bit after Kay's natal day. (The young couple are both graduates of the U.S. Air Force Academy, and Patrick is a pilot, serving in Korea.) He had started from Korea to the U.S., and was actually able to get to West Point by 11 p.m. on the day of his daughter's birth! Both sets of grandparents were there for the birth, and Kay, the proud great-grandmother, was kept advised of things by phone. Great news from a dear colleague, and one of our former deans!"
Deadline for Next Newsletter

We are always glad to receive input for the chapter newsletter in the form of calendar items, reviews of recent concerts and events, biographies, letters, photographs, etc. In order to make sure these submissions can be processed in a timely fashion, please make sure they are received by the 23rd of each month. You may submit newsletter material by mail, e-mail, or phone. Just contact the editor, Susan LaGrande, using the information given below. Remember, the deadline for the next newsletter, to be available the first week in June, is May 23rd.

Editor's Corner

This newsletter is published by the Central Hudson Valley Chapter of the American Guild of Organists. The editor is:
Susan LaGrande
12 Montrose Lane
Wappingers Falls, NY 12590
Phone: 845-226-6496 (home) - Fax: 845-226-1035
e-mail: SUSANEL2@HOTMAIL.COM