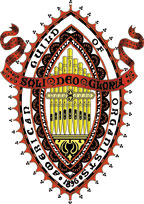 Newsletter
September 2008

Click here for the Newsletter Archive

Click here for a printable copy of the current newsletter



Dear Colleagues and Friends:

September has arrived and we are heading back to our benches – hymn books in hand and organ shoes "in toe" (sorry, no pun intended). Choir rehearsals resume. Life as usual for organists and choir directors. Life is good!

This past summer saw the passing of a friend, teacher, husband and father, Ray Corey. Please note that his memorial concert will be held on Sunday, October 12, 2008 at 2:00 PM at St. James Methodist Church in Kingston New York. Read our calendar for more information. I plan on attending. If we need to coordinate rides please don't hesitate to call. We will miss Ray dearly. This year we have marked the passing of a number of our colleagues. Let us continue to remember their contributions and keep their families in prayer and thanksgiving for their service.

Congratulations to Patricia Maimone on the birth of her granddaughter: Selena Dorothy Maimone. Selena arrived at 0930 on Tuesday, 12 August 2008! She weighed 7 pounds, 5 ounces, and is 19 inches long. Congratulations go out as well to the proud parents, Mark and Alice Cheung Maimone! Great news to share!

I don't know about you, but Autumn is a favorite season for me. I just finished cooking two bushels of tomatoes for sauce. All containers are nicely tucked away in the freezer for those long winter days. I simply warm up the sauce and can enjoy the Summer bounty whenever I please; a mouthful of sunshine and goodness. Maybe we should do a recipe swap some day. Maybe we should publish a chapter book of recipes. Just a thought.

Hopefully all of us will adjust to the fuel prices to heat our homes this year. I know I am turning my thermostat down a notch or two. I have lots of blankets, sweaters and big woolly socks.

Reminder: September 20, 2008 – 2:00 PM is our workshop with Dr. Victoria Sirota . Dr. Sirota is both a concert organist and Episcopal Priest and was formerly National Chaplain of the AGO. Her topic is "Preaching to the Choir; Claiming the role of Sacred Musician." Her book of the same title is superb. You won't want to miss hearing what she has to say. It would be a good opportunity to invite your clergy to join you. The event will be held at Trinity Church in Fishkill where our sub-dean, Beverly Simmons, serves as organist and choirmaster. Mark your calendars. I look forward to seeing many of you. Invite friends who might not be a part of our chapter.

Our event calendar is filling in quite nicely with many exciting events. Continually check the calendar for updates.

As we move forward during the International Year of the Organ think about what you can do at your church where you serve God and his people to better bridge the understanding of the organ for the lay person. How can you (we) promote the instrument that leads so many to God's presence in the liturgy and service? What can you (we) do to make the organ more known and in a sense "congregation friendly?"

You can achieve some success by inviting people to the organ console and giving a quick demonstration of the tone palette of the instrument. You might play your hymns with fancy introductions, interesting interludes and perhaps a key change with a last verse in open harmony. If your church is not used to singing hymns in such a manner, then put a small note in the Sunday service leaflet to let people know something unique will happen.

When you accompany a hymn ask yourself whether or not you are being sensitive to the text. How quiet should you make the organ for a particular verse if required? How loud should the last verse be? Can you accompany a hymn by soloing the melody line or the tenor line? Have you practiced your hymns so that they flow and become meaningful to your congregation to lift their voices in song and praise to God? The same can be said for service music, choir anthems, preludes and postludes.

I am sure you do all or some of the above. What is really important is that you continue to be an ambassador for the organ. The organ is a unique instrument that brings people together to sing as one voice in worship and praise. In a phrase: Soli Deo Gloria!

The organ is also growing as a concert instrument. Many music halls and conservatories are installing new instruments of varying sizes.

We all do our best and try our hardest at our craft. Many are Swell and Great at what they do. Others are accomplished and still others try their hardest with the simplest of gifts with which God has endowed them. The point is that we put our best foot forward and that we make a difference. Small differences mean a lot. Let us remember that we are all God's children and that we all are a part of the web of life that weaves people closer to the bosom of God. You can make a difference.

You and I have been taught to refer to God as our "Father." I just completed reading a book on comparative religions. The Hopi Indians of the southwest refer to God not as "Father" but as "Grandfather". Their word is "Konkachilla". Somehow I like that. No matter how we refer to our heavenly father; Creator, Father or Grandfather, he knows that you are doing your best. He knows that we are doing our best. That's my story and I'm stickin' to it!

"When peace, like a river, attendeth my way; when sorrows like sea billows roll;
Whatever my lot, thou hast taught me to say, It is well, it is well with my soul."

Go forward to Love and Serve!

In His and Your service I remain



Gregory J. Citarella+
(SDG)

Scholarship Announced for Church Musicians

In 2009 the Charlotte Hoyt Bagnall Scholarship for Church Musicians will hold a competition for church musicians who have graduated or will graduate from high school as of June 30, 2009. Awards from five hundred dollars ($500) to twenty five hundred dollars ($2500) will be granted. The scholarship can be used for a variety of music studies including:
• Organ lessons
• Undergraduate or graduate studies related to organ or religious music
• Participation in organ festivals, seminars, music camps, etc.
Information and applications can be obtained by visiting the scholarship website http://www.chbscholarship.com, or by writing "The Charlotte H. Bagnall Scholarship" at 17 Beaverbrook Rd., West Simsbury, CT 06092. Applications are due by December 31, 2008.

Deadline for Next Newsletter

We are always glad to receive input for the chapter newsletter in the form of calendar items, reviews of recent concerts and events, biographies, letters, photographs, etc. In order to make sure these submissions can be processed in a timely fashion, please make sure they are received by the 23rd of each month. You may submit newsletter material by mail, e-mail, or phone. Just contact the editor, Susan LaGrande, using the information given below. Remember, the deadline for the next newsletter, to be available the first week in October, is September 23rd.

Editor's Corner

This newsletter is published by the Central Hudson Valley Chapter of the American Guild of Organists. The editor is:
Susan LaGrande
12 Montrose Lane
Wappingers Falls, NY 12590
Phone: 845-226-6496 (home) - Fax: 845-226-1035
e-mail: SUSANEL2@HOTMAIL.COM