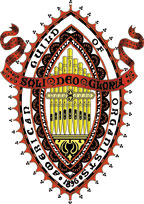 Newsletter
October 2008

Click here for the Newsletter Archive

Click here for a printable copy of the current newsletter



Dear Friends and Colleagues:

September 20, 2008 we had a wonderful workshop discussion by Dr. Victoria Sirota. She engaged 20 or so chapter members with discussion and talks about her life experiences and book "Preaching to the Choir: Claiming the role of Sacred Musician". I have a copy of this book. It is an excellent resource and one which I hope will become a staple of every church musician's library. If you don't have a copy I strongly urge that you get one. Very good reading. Thank you Beverly Simmons for arranging this wonderful workshop!

This month I have been busy in my regular day job with a corporate audit. So the month of September has slipped through my fingers rather quickly. I know this is a few days late, but to our temple musicians: L'Shanah Tovah – Happy New Year!

I attended an organ recital on Friday, September 26, in New York City's East Village at Middle Collegiate Church where I heard Cameron Carpenter. He is artist-in-residence at Middle Collegiate. He played on the Marshall & Ogletree Opus #4 instrument which he designed. It was nothing short of amazing. Cameron is quite a talent. Watching him perform the Chopin/Carpenter Revolutionary Etude Op.10-12 was breathtaking. Cameron transcribed the runs in the left hand of the original and put them in the feet! Go to YOUTUBE.com and catch him at work. Amazing!

Congratulations go out to a former chapter member of ours, Jeffrey Alban. He called me the other afternoon to tell me that he played his Doctoral Recital in Miami, Florida, at Trinity Episcopal Cathedral. He is now Dr. Jeffrey M. Alban. Jeff and his wife Kay will be moving from Miami to Virginia where a church job and teaching position are waiting for him. Congratulations to Dr. Alban, his wife Kay and all family and friends who have supported him over the years. Continued Blessings and Success!

Our chapter member Nancy Scott-Demilio and her husband Kevin, have moved to Yonkers! Due to this move Nancy has stepped down from her position as AGO Board Secretary. Sadly I have accepted her decision. However, I totally understand the drive from Yonkers north to our AGO Board meetings is long; and these days with gas prices – expensive! So a BIG THANK YOU to Nancy for all her hard work as our chapter secretary. Best Wishes and Good luck to Nancy and Kevin in their new home and Nancy's new job.

Consequently, it is with great excitement that I welcome to the chapter board, replacing Nancy as our new Chapter Secretary, Laura Russell. Laura brings a wealth of musical experience, vocal leadership and a great sense of excitement. We welcome Laura to our board.

A gentle reminder: I notice that there are a number of members who must have forgotten to send their dues in. Please ensure that you get your dues in as quickly as possible. Eric Hepp our treasurer's address is 24 Lormar Court, Wappingers Falls, NY 12590. You don't want to miss any issues of "The American Organist" magazine. Nor do you want to miss out on the commraderie and friendship of your colleagues. We need to support each other. Through our dues and the hard work of our chapter sub-dean, Beverly Simmons, we are able to bring many events and workshops. We don't want you to miss out because you let your dues slip.

Please mark your calendars for the Ray Corey Memorial Concert which will be held on October 12, 2008 at 2:00 PM in Kingston, NY, at St. James Methodist Church on the corner of Pearl and Fair Streets. There is ample parking. I will be there and look forward to see many of you. This will be a wonderful celebration of the life and work of one of our colleagues, friend and teacher Ray Corey. Please check our calendar for further details.

On Sunday, October 19, 2008, there will be an Organ Spectacular to mark the high point in the International Year of the Organ. This will take the form of a Concert at The Reformed Church (located at 70 Hooker Avenue, Poughkeepsie, NY), by Gregory D'Agostino, holder of a DMA in organ from the Juilliard School. He is a recording artist who has concertized internationally, and has performed at National AGO Conventions and at major venues in the US. Please join our chapter as we celebrate this momentous occasion. This is a co-sponsored event between our chapter and the Poughkeepsie Reformed Church Tower Music Series. I look forward to seeing you there.

There are so many beautiful events this time of year. There is so much color to absorb both through our ears with music and through our eyes in the form of autumn colors. So much has changed and developed on our political and economic fronts. I pray that going forward you become a steward of change, but also "the keeper of the flame" as it were.

The flame that I speak of is the flame of consistency in your musical offerings (tradition) that you give to your community of faith. Our flame burns brightly in the ever changing light of turmoil that our country and the world face daily. Let there be a prayer in every heart and hope that touches every soul. There are many uncertain days ahead of us. We are there for each other. We are a part of the circle of life, the enduring circle that helps bind us together. Keep your hymn-playing strong and resolute. Let people know that while the world is changing at an ever increasing speed they can depend on your skills and ability. Help people raise their voices to God in the highest possible form. Let your congregation know that you are there to help support a tradition that runs deep in every heart. You are the conduit which brings people closer to that flame - Soli Deo Gloria!

Autumn has come! Homecoming is upon us! Stewardship campaigns are underway! Do what you can to be the steward of this great tradition of music making.

"We plow the fields and scatter the good seed" - "We gather together to ask the Lord's Blessing."

No more need be said! Our hearts beat to the same tune. Pass it forward...

Thank you all for your hard work and support of our chapter and craft.

God's Blessings and Grace to all.

In His and Your Service I remain….



Deadline for Next Newsletter

We are always glad to receive input for the chapter newsletter in the form of calendar items, reviews of recent concerts and events, biographies, letters, photographs, etc. In order to make sure these submissions can be processed in a timely fashion, please make sure they are received by the 23rd of each month. You may submit newsletter material by mail, e-mail, or phone. Just contact the editor, Susan LaGrande, using the information given below. Remember, the deadline for the next newsletter, to be available the first week in November, is October 23rd.

Editor's Corner

This newsletter is published by the Central Hudson Valley Chapter of the American Guild of Organists. The editor is:
Susan LaGrande
12 Montrose Lane
Wappingers Falls, NY 12590
Phone: 845-226-6496 (home) - Fax: 845-226-1035
e-mail: SUSANEL2@HOTMAIL.COM