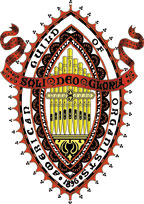 Newsletter
November 2008

Click here for the Newsletter Archive

Click here for a printable copy of the current newsletter


Letter from the Dean

Dear Colleagues and Friends:

October came and went with beautiful colors and cool breezes. Still, many changes will have people feeling uneasy for some time to come. My reference is to the economic situation we are finding ourselves in these days. These are times when God tests us. My sister Lynn often repeats this saying to me when I am feeling troubled: "God only gives you what you can handle!" God knows we are resilient! I am confident we will survive these tough times.

In time things will turn around. In the mean time there is uncertainty. We have lots of work to do and prepare for. Thanksgiving is coming with Advent and Christmas quickly following in hot pursuit. Dare I mention New Year's Eve followed by Epiphany! Encourage each other to stay the course and remain focused. December will be here before we know it!

October 12, I attended Ray Corey's Memorial Concert at St. James Methodist Church in Kingston. It was a beautiful tribute with solos from his daughter Cheryl Hoffman and grand daughter Loren. Four organists paid tribute to Ray by performing many signature pieces that were favorites of his and his students. Of course it was good to see Ray's wife Heather surrounded by family and friends. The concert was very well attended on a sunlight October Sunday afternoon. This was a most poignant and fitting tribute to our friend and colleague Ray Corey. He will be remembered by many for years to come.

On October 19 at The Reformed Church Poughkeepsie, where Jack Davis serves as Organist and Choir Director, was held our "International Year of the Organ" recital. Gregory D'agostino played an ambitious program. Some of the pieces included Bach's Prelude and Fugue in E-flat Major ("St. Anne"), Gregory's transcription of Finlandia, and the tone poem by Franz Liszt Ad no salutarem undam. The audience was wowed by Gregory's talents. Without a doubt his encore, which utilized a mouth Nachtigall, with the assistance of his lovely wife Kana, brought the audience to its feet for a thunderous applause of appreciation. We look forward to hearing and seeing Gregory again in the future.

November will be no less ambitious. November 1 was All Saints Day. It goes without saying we will remember those colleagues who have departed this life to live a more peaceful life in the warm embrace of God's Everlasting Love.

On November 2 I attended the Organ Recital by Scott Dettra at the Cadet Chapel, West Point. Scott was recently appointed Principal Organist at the National Cathedral in Washington D.C. It was wonderful to hear Scott play his recital at West Point honoring our colleague Dr. John A Davis, Jr., who served as the Chapel Organist and Choirmaster from 1955-1985. Congratulations to Jack!

November 9 was Diane Bish's organ recital at Blessed Kateri Tekakwitha RC Church in Lagrangeville. Miss Bish inaugurated a "Signature" instrument which bears her name. Miss Bish did indeed rock the newly poured foundation of the church.

This time of year there are many reasons to reflect and gives thanks for all blessings. We all realize that times of late we have been bombarded with political view points, election projections / results, a roller coaster ride on Wall Street, choir rehearsals and stewardship campaigns. Let's keep things in perspective. There is a lot happening. Yes, times are lean and at times unsettling. Still in all agree we live in a great country where our voice counts. We have enough to eat, clean water to drink and yes, slightly less expensive gasoline to drive our vehicles. There are many blessings that go uncounted. Think about them and reflect: You and I are truly blessed.

We are all pitching in to help these days. I know all of you are doing your utmost in your service to God and his church. These days be thankful for the great, the small and the simplest of blessings. God works in a mysterious way.

Every morning I rise from my bed which faces east and say the same words that I have said for many years: "Good morning, God! It's Greg."

Everything after that is a blessing!

Remember too that our chapter experienced many losses this year. I know you won't forget them and their life long contributions. They each have left us with a legacy.
Many blessings indeed!

"All good gifts around us are sent from heaven above;
then thank the Lord, O thank the Lord for all his Love."

Ah yes, there is it again – a blessing!

A Blessed and Happy Thanksgiving to all
In His and Your Service I remain…



Gregory Citarella
Editor's Note:

Due to some issues in my personal schedule, this newsletter is reaching you a week late. I apologize for any inconvenience. – Susan LaGrande
Membership News
Siri Milkove has accepted a position as Organist at the First Reformed Church of Catskill.


Gregory Citarella has two beautiful instruments for sale. Serious inquiries only; please call 845-297-7693.


Kohler & Campbell Piano: 4 years old, Red Mahogany case, "Damp Chaser", professionally tuned twice a year.


Johannus 3 manual Rembrandt Organ: 9 years old, Aeolian-Skinner Samples; external speakers included
Jeff Alban, who grew up in this chapter and is now married with a doctoral degree from the University of Miami, sent the following message on October 21, 2008:
Kay and I are now in Front Royal [Virginia]. We arrived on October 14, and I played my first Sunday this past weekend. Kay passed the VA Pharmacy Law Exam, and she'll begin working next week. I walked out the door this morning to see a very clear rainbow across the mountains. It is a lovely area; but it is cold.

Our new contact information:
Jeffrey & Kay Alban
71 Spoon Square
Front Royal, VA 22630
(540) 631-9199
(914) 456-9199 - Jeff cell
(570) 617-6129 - Kay cell
(540) 635-3780 - Jeff work (St. John the Baptist RCC)
Deadline for Next Newsletter

We are always glad to receive input for the chapter newsletter in the form of calendar items, reviews of recent concerts and events, biographies, letters, photographs, etc. In order to make sure these submissions can be processed in a timely fashion, please make sure they are received by the 23rd of each month. You may submit newsletter material by mail, e-mail, or phone. Just contact the editor, Susan LaGrande, using the information given below. Remember, the deadline for the next newsletter, to be available the first week in December, is November 23rd.

Editor's Corner

This newsletter is published by the Central Hudson Valley Chapter of the American Guild of Organists. The editor is:
Susan LaGrande
12 Montrose Lane
Wappingers Falls, NY 12590
Phone: 845-226-6496 (home) - Fax: 845-226-1035
e-mail: SUSANEL2@HOTMAIL.COM