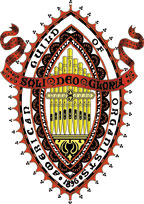 Newsletter
December 2008

Click here for the Newsletter Archive

Click here for a printable copy of the current newsletter



Dear Colleagues and Friends:

I am penning my Dean's Letter earlier than usual. Today is November 25th! In one month's time we will be celebrating the Nativity of our Lord. Our temple musicians will begin accompanying Hanukkah services at sundown on December 21, 2008. This is a time for extra practices and more rehearsals, and maybe even to sneak in some baking, decorating or shopping.

This is a time of year when all of us will be stretched in many ways. As musicians we remain disciplined to our craft. We are asked to give more time and talent at this time of year; more than at any other. It goes without saying that we step up to these challenges willingly and with a great professional attitude. I know at St. Nicholas I am preparing for Lessons and Carols on the morning of December 14th. Then in the evening we will have a caroling party around the hamlet of New Hamburg followed by a wine and cheese party. Each Sunday in Advent I will perform an appropriate choral prelude by Bach. My postludes will be somewhat lower key in keeping with the season. Maybe some Buxtehude? Perhaps Bach? Then again I am thinking of some Dupré antiphons which might work nicely.

During this time of year we are all called to do more with less. I know each of you is up to the challenges which the next few weeks will hold for us. God is ever present in our lives when we are called and then answer to do and give more of ourselves. The poet Kahlil Gibran left many sayings and quotes, many of which you might be familiar with and just never realized. I will share the following with you to ponder going forward during this time of expectations and challenges:

"You give but little when you give of your possessions.
It is when you give of yourself that you truly give."

During this season you will prepare your music with great care and love. Remember that in your role as Organist or Choir Director you are called, in a sense, to be a teacher, very much like the child who was born in the City of David well over 2000 years ago. He walked this earth, he taught. Though he gave little of his possessions (for they were few) he gave of himself freely. He still truly gives this time of year. He was a great teacher, counselor, and yes, The Prince of Peace.

There is yet another saying that Kahlil Gibran has which I will share:

"The teacher who is indeed wise does not bid you to enter the house of his wisdom
but rather leads you to the threshold of your mind."

I know each of you will be accompanying your hymns and anthems with great passion during the coming weeks. You will read each verse understanding the text and how to best register the organ. How many of you will reach out and touch those congregants who will come to hear the word of God and the great music of the church; both passed down through the ages. You will be a great teacher during this time. Your ministry of music will flourish and call many to prayer and song.

It is a time of great expectations! It is a great time of challenges! It is a time for all to proclaim great joys!

If you read this far, you may be questioning why your dean is quoting from this man named Kahlil Gibran. Who was this man? Well, over the years I have developed a fondness for his poetry and writings. He was a Lebanese American, and a Christian. He left us with many sayings and thought provoking poetry and writings. He was a sculptor. He was considered a great theologian and visual thinker. He is the third most read poet in the world, William Shakespeare being first, Laozi the second and Gibran the third. Google him online or stop into a book store. Read some of his insightful words and pearls of wisdom. You might grow to enjoy his words of encouragement.

Be a teacher to someone! It is when you give from yourself that you truly give. Because of your giving, the church will sing to God's infinite Glory during this the season of the Festival of Lights and Christmas. Simply put – Soli Deo Gloria!

If you think you are lost in my words at the moment because they are too remote; then open up the Bible to Luke, Chapter 1 verse 37:

"…for nothing shall be impossible with God."

Keep that mantra alive in your heart: "…for nothing shall be impossible with God."

That's why we are called to our ministry of music.

From my heart to yours with great Affection and Joy I wish you all the very Merriest of Christmases; the most joy filled Festival of Lights; and a very Happy and Healthy New Year in 2009.

God's Grace and Blessings to all!



Membership News
A current membership roster was mailed to those members who do not receive their newsletter online. The roster is available in the private area of this web site. Please contact the editor with any corrections or comments, or if you need to be reminded of your userID and password for the private area of the web site.


Welcome to new members Anne Ressler, Dillon Streifeneder, and Christopher Fasulo! We also welcome back returning member Darren Motise. We are glad to have you with us.


New member Christopher Fasulo has been added to our Sub List. You may contact him at 646-342-4836 or chris@christopherfasulo.com.


Congratulations to long-time chapter member Joe Bertolozzi, whose compositions have recently been in the news:


The Washington Metropolitan Philharmonic will premiere Joe Bertolozzi's "An Age Will Come..." under the baton of Ulysses S. James. The concerts will be December. 14 at The Church of the Epiphany, Washington, DC, and December. 21 at Bishop Ireton High School, Alexandria, VA.


Joseph Bertolozzi's "STABAT MATER" has been published by Wayne Leupold Editions in the January 2009 issue of The Keyboardists's Year. It is an interpretive set of variations, descriptive of each of the evotional 'Stations of the Cross.' The music is easy and is suitable for liturgical use during "Stations" or as short interlude material during Lent. Available from the publisher at www.wayneleupold.com, or by phone toll-free at 1-800-765-3196.
Deadline for Next Newsletter

We are always glad to receive input for the chapter newsletter in the form of calendar items, reviews of recent concerts and events, biographies, letters, photographs, etc. In order to make sure these submissions can be processed in a timely fashion, please make sure they are received by the 23rd of each month. You may submit newsletter material by mail, e-mail, or phone. Just contact the editor, Susan LaGrande, using the information given below. Remember, the deadline for the next newsletter, to be available the first week in January, is December 23rd.

Editor's Corner

This newsletter is published by the Central Hudson Valley Chapter of the American Guild of Organists. The editor is:
Susan LaGrande
12 Montrose Lane
Wappingers Falls, NY 12590
Phone: 845-226-6496 (home) - Fax: 845-226-1035
e-mail: SUSANEL2@HOTMAIL.COM