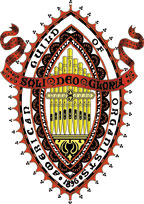 Newsletter
January 2009

Click here for the Newsletter Archive

Click here for a printable copy of the current newsletter



To one and all a very Happy New Year in 2009!

Take a deep breath; exhale; relax. There now, don't you feel better? We made it through one of the most demanding times for church musicians. I will tell you that I was thrilled with all the musical events I saw listed on our chapter website calendar and those listed in the local newspapers as well.

I attended a wonderful Epiphany Festival this past Saturday, January 3, 2009. The festival is named "The Boar's Head Festival". This is a festival from medieval times where there is great pageantry, wonderful music, angelic singing by the choir, a Swell and Great Aeolian-Skinner organ and audience participation. This was a feast for the eyes, the soul and wonderment which this time of year brings. The church was the Asylum Hill Congregational Church in Hartford Connecticut. This has become a family tradition for well over 20 years. I'm still smiling.

Now, down to business: We are still celebrating "The International Year of the Organ."
If you plan on doing anything that spotlights the organ front and center make sure you get it listed on our chapter calendar.

Remember that on Sunday January 11, 2009 at 5:00 PM, Trinity Episcopal Church in Fishkill is the scene of our annual Spuds 'n' Sundaes and "Musical Bake Sale" event. Please join us for a wonderful array of toppings to put on your spuds! There will be ice cream to create your favorite sundae. Caramel or Butterscotch anyone? Do remember to bring music that you no longer want. If you have duplicates bring them to sell. All proceeds will go to our chapter scholarship fund.

I'd like to call your attention to our December 2008 "The American Organist" magazine where there are three excellent articles: Page 66 "Does the Organ have a Future?" (Patricia Wright); Page 86 "To be an Organist: A gift from God" (Karl E. Moyer, FAGO) and Page 104 "Reasons Organists should perform from memory" (Kiyo Watanabe). All three articles got my adrenalin moving. I won't give you a review but I strongly urge you to read these articles and absorb the information.

You have read my Dean's Letters now for two years. I am always encouraging all to do your absolute best. All three of these articles touch on subjects that are near and dear to me. I know the organ has a future. A very bright future. Listen to some of the organists who are on the concert scene. All are powerhouses in their musical ability. And they have a great sense of communication with their audiences. I believe we are experiencing a great renaissance for church music and for church musicians. Being an organist is without a doubt a Gift from God. Actually, it is a calling. Not unlike our colleagues in the ranks of clergy. We too have a calling. I would bet if I asked five of you right now to mention what brought you to the organ you would agree that it was a "calling". Finally, the one thing we are organists struggle with is memorization. Its tough to memorize music, plus all the athletic movements that need to be performed at the console from piston settings, to stop pulling, opening/closing shutters to finding that right ventil or toe stud. Now where is that sub-octave coupler? You know what I mean.

Perhaps after reading the above mentioned articles you should ask yourself what do you want to do this year to push yourself in your musical journey as an organist? Have you taken a certification exam? Maybe you might want to contact me to see if enough people are interested to arrange for a Service Playing, Colleague, Choir Master Exam to be held locally. Would you enjoy taking a master class at a church locally or maybe in Albany or New York City? How about an Organ Crawl to some organs in our own Hudson Valley? Maybe there are some gems we know nothing of on the west side of the Hudson Rive – wouldn't that be exciting?

The possibilities are endless in the ways we promote of the organ. The possibilities are endless in what we want to do with our New Year's resolution. Think about it. Don't make a New Year's musical resolution right this minute. Think about it and put an action plan into place and then execute that plan. Energize yourself. Push yourself to new heights. Make your New Year's resolution for 2009 a crescendo that will make you proud of your efforts. Make this year the best ever. Do your best! Be the best you can be and that will please God.

I notice that our regular member dues are going up by four dollars ($4.00) from $88.00 to $92.00. Times are tough right now and I understand how difficult it is to stretch a dollar these days. If you do the math: $92.00 divided by 12 months works out to be $7.66 per month. Stay active with your colleagues. Make the pledge to remain a part of an active chapter, a collegial, fraternal and supportive group of individuals who do what we do best because we are called.

In closing Psalm 33 (verses 2 and 3):
"Praise the Lord with the harp;
Play to him upon the psaltery and lyre.

Sing for him a new song;
Sound a fanfare with all your skill upon the trumpet."

Yes indeed; we are called!

I wish each and every one of you, your families and extended family of Friends a most Happy, Healthy and Musically Satisfying New Year in 2009.

To God's Glory always…



Gregory J. Citarella+
(SDG)

Membership News
Charles Surber has moved. His current information is:
Charles Surber
5 Swift Street
Warwick, NY 10990
Phone: 845-544-2782
E-mail: csurber@winnmark.com
Position: Grace Episcopal Church, Port Jervis, NY
Please make note of the changes in your copy of the chapter roster.
Deadline for Next Newsletter
We are always glad to receive input for the chapter newsletter in the form of calendar items, reviews of recent concerts and events, biographies, letters, photographs, etc. In order to make sure these submissions can be processed in a timely fashion, please make sure they are received by the 23rd of each month. You may submit newsletter material by mail, e-mail, or phone. Just contact the editor, Susan LaGrande, using the information given below. Remember, the deadline for the next newsletter, to be available the first week in February, is January 23rd.
Editor's Corner

This newsletter is published by the Central Hudson Valley Chapter of the American Guild of Organists. The editor is:
Susan LaGrande
12 Montrose Lane
Wappingers Falls, NY 12590
Phone: 845-226-6496 (home) - Fax: 845-226-1035
e-mail: SUSANEL2@HOTMAIL.COM