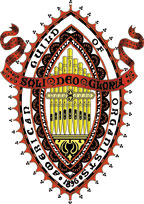 Newsletter
February 2009

Click here for the Newsletter Archive

Click here for a printable copy of the current newsletter



Dear Colleagues and Friends:

Here we are in February! We are in the middle of Epiphany. Fifty some odd days until March 21, Bach's 324th Birthday and the first day of Spring! I know many of you are looking forward to the warmer days. Let's be honest – the sun is already rising earlier and setting later. I can see the difference in the morning and afternoon sunlight. I love the four seasons. What a wonderful gift to be able to experience all of these changes and variations as we move along each day – a visual symphony to enjoy! Take time to experience these changes. Bundle up and go outdoors; soak up some rays of sunshine; inhale and be refreshed with cold crisp air. A gift from God indeed!

January 11 we had our annual Spuds n' Sundaes social with our "musical bake sale." Those who were in attendance were treated to potatoes, toppings, chili, sundaes and various and assorted toppings to boost up caloric levels. All delicious! A big "Thank You" goes out to our Sub-Dean, Beverly Simmons, for hosting this program at Trinity Church in Fishkill where she serves as organist and choirmaster. A big "Thank You" as well to all who contributed to help make this event a culinary and social event divine. A good time was had by all.

Mark your calendars for Saturday, February 7, 2009 from 9:00 AM – 11:30 AM when our colleague Celestine Campbell will be hosting our next exciting program entitled: "Gospel Music and the Worship Experience." This program will be held at Bethel Missionary Baptist Church located at 2611 South Avenue (a/k/a Route 9D), Wappingers Falls, NY. For further information please call: 845-463-1249.

For those who will be in New York City on February 15 and 16, please note that there is a President's Day Conference hosted by the New York City Chapter AGO. Please review our website calendar for more information regarding scheduled workshops, discussions and recitals. I encourage you to attend if your schedule allows.

February 25 bring us to the beginning of Lent with Ash Wednesday. We begin our journey through Lent with prayer, distribution of ashes for some, and musical contemplation. My prayers and thoughts during this time are turning to those in our chapter whose lives are changing. There are some who have recently become a part of the overall economic downturn. Their jobs are being sent overseas or eliminated; while others have become fulltime caregivers to family members. Times are trying. We need to keep in touch with family and friends. We are entering a new and unchartered territory in the world of finances, economic instability and political changes in our government. Prioritize that which is important and meaningful in your life.

You and I are called to serve. Ours is a ministry of faithful diligence. We are true to our craft. We will bring music, no matter what our tradition, denomination or belief, to those in our community of faith. We are steadfast in our mission and hold our motto true. I realize daily how blest I am to serve at St. Nicholas-on-the-Hudson. I pray that you too find satisfaction in your church position as a minister of the word through music. Reach out and touch someone with your music, even if one person feels moved by one hymn, or a choir anthem, or even your postlude. We are continually striving to bring the best musical experience to help set the stage for worship.

Worship is a form of ritual which has been passed down from our ancestors. Worship continues to evolve and mature. Worship is what brings us together as humans. Worship is that which makes us unique among God's creatures. Worship is that moment in time when all are brought together as one.

We are in times of great change, challenges and opportunities. Make it your mantra to bring your community of faith, wherever you serve, closer to God's Graces by your faithful stewardship of the word through music.

In closing I would like to quote from the Pilgrim Hymnal, hymn number 373: "God is My Strong Salvation," verses 1 and 4 (Tune: Mein Leben)

God is my strong salvation; What foe have I to fear?
In darkness and temptation my light, my help is near.

His might thy heart shall strengthen, His love thy joy increase;
Mercy thy days shall lengthen; The Lord will give thee peace. Amen

God's continued Blessings and Grace on all our music ministries going forward.



Gregory J. Citarella+
(SDG)

Membership News

We have received the following message from Pat Maimone:
Dear Colleagues,

As you know, I have been spending a lot of time in southern California with my granddaughter Selena and her parents, Mark and Alice, since her birth 12 August 08. On my last trip earlier this month, I also auditioned and interviewed at Mount Olive Lutheran Church in Santa Monica for Pastor Stephanie Jaeger and a search committee comprised of choir and council members. They were quite pleased with my playing and enthusiasm for working with adults and children in a traditional setting.

Pastor Stephanie called Saturday night to invite me to take the part-time position of Organist and Music Director at Mt. Olive Lutheran, Santa Monica, CA. She was excited to include me in her new Lenten Organ [and spoken word] Vesper Series on Wednesday nights and looks forward to her first Bach's Birthday celebration Sunday, 22 March at 5 PM in Santa Monica.

I told Fr Shane Scott-Hamblen that I had been offered a contract by the Mount Olive Lutheran Church of Santa Monica, California, and that I wanted to accept it, starting 1 March 09, in order to be closer to my now 5 month old granddaughter, Selena Dorothy, who lives in La Crescenta, near Mark's work at JPL, NASA in Pasadena. My last Sunday at The Episcopal Church of St. Mary in the Highlands will be 22 February 09 and will conclude with another concert benefiting St. Mary's Save Our Steeple Fund as well as celebrating Handel's 324th Birthday at 4 PM.

There will be a few other penultimate concerts, which are listed in our chapter's calendar of events.

Jack Davis brought me to my first CHVAGO meeting in the 75-76 academic year; thus, I shall certainly miss my longtime friends and colleagues in the Hudson Valley and plan to return occasionally for concerts and special events. In the fall of '08 I established dual membership in the Los Angeles and Long Beach chapters of the AGO. In '09, my dual membership will be in the CHV chapter.

Best to all,

Pat

We will miss you, Pat! We wish you all the best in your new endeavor!

Grants Available to Support the Organ Profession

The DC AGO Foundation invites musicians, scholars and others to apply for a grant to support the organ profession by commissioning new organ compositions, sponsoring organ-related research and publication, funding innovative performances and educational initiatives, and related projects. For more information about the DC AGO Foundation and how to apply, visit www.dcago.org. Grant applications are due by March 1, 2009.

Deadline for Next Newsletter

We are always glad to receive input for the chapter newsletter in the form of calendar items, reviews of recent concerts and events, biographies, letters, photographs, etc. In order to make sure these submissions can be processed in a timely fashion, please make sure they are received by the 23rd of each month. You may submit newsletter material by mail, e-mail, or phone. Just contact the editor, Susan LaGrande, using the information given below. Remember, the deadline for the next newsletter, to be available the first week in March, is February 23rd.

Editor's Corner

This newsletter is published by the Central Hudson Valley Chapter of the American Guild of Organists. The editor is:
Susan LaGrande
12 Montrose Lane
Wappingers Falls, NY 12590
Phone: 845-226-6496 (home) - Fax: 845-226-1035
e-mail: SUSANEL2@HOTMAIL.COM