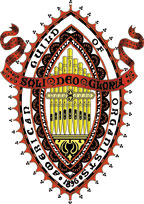 Newsletter
December 2003

Click here for the Newsletter Archive

Click here for a printable copy of the current newsletter


Letter from the Dean

Aren't sports wonderful and predictable? The Army football team is still looking for its first win of the season while the USMA Band basketball team has already won … twice!

It has been a great November for CHVAGO programs – our first was the dinner meeting that included a very informative presentation on investment strategies, and most recently we presented "Pipes, Pedals and Pizza" at three different locations. While the attendance at the PPP was down this year, the level of enthusiasm of the participants was very high. Thanks to Don Filkins, Peter Hall, Beverly Simmons, Gregory Citerella and Margaret Small for doing such a wonderful job with the kids of all ages.

We take a brief hiatus from chapter programs in December since it is such a busy holiday season but look forward to greeting everyone in 2004 at our annual social at the Dubois House of the Reformed Church in Fishkill, this year expanded to "Spuds, Salads, Sundaes & Spouses." We will again offer the "musical bake sale" table, so bring all your extra sheet music to donate to the table. Such a culinary and nutritional treat is not to be missed! Events like this would be great ones to invite your organist friends that aren't (yet!) members of the AGO.

This month's quiz question – What do you call the money that you give the cashier or chef at the Japanese restaurant? … SUSCIPE! (For those of you with Latin skills like mine, it's pronounced sushi pay.)

I will sign off with something that was sent to me by one of my professors: "Happy Thanksgiving to all. God is so good. Among the many great blessings I count, He lets us know one another!"


Membership News
Six months have passed since we mailed out membership applications for the 2003-2004 season. Now that we have had plenty of time to process the responses, we thought you would be interested in some of our findings.
As of November 10, 2003, our membership stands at 65, very close to our all-time high. (See the attached membership roster.) Of that number, all but a handful sent in their applications within a few weeks of the initial announcement – a great help to our treasurer, Mary Caskey.
As part of the demographic section of the application, we asked applicants to list any degrees or AGO certificates. It seems clear that several people (who were entitled to do so) did not list this information. Of those who did, it was interesting to learn that four members have obtained Service Playing Certificates, and one has passed the CAGO exam. Several other members have advanced degrees in music. We hope that next time more people will respond to this question.
We also asked three questions on the application:
1. What do you consider to be the most important AGO membership benefit(s)?
2. Do you try to attend chapter events? [ ] yes [ ] no If not, why not?
3. What kind of program(s) would you like the Board to consider?
Only about half of the applicants responded to these questions. Of those who did, the great majority listed networking/fellowship as the most important AGO membership benefit. Workshops/education and The American Organist magazine were also mentioned a few times. In response to the second question, most members indicated that they did try to attend chapter events, but cited scheduling conflicts – which, unfortunately, are all too common in our busy lives.
Not very many members responded to the third question; certainly the board knows how tough it can be to come up with ideas for chapter programs! A few people used the space to compliment the programs that are being offered, and a few did make specific suggestions, which are being taken into consideration.
As you can see, the compilation of these responses is important because it can give us a pretty good idea of the overall interest level in the chapter. Hopefully next May, when it comes time to renew again, more of you will take the few minutes to complete the application form before you send it in with your check.
AGO Independent Membership Program Expanded to Include Special Member Category
The Independent membership category was developed in an effort to make AGO membership available to people in geographic areas where either a local chapter does not exist or is so distant that chapter participation is not practical. More than 170 individuals have joined the Guild as independent members since the membership category was created in 2002. Now this category is being expanded to include a new sub-category of membership – Special Member – that allows individuals age 65 or over, disabled, or under the age of 21 but who are not enrolled as full-time students to take advantage of a reduced membership rate. Like other categories of independent membership, special members are voting members of the AGO and receive all national membership benefits without joining a local chapter. For the 2004 membership year, dues are $84 for a regular independent membership, $60 for special members, and $32 for students.
"We have seen a trend over the last three years of a growing number of special members in the Guild, while the number of regular members has been very gradually declining," notes AGO Executive Director James Thomashower. "Many non-renewing members are in the special category each year, so this new category gives those folks another avenue to stay connected with the Guild."
Independent members receive full membership benefits, including eligibility for all health and insurance plans offered through the AGO, national election voting privileges, a subscription to The American Organist magazine, and discounts on AGO convention registration fees and education resources from the AGO Bookstore. Although independent members have no chapter affiliation, they are served by their district convener, regional coordinators for education and professional development, and their regional councillor. "It is the AGO's hope that individuals joining the Guild for the first time as independent members will soon discover the many additional benefits and programs available through chapter affiliation, and will choose to join an AGO chapter of their choice at the time of membership renewal, if not earlier," stated AGO Executive Director James Thomashower.
Independent membership dues may be paid by using a major credit card either online at www.agohq.org or by calling 212-870-2310, or by sending a check, made payable to the American Guild of Organists, to:
AGO National Headquarters
475 Riverside Drive
Suite 1260
New York, NY 10115.
Pipe Organ Encounter, Duquesne 2004
The chapter recently received this note via e-mail:
Hi! Some of you may not know me, but I'm still a member of CHV AGO. I used to play at St. Columba and the Hopewell Reformed Church in Hopewell Jct. I am now completing my two degrees at Duquesne and will graduate on December 18! (B.M. - Organ Performance, B.S. - Music Education) I have one week of student teaching remaining. I will be returning to Duquesne next semester to take some graduate credits and do some teaching. More importantly, I will be directing a Pipe Organ Encounter next summer. This is my purpose in writing you all.
The POE is being held from June 27-July 2, 2004 in Pittsburgh at the Duquesne campus. It is the first entirely student-run POE. We have a healthy list of faculty from not only Pittsburgh but from around the country, featuring some of the most prominent organists of today. We are estimating the total cost of the POE to be around $25,000. We have received a small grant from the AGO covering 1/5 of that cost. The students of our own chapter have pledged to raise at least $200 individually. While the artists and church facilities will be donating their services and instruments, we need to have the cost for hotels, transportation, printing, publicity, etc. covered.
As my teacher John Walker says, "Our profession is always one generation away from disappearing." Thankfully, the Pipe Organ Encounter program is helping to ensure that statement does not come true. With your help we would like to be able to have the best POE in Pittsburgh that we can offer the students that come to learn about the organ. We will surely appreciate any assistance you can give us. All contributions will be included in our program book, as well as on our website, and are tax deductible. If you would like your gift acknowledged under another name, in memoriam, or anonymously, please include that information with your check. Please make checks payable to DU POE 2004 and mail to the address listed below. If you know anyone else that would be interested in contributing to this event, please send on this information.
Thank you so very much!
Sincerely,
Jeffrey M. Alban CAGO
Dean, Duquesne University AGO
Director, Duquesne University POE 2004
4405 Bayard St. (Apt)
Pittsburgh, PA 15213
412-802-6989
bombarde32@hotmail.com
Editor's Corner
This newsletter is published by the Central Hudson Valley Chapter of the American Guild of Organists. The editor is:
Susan LaGrande
12 Montrose Lane
Wappingers Falls, NY 12590
Phone: 845-226-6496 (home)
Fax: 845-226-1035
e-mail: SUSANEL2@HOTMAIL.COM
All material in this newsletter (except for lists of members' addresses and phone numbers) is available on our web site at www.chvago.org
Newsletter Items Wanted
Contributions to this newsletter are always welcome. We have been very pleased to offer a member profile in previous issues. If you would like to be profiled, you may write your own biography (up to 500 words) or contact the editor to arrange an interview.
We also solicit news of upcoming events for our Calendar page, as well as reviews, particularly of recent chapter events. Articles and news items may be submitted to the editor by mail or by e-mail at the address above. Articles may be edited for length or clarity.
About Our Web Site
We are certainly pleased with the response to our web site, and we encourage everyone to visit it frequently to keep up with periodic updates and improvements. Once again this newsletter (as well as previous issues) is available on the web site. However, please be aware that while the entire text of the newsletter is reproduced on the web site, some sections have been split off into separate web pages. For example, the List of Substitutes is accessible from the Home Page by clicking on the "Sub List" button. This not only avoids duplication of this information across multiple issues of the newsletter, but also makes it easier for a visitor to find it.
Be sure to spread the word about our web site among fellow organists, other musicians, students, and members of the clergy, so that our web site can serve as wide an audience as possible.