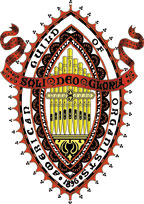 Newsletter
April 2009

Click here for the Newsletter Archive

Click here for a printable copy of the current newsletter



Dear Colleagues and Friends:

Holy Week has arrived! Schedules will be filled with numerous liturgies culminating with Easter Sunday Celebration. I will try to be brief, though for me that might be an oxymoron. Somehow I can never be brief.

Easter for many means pastel colors, wonderful flowers, of course excellent music at our liturgical services and special baked goods. Do I hear Easter Bread with hard boiled eggs and icing? Colorful jelly beans? Peeps? How about a dozen or so brightly colored hard boiled eggs?

Easter is more than that. It's a tradition. Do you know what the word "Easter" really means and how the tradition evolved?

The English Word East is from the Anglo-Saxon word "Eastre", a pagan goddess whose festivals (called Eastron) were in the spring season. The festival represented the rising of the sun, new life and a new beginning. Also related are the words East, the direction of the rising sun and yeast, a substance which makes bread rise.

When Christianity came to northern Europe, the resurrection of the Lord fit into the tradition of new life and a rising and hence called "Eastre of Easter" by the people. The German word for Easter, Osteren (or Ostern) is also similar in origin, Ost being East. In most other European languages the word for the Easter festival is taken from the name of the Jewish Passover – Pesach in Hebrew; then Pascha in Greek and Latin; Pasqua in Italian; Pacques in French; and Pascua in Spanish. From this the English Paschal derived, as in the Paschal Lamb.

I think it is important to note that as church and temple musicians we need to understand our history as well as our traditions. We need to understand how they are related to one another. As we journey from Jerusalem on Palm Sunday through Holy Week and then Easter please be mindful of these traditions. Your fingertips can bring many of these traditions together as one. Through your music you will bring people closer to God. Let your musical voice be heard! Remember last month I mentioned the video "The Joy of Bach" and the phrase that is attributed to J.S. Bach?
"Music is my voice and the Organ my pulpit"

This year more than ever it is important to be on top of your craft with an urgency that is akin to a shooting star. Be blazing in your approach to your hymnody. Give great authority and command to your music. You will be setting the tone for those individuals searching for comfort during times of great changes taking root around our lives.

Our journey begins with Palm Sunday, April 5 and culminates April 12. Our Orthodox brothers and sisters begin their journey on April 12 and conclude on April 19. A Blessed Easter to all traditions during our high holy days (holidays) of our Christian Calendar.

Our temple musicians begin Pesach (Passover) sundown on Wednesday, April 8, with conclusion on April 15. A warm Seder and a Blessed Passover.

Blessings on ALL our Music Ministries – We will be busy indeed!

Our annual Chapter Members Recital will be held on Sunday, May 31, 2009 at 3:00 PM – Poughkeepsie United Methodist Church. Please watch this space regarding practice schedules and further details. Take part in this recital. Remember, we are still in The International Year of the Organ. Plan to participate.

Shortly you will be receiving our annual election ballot regarding our AGO Chapter Executive Committee and Dean. I have decided that at the end of June 2009 I will not run for a second term as your dean. My work schedule has become increasingly more demanding. Beverly Simmons, our present sub-dean, will be running on the up and coming election as dean. Beverly has been an exceptional sub-dean and committee program chair. She has brought wonderful, exciting and educational programs to our chapter. I am confident Beverly will make an exceptional dean.

Spring has sprung! Enjoy this blessed season of great traditions and great music!

Bring people closer to God through your musical ministry and keep our motto shinning brightly! I know I can depend on each of you to do just that.

In His Happy Service and yours I remain….



Gregory J. Citarella+
(SDG)

Membership News

CHVAGO member Dr. Ruthanne Schempf has recently had a new CD release from MSR Classics. Everything on the CD, which is titled "An American Mirage: Exotic Piano Images by Beach, Copland, Foote, Griffes, MacDowell, and Nevin," was written by American composers between the 1880s and 1930. Perhaps only a few composer names would be familiar to music lovers now but these composers were active in New York and knew our Hudson Valley well.

Ruthanne's new CD is currently available from the publisher's website at http://www.msrcd.com/1313/1313.html. It is expected to be offered on Amazon.com in the near future.
Organ Composition Competition

Emma Willard School in Troy, NY has announced an Organ Composition Competition to commemorate the 100th anniversary of the school's Mount Ida campus, and the 40th anniversary of the recently-restored Noack Organ in the Chapel. The composition must be a 3- to 5-minute choral work scored for treble voices (SSA), with independent organ accompaniment, using a text from the second verse of the school's alma mater. A prize of $5,000 is being offered for the winning composition. The deadline for submissions is September 1, 2009. The winning composition will be given its first performance by the Emma Willard Choir during the spring of 2010.

For more information about the competition, visit the web site at http://emmawillard.org/competition/ or write to:
Composition Competition
Emma Willard School
285 Pawling Avenue
Troy, NY 12180
Review of March Program
by Stuart Ballinger
The "Historic Organs of Dutchess County" at St. Margaret's in Staatsburg on March 21 was great. There were about twenty people who attended and provided some "give and
take." Open Console time was available before and after the presentation, as well as refreshments!
My compliments and thanks to Susan LaGrande for picking me up and taking me back home, and to Connie Lacey and Susan for the presentation!!
The Church was as nice as I remember it. Hope there will be a "Part 2 (From 1900 to Present!)."
Deadline for Next Newsletter

We are always glad to receive input for the chapter newsletter in the form of calendar items, reviews of recent concerts and events, biographies, letters, photographs, etc. In order to make sure these submissions can be processed in a timely fashion, please make sure they are received by the 23rd of each month. You may submit newsletter material by mail, e-mail, or phone. Just contact the editor, Susan LaGrande, using the information given below. Remember, the deadline for the next newsletter, to be available the first week in May, is April 23rd.

Editor's Corner

This newsletter is published by the Central Hudson Valley Chapter of the American Guild of Organists. The editor is:
Susan LaGrande
12 Montrose Lane
Wappingers Falls, NY 12590
Phone: 845-226-6496 (home) - Fax: 845-226-1035
e-mail: SUSANEL2@HOTMAIL.COM


Andover Organ Co. Helps Save Local Casavant - Wellesley Hills, Massachusetts

When Sacred Heart RC Church in South Lawrence was closed, the disposition of its 1936 Casavant, Opus 1531, with three manuals and 33 stops, was in grave doubt. Fortunately, St. John the Evangelist RC Parish in Wellesley Hills (MA), a large and active parish, was interested in acquiring a pipe organ. After reviewing the information, a group from St. John's visited Sacred Heart to see and hear the organ. They decided it was just what they were looking for. A contract was signed and a few weeks later, the Andover Organ Company, who had been maintaining the organ for years, removed the organ to temporary storage.

In July 2007 the organ was removed from storage and the rebuilding process began at our shop. The work was essentially a restoration, with no tonal changes, although there is a preparation for the addition of a IV Mixture in the future.

In its original home the organ had been divided into two cases flanking a window, with multi-sectioned pipe fences on two sides of each case. Though these contained over 100 pipes, only 12 were actual speaking pipes; the rest were dummies. In its new home, the organ would have to occupy a single space, filling the rear gallery at St. John's. This required a restructuring of the entire organ and its pieces. Team Leader Matthew Bellocchio re-engineered the organ's layout and designed a new single façade to match the Victorian architecture of the building. This three-sectional façade utilizes some of the original case pieces and pipes. The wood pieces were stripped, modified and refinished. The pipes, which include the 12 real pipes, plus 19 of the dummy pipes, were refinished in a gold paint. The organ looks and sounds very much at home in its new surroundings.

The organ was dedicated on Sunday, October 19, 2008 with Leo Abbott, Music Director of The Cathedral of the Holy Cross, Boston, playing works by Messiaen, Paullus, Sowerby, Vierne and Widor. The program was co-sponsored by the Boston Chapter AGO as a part of the AGO's nation-wide Organ Spectacular, to inaugurate the 2008-09 International Year of the Organ.

Editor's Note – Nice to read a success story once in a while!