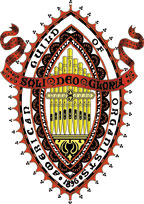 Newsletter
June 2009

Click here for the Newsletter Archive

Click here for a printable copy of the current newsletter


Editor's Note:
The PDF version of this month's newsletter includes a membership application, which appears as page 1, before the regular newsletter masthead. The normal newsletter begins on page 3.
Dear Colleagues and Friends:
June is a time for graduations, weddings, gatherings with family and friends at barbecues and vacations. June is also the time of year when we as organists wind down our schedules to a "Soto Voce" murmur. Life is grand! Each of us works hard to bring people closer to God through the great music of the church. Each of us takes the time and care to practice our hymns and anthems. Let's not forget our prelude and postlude music either. Maybe some of us are even preparing a recital or two. Some of us are swell, great, accomplished and otherwise. We still work hard at all levels of talent and gifts which God has bestowed on us.
Most importantly it is a great time during June to sit back and relax. Enjoy the fruits of our labors throughout the past year. Maybe we even contemplate what next September will bring as we again go back to our bench and set the tone for worship.
Over the years many worships styles have come and gone. I remember growing up as a youngster in the church and seeing guitars begin to populate the altar and the organ fall into disrepair. My heart sank. I felt wounded and abandoned. I felt threatened as a youngster thinking that perhaps my days were over as a church musician before they even had begun. One thing I have learned in my 53 years of living is that nothing stays the same forever. Things do come around full circle if you hang around long enough. I am seeing that circle more these days. After all, God only gives you what you can handle.
I am convinced that we as church organists will be serving God and his people for many centuries hence. We will be educating more of our students in the "cantus firmus" of hymnody along with the wonderful art of organ performance. Our trade is only threatened if we allow ourselves to sit back and be complacent. We need to constantly hone our craft and keep our sights high. Supporting your chapter is not enough. We need to be support each other as the foundation of a tradition that will continue to nurture our young and continually test and develop our own skills.
Corporate America has been asking its employees to keep improving their skills for many years. They require employees to stay on top of cutting edge technology by improving skills through continued education. This is nothing new for church musicians. Since before the time of Bach church musicians have been sharpening their skills, raising the bar and pushing our knowledge of organ building, choral conducting / singing, pedagogy, registration and memorization to greater heights.
There is no doubt in my mind that our tradition and craft is well positioned going forward.
As your dean I can tell you that your AGO Chapter Board members have been diligent in bringing to you the very best in events, programs, workshops, professionalism and support. They will continue to do so as long as we hold our motto high for all to see and realize that we are a craft and a tradition of what we believe in we live. You may remember in one of my earlier letters I used the phrase "Lex Orandi, Lex Credendi" (Latin loosely translatable as the law of prayer is the law of belief).
I have every belief that 100 years hence there will be even more different styles of worship. Though, when all is said and done, the American Guild of Organists and our Chapter will remain steadfast to its mission statement:
"The purpose of the American Guild of Organists is to promote the organ in its historic and evolving roles, to encourage excellence in the performance of organ and choral music, and to provide a forum for mutual support, inspiration, education, and certification of Guild members."
During my tenure as your dean you have supported me through many wonderful achievements. You were there when we had to bid farewell to colleagues who went home to our Father. You were there for me and you helped me to be strong.
I look fondly on our journey together. I always thank God for his guiding hand over our musical ministries which each of us brings to those churches we serve. Thank you all for kind words and encouragement.
I will continue to be on the chapter board in an "ex officio" capacity (non-voting board member). Basically, I will be advisory, pitching in wherever I can.
In closing, I wish you all a wonderful and safe summer. I look forward to a little quiet time in Scotland where I will be visiting friends.
Thank you, God, for allowing me the pleasure of serving this chapter as dean.
I know we can count on each other to keep our motto brightly shining for all to see and know that we are what we believe:
"Soli Deo Gloria"
"Let everything that has breath praise the Lord. Hallelujah!" (Psalm 150: 6)
In His and Your Happy Service I remain….



Gregory J. Citarella+
(SDG)

Reminder

Don't forget the Choral Reading coming up on Sunday, June 14 at 4:00 PM. It will be held at Holy Trinity Church on Main Street in Poughkeepsie. Publishers represented will be Concordia, Augsburg, GIA, and MorningStar. Laura Russell will direct and Darren Motise will provide accompaniment. Bring your choir!

Deadline for Next Newsletter

We are always glad to receive input for the chapter newsletter in the form of calendar items, reviews of recent concerts and events, biographies, letters, photographs, etc. In order to make sure these submissions can be processed in a timely fashion, please make sure they are received by the 23rd of each month. You may submit newsletter material by mail, e-mail, fax or phone. Just contact the editor, Susan LaGrande, using the information given below. Remember, the deadline for the next newsletter, to be available the first week in July, is June 23rd.

Editor's Corner

This newsletter is published by the Central Hudson Valley Chapter of the American Guild of Organists. The editor is:
Susan LaGrande
12 Montrose Lane
Wappingers Falls, NY 12590
Phone: 845-226-6496 (home) - Fax: 845-226-1035
e-mail: SUSANEL2@HOTMAIL.COM