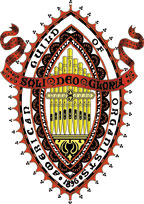 Newsletter
July 2009

Click here for the Newsletter Archive

Click here for a printable copy of the current newsletter



Dear Colleagues and Friends,

What a nice time of year for all of us. For many we are no longer holding weekly choir rehearsals. We are hopefully taking some vacation time or at least some down time. And best of all there is more daylight for whatever outdoor activities are beckoning to us. (Assuming the constant rain from the last few weeks finally stops!)

Our June program of anthem reading was a wonderful way to start the summer. I have always found this time of year the best for planning my choir music for the upcoming season. If you are in a liturgical church it is easy to plan very specifically since we know in advance what the lessons will be for any particular Sunday. But even in a non-liturgical setting you can roughly plan out the seasons.

Laura Russell did a superb job of choosing and conducting 26 different anthems from 4 publishers. Darren Motise was our accompanist and made it easy for us to sing along, helping with notes when he sensed it was needed and otherwise playing the accompaniments perfectly. An added benefit was the flute player from Lauraís choir who gamely played on her flute any instrumental part (from oboe to trumpet) that an anthem called for.

Unfortunately the attendance was less than we had hoped and planned for. As a result, I have a few extra packets of music. If you would like one please call (845-463-1249) or email me (beverlysim@verizon.net) and as long as supplies last you can have one. (Iíll bring them to the picnic unless you want to arrange to get it sooner.)

And that brings me to our annual AGO picnic. Eric Hepp has graciously offered to host us again this year. Please plan to join us at 3:00 PM on July 19th. Bring something to go with the hot dogs and hamburgers that we will furnish (salad, dessert, drinks, etc.) and plan on a relaxing afternoon with your colleagues. Spouses and significant others are included, too, of course.

Enjoy the summer!



Beverly Simmons, SPC
Dean

Membership News
Erna Loerch writes:
I am writing to let you know that we are moving out of state next month, and so I will not be renewing my membership with CHVC as usual. We will be joining our daughter and her family in Little Rock, Arkansas. Hopefully, I can find opportunities to serve in another church setting there.

Would you please extend my thanks to Greg Citarella for being so caring, as well as Alice Cann and Denise Bassen for cards and calls, especially during my recovery.

Erna R. Loerch

Deadline for Next Newsletter
We are always glad to receive input for the chapter newsletter in the form of calendar items, reviews of recent concerts and events, biographies, letters, photographs, etc. In order to make sure these submissions can be processed in a timely fashion, please make sure they are received by the 23rd of each month. You may submit newsletter material by mail, e-mail, fax or phone. Just contact the editor, Susan LaGrande, using the information given below. Remember, the deadline for the next newsletter, to be available the first week in August, is July 23rd.

Editorís Corner
This newsletter is published by the Central Hudson Valley Chapter of the American Guild of Organists. The editor is:
Susan LaGrande
12 Montrose Lane
Wappingers Falls, NY 12590
Phone: 845-226-6496 (home) - Fax: 845-226-1035
e-mail: SUSANEL2@HOTMAIL.COM