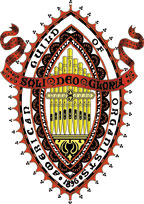 Newsletter
August 2009

Click here for the Newsletter Archive

Click here for a printable copy of the current newsletter



Dear Colleagues and Friends,

It's the middle of the summer and we have just enjoyed our AGO picnic. Many of you are off doing your own form of relaxing which is very important, although we did miss you at the picnic.

It is also the time when you need to renew your membership in the AGO. It's easy to forget such things at this time of year so why not take a moment now and send in your renewal to Eric Hepp at 24 Lor Mar Court, Wappingers Falls, NY 12590. If you have questions call him at 845-790-3381.

Laura Russell, our secretary, attended the Regional AGO convention in Boston. I asked her to describe it for those of us who didn't attend. Her report is in this newsletter.

That brings me to the National AGO Convention next year, July 4 -8, in Washington, DC. NOW is the time to plan on attending. It will, I'm sure, be spectacular. I attended the National there about 30 years ago and it was marvelous. I grew up in the DC area and I can attest that there are many wonderful organs in the area. You can check out their web site at www.AGO2010.org. So that you can start saving now, the regular early registration fee will be $340 ($300 for Seniors). By planning now you will be ready with the cash so you won't have to pay the later fee (after February 14) of $410.

The hotel cost is $179 a night for a double or single. So start asking around now for a roommate to save those extra costs. (If you need help finding a roommate you can email me and I'll let you know who else is looking.)

There are several possibilities for getting to DC. The two most practical would be a car pool (or van pool?) or taking Amtrak. That part of the discussion really can wait until later. Just start thinking about it. But my point is: PLAN NOW TO ATTEND!

Enjoy the rest of the summer and don't forget to attend BachFest on the last two weekends of August, especially the St. Matthew Passion on Saturday, August 29th at 7 PM at Christ Church, Poughkeepsie. The previous night, on August 28th at 7:30, Gail Archer will be giving a Bach recital at Christ Church. Check it all out on our web site or go to www.Hudsonvalleysocietyformusic.org.

Soli Deo Gloria,



Beverly Simmons, SPC
Dean

The Landmarks Convention
A Report on the American Guild of Organists Regions I and II Joint Convention,
July 1-4, 2009 – Boston, MA
by Laura Russell
I attended the pre-convention concert given by Stuart Forster who played an organ recital on the new Schoenstein Organ at Christ Church Cambridge – a position E. Power Biggs once held.
The Convention's Opening Worship Service took place Wednesday morning at the Saint Cecilia Church. On the Smith & Gilbert, Nobscot Organ, Balint Karosi played the Prelude and Postlude, which included Duruflé's Prelude from Suite Op. 5 and Vierne's Intermezzo and Toccata and his own "Trumpet Toccata". Clergy from a variety of faith traditions read scripture and reflected on the role of music in our professional and spiritual lives.
Wednesday afternoon workshops that I attended included: "Organ Music of Mendelssohn" presented by Mark Dwyer; "Hymn-playing" presented by Mark Engelhardt; and "Improvising at the Organ" presented by David Briggs. This last workshop was fabulous! He is a truly amazing improviser!
The Gala Concert Wednesday night at Symphony Hall was amazing! It featured James David Christie, organist, accompanied by the New Philharmonia Orchestra. The program opened with the Cortège et Litanie, Op. 19, No. 2 by Marcel Dupré, the Concerto in G Minor by Francis Poulenc, and Jean Langlais' Hymne d'Action de Grâces, Te Deum, Op. 12b, Vierne's Pièce Symphonique and Guilmant's Symphony I in D Minor, Op. 42.
Thursday morning opened with a recital by David Briggs on the Aeolian-Skinner organ at Church of the Advent. I attended this concert where David played Symphonie No 2 in E minor Opus 20 by Louis Vierne and Three Preludes and Fugues 'en homage à Marcel Dupré', written in 2009 by David Briggs himself.
I attended the Regional Leadership Luncheon for Region II, which I found fascinating. Each Chapter gave a brief snapshot of programs and activities in their own area, and there were lots of interaction, comments, and questions. In fact it was so engaging that I missed part of the afternoon workshops! I think more time should be allotted to such meetings at future Regional Conventions. Here is an overview of the meeting:

Some chapters actively involve local clergy in their activities, encouraging them to attend/co-sponsor musical events and music/worship workshops, and even encouraging them to join the local Chapter. One chapter had an annual Organist/Clergy banquet with a speaker, which was very popular.


Some chapters host a Choir Festival once a year; some host a Children's Choir Festival. A couple held scholarship recitals to help raise funds for lessons for young organists or for music school funds for students on the college level.


Many chapters have an annual picnic and a members' recital, as we do. Many chapters hosted Pedals, Pipes & Pizza events, seasonal Evensong services, workshops on choral techniques and on rehearsal techniques, workshops on improvisation, and organ crawls.


Many hold anthem reading sessions a couple of times a year. Sometimes they read new anthems, provided by publishers; sometimes individual organists/choir directors open up their church anthem libraries and they read through each others' anthem selections. This sounded quite doable!


One chapter mentioned that each year, a Board member would call/e-mail all of their Chapter members and ask them: 1. Why did you join? 2. What do you like that we are doing? 3. What should we do differently? 4. Is there any area that you would like to get involved in? It sounded like a great way to engage members and to get feedback on programs.
Thursday afternoon workshops included "The Reformation and its Music in Church, School, and Home" presented by Christopher Brown; "Handel's English Language Choral Works" presented by Donald Teeters; and a workshop about "AGO Certification Exams". I have copies of the most recent AGO guidelines which I will give to our Dean.
Thursday night's concert at the First Church of Christ, Scientist featured Diane Meredith Belcher playing the Aeolian-Skinner Organ. I basically agree with the review available at classical-scene.com!
The Friday morning concert I attended was played by Christa Rakich. The venue was the very modern First Lutheran Church using the Richards & Fowkes organ. After attending concerts in many historic buildings, this was quite a change! Rakich played a program of Buxtehude, Bach, Franz Tunder, Böhm, and Mendelssohn, as well as playing the Convention Commission piece "Suite Breve" written by Craig Phillips (b. 1961). This work, in five movements, showed the organ off well. Movement titles: I. Prelude (for the Foundations); II. Impromptu (for Flutes and Mutations); III. Fanfares (for the Reeds); IV. Lament (for Strings); V. Epilogue (for Full Organ). Each movement stands on its own and could be used either for concert performance or as service music.
I attended the Regional Business Meeting during lunch on Friday. It was not very worthwhile or very well organized, partly because Region II Councilor David Macfarlane was not present due to the sudden death of his mother. However, in my opinion there should have been a clear agenda of items to be discussed that could have been led by any number of knowledgeable people in attendance. Instead it was a waste of time for the most part.
On Friday afternoon I attended a series of Anthem Reading Sessions presented by GIA, Paraclete Press, Advent Press, Morningstar, and E.C. Schirmer publishers. The organization of these anthem reading sessions left a lot to be desired. Although there were a variety of conference rooms with pianos available in the hotel, the organizers chose a VERY long, narrow room and a poor electronic keyboard to present the anthems. Although conventions attendees were asked to pre-register if they wished to attend the Anthem Reading sessions (which I did), the sessions were very over-crowded, and more than half of the participants could neither hear nor see the presenter. I have attended many ACDA Choral Conventions where participants who pre-registered were given anthem packets when they registered. This was not done, and there were not enough nearly enough anthem packets to go around. This should be fixed next time around! I also thought that there were not enough anthems of really good quality presented.
Friday night I attended the Brass & Organ Spectacular concert at Trinity Church, Copley Square performed by Majestic Brass and Barbara Bruns, organ. The incredible acoustics of the Copley Square Church were used to good advantage by the brass, who played a number of antiphonal works from three different balconies around the church. The program included music by Britten, Gigout, Vaughan Williams, Gabrieli, Pinkham, Beethoven, Arnatt, Stephenson, Webster. The finale was a performance of the Toccata from Widor's Fifth Symphony arranged for organ and brass. It was a very exciting concert, but in my opinion the brass stole the show from the organ.
The final Convention Concert was a performance by organist Peter Krasinski who improvised accompaniment to the silent movie "Old Ironsides" (1926) on the ultra-orchestral Skinner Organ in Old South Church. It was a rousing performance that ended the convention on a wonderful note.

Deadline for Next Newsletter

We are always glad to receive input for the chapter newsletter in the form of calendar items, reviews of recent concerts and events, biographies, letters, photographs, etc. In order to make sure these submissions can be processed in a timely fashion, please make sure they are received by the 23rd of each month. You may submit newsletter material by mail, e-mail, fax or phone. Just contact the editor, Susan LaGrande, using the information given below. Remember, the deadline for the next newsletter, to be available the first week in September, is August 23rd.

Editor's Corner

This newsletter is published by the Central Hudson Valley Chapter of the American Guild of Organists. The editor is:
Susan LaGrande
12 Montrose Lane
Wappingers Falls, NY 12590
Phone: 845-226-6496 (home) - Fax: 845-226-1035
e-mail: SUSANEL2@HOTMAIL.COM.