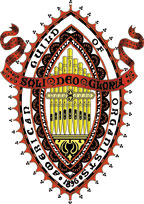 Newsletter
October 2009

Click here for the Newsletter Archive

Click here for a printable copy of the current newsletter



Dear Colleagues,

As I write this, fall has officially arrived but we are having summer-like weather! One never knows quite what to expect in the Hudson Valley at this time of year.

We do know, however, that our churches are back in full swing after a bit of a lull this summer. And for temple organists this is the busiest time of year with the High Holy Days.

Unfortunately we had to cancel our first program of the season due to everyoneís busy schedule. When I asked for responses of who could come it seems there would have been three of us there! For all of us who work with choirs, even just some of the time, we can benefit from what Christine Howlett has to say. So this important topic will be rescheduled after the first of the year. Weíll give you plenty of advance notice so you can put it on your calendar.

Now to our very exciting October program: the Hymn Festival on October 18th at 3 p.m. This is an example of your dues at work (plus some of what we brought in when we hosted the Regional Convention). We really need everyone to participate AND to bring along anyone who enjoys singing hymns. This is not just for the AGO or even just for choir members. This is for EVERYONE who ever sings a hymn in church. So please spread the word! If you are receiving this on the web you will find a printable flyer on our website. Go to calendar, find Oct. 18th and click where it says. Letís get these posters up in our churches.

So what do you say if someone asks (as I did recently), what is a hymn festival? Eric gave me a wonderful definition when he said it is a celebration of worship through the creative playing and singing of familiar hymns, usually grouped around a theme. We will be led by Rick Erickson from Holy Trinity Lutheran Church in Manhattan. Rick will be leading and teaching a number of older and newer hymns focusing on the wonderful seasons of fall - focuses on Education, Reformation, All Saints, Harvest and the onset of Advent. Singers of all experience
levels and ages are encouraged to attend - we would love to see the sanctuary filled with organists, choir directors, and members of your congregations. He has led many such hymn festivals around the country and at musical conventions. Let people know that the organ at West Point, with 23,511 pipes, is the largest pipe organ in the world in a church setting.

Since West Point is a military base be sure to tell those who are coming that they will need to have a photo ID with them and allow extra time to get through the security check to get on base. (Yes, even if you arenít the driver you need photo ID!) Also, since parking is limited and often at a distance, it would be smart to car pool when possible. (There is no charge for this event as with all programs at the Cadet Chapel.)

So letís all come together on October 18th at 3 p.m. at the Cadet Chapel. With Rickís skillful and colorful accompaniments, our voices joined with many others from the Hudson Valley, and the power and beauty of the West Point organ in the magnificent setting of the Cadet Chapel will surely make for a memorable afternoon.

See you there!



Beverly Simmons, SPC
Dean
Deadline for Next Newsletter

We are always glad to receive input for the chapter newsletter in the form of calendar items, reviews of recent concerts and events, biographies, letters, photographs, etc. In order to make sure these submissions can be processed in a timely fashion, please make sure they are received by the 23rd of each month. You may submit newsletter material by mail, e-mail, fax or phone. Just contact the editor, Susan LaGrande, using the information given below. Remember, the deadline for the next newsletter, to be available the first week in November, is October 23rd.

Editorís Corner

This newsletter is published by the Central Hudson Valley Chapter of the American Guild of Organists. The editor is:
Susan LaGrande
12 Montrose Lane
Wappingers Falls, NY 12590
Phone: 845-226-6496 (home) - Fax: 845-226-1035
e-mail: SUSANEL2@HOTMAIL.COM