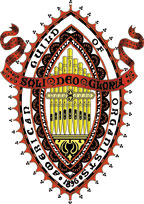 Newsletter
November 2009

Click here for the Newsletter Archive

Click here for a printable copy of the current newsletter



Dear Colleagues,

I'm writing this on a raw fall day in late October as the leaves are rapidly falling from the trees. It is obvious that Autumn is here to stay. So now it is time to turn to our many indoor activities. Along with all of your choir rehearsals and practicing I hope you will take time to enjoy some of the concerts listed on our calendar page. There are always more than I have time to attend, but the ones I do attend I always enjoy.

If you were able to be at the Cadet Chapel at West Point last Sunday you certainly had a treat. Rick Erickson's improvisations as he introduced the hymns were varied and masterfully thought out. He had us singing in unison, in parts, men and women separately and in canon. We even experienced a "wave canon" starting at the back of the chapel and working its way forward. What fun it all was! I had both parishioners and choir members from my church (and my priest) and they all loved it. Many thanks to Craig Williams for his part in getting this off the ground.

Coming up very soon, on November 7, is our Pedals, Pipes and Pizza on both sides of the river. Please pass on the information to any piano teachers you know and to any students who might like to attend. No pre-registration is necessary but you can call Margaret Small or Laura Russell for more information.

The next program for the chapter is on November 21st from 2-4 p.m. at First Lutheran Church in Poughkeepsie. Bob Chase will be leading a workshop about the requiem. When I asked him to explain what this was all about he gave me this answer.

This workshop is intended to introduce to the choirmaster, choral conductor, and organist, a variety of repertory of memorial music that is available for performance.

To be sure, everyone is familiar with the Mozart and Brahms requiem...but what about the requiem settings of Schnittke, Stanford, Lobo, or Cimarosa? All are excellent, inspired works, yet they are pieces that are rarely performed and the difficulty level is on a par with Mozart and Brahms.

The workshop draws upon material found in my two books, dedicated to the topic of memorial music (of the concert kind): Dies Irae: A Guide to Requiem Music and Memento Mori: A Guide To Contemporary Memorial Music (both published by Scarecrow Press).

The former book includes a discussion and analysis of 250 requiems, dating from the Gregorian original, up through those of the twentieth century. The traditional Roman Catholic requiem, as well as those of the Eastern Orthodox, German, Anglican, and secular varieties are included. The latter book includes only memorial music of the 20th and 21st centuries (about 80 works) ... and none of these pieces are found in the first book.

We will hear short samples from 10-12 requiems with a discussion on style and the composer's biography.

Bob first gave a requiem workshop at the AGO National Convention in Los Angeles (2004) to an oversubscribed audience. Since then, the workshop has been given to several AGO chapters, to the faculty and graduate composition students at the University in Warsaw, Poland, and to the students of the Music Conservatory in Beijing, China.

Since knowledge about the requiem seems to be limited for most of us to the half-dozen, sure-fire audience pleasers: Mozart, Rutter, Brahms, Cherubini, Faure, and Britten, perhaps this workshop will expand, at least temporarily, our horizons. We might even find ourselves programming one of them next year.

At our last Board meeting we discussed the need for someone to act as the historian of our chapter. We have a file cabinet of information, some of it organized, some not. Is there someone out there who would enjoy putting the information in order and keeping it up to date? Please let me know if this interests you.

Before finishing this article I want to ask you to keep several very special people in your prayers: Frank LaGrande (husband of Susan) is consulting with doctors on his options for treatment following cancer surgery. Also please keep Jack Davis in your prayers as he continues to struggle with health issues. In addition, Laura Russell's mother died very recently, so please keep her in your prayers as well. May God bless each of you with healing and with peace.

Soli deo Gloria,



Beverly Simmons, SPC, Dean

Membership News

• Welcome to our newest members:
o Susan MacNish
83 Valley View Road
Pleasant Valley, NY 12569
Phone: 845-635-3814
macnish1946@yahoo.com

o Barbara Bayers
535 Grand Avenue
Newburgh, NY 12550
Cell phone (no home phone): 203-260-4295
Barbara writes: I've "retired" after a career of 48 years playing in the state of CT…mostly Fairfield County. Grew up in the Episcopal church, so am comfortable with the liturgy as well as Lutheran. Last position was MD/O Orange Congregational Church, (suburb of New Haven) 2 singing choirs, (32+ in adult choir and 20+ in a Youth choir, gr. 7-12), directed a level 4 Handbell Choir. The 25+ member Jr. Choir & their director also were under my supervision. I've been an active member of the Bridgeport Chapter (and New Haven Chapter) AGO, holding several offices through the years and I'm planning on participating in activities/events with my new chapter. Am a retired public school educator, holding two masters degrees.
We look forward to meeting you, Barbara!

• October was a big month for member Joseph Bertolozzi. October's Hudson Valley Magazine® voted his public sound-art project "Bridge Music" one of the best things to come out of the Hudson Quadricentennial in their annual Best of the Hudson Valley® issue. He also received the 2009 Dutchess County Executive's Arts Award for excellence as an Individual Artist. Congratulation, Joe!

• On November 1, your newsletter editor Susan LaGrande received her Black Belt in Tang Soo Do, a traditional Korean martial art. She has been studying and training for over four years to accomplish this goal. You can read about her experiences in her blog at www.karategrammy.blogspot.com.

• Jay and Jeanne Shupe have headed south for the winter. Their address is:
Mr. & Mrs. Jasper A. D. Shupe, Jr.
219 South Ridge Drive
Garner, NC 27529-7674

Notes on Gail Archer Concert

Gail Archer's concert on October 25 drew about 100 people, including Stu Ballinger, who was kind enough to send us the program, along with some comments on the selections:
Sonata I, Op 65, no. 1 by Felix Mendelssohn- Bartholdy
"This well-known show piece is featured on the video "Pulling Out All the Stops"

Sechs Fugen über den Namen Bach, Op 60, no. 5 by Robert Schumann

Prelude for Organ in F Major by Fanny Mendelssohn Hensel

Sechs Fugen über den Namen Bach, Op 60, no. 6 by Robert Schumann
"This piece and the two preceding it are not so well known, but delightful!"

Elf Choralevorspiele by Johannes Brahms
"Exquisite – beautiful!"

Fantasie und Fuge über B-A-C-H, Op 46 by Max Reger
"A surprise – Ms. Archer used the 16' manual stops, and at the end she brought in the 32' Contra Bombardes (what she called the 'Honkers'!)"

Concert notes are always a welcome addition to our newsletter! Please send your reviews to the editor at the address listed below.

Deadline for Next Newsletter

We are always glad to receive input for the chapter newsletter in the form of calendar items, reviews of recent concerts and events, biographies, letters, photographs, etc. In order to make sure these submissions can be processed in a timely fashion, please make sure they are received by the 23rd of each month. You may submit newsletter material by mail, e-mail, fax or phone. Just contact the editor, Susan LaGrande, using the information given below. Remember, the deadline for the next newsletter, to be available the first week in December, is November 23rd.

Editor's Corner

This newsletter is published by the Central Hudson Valley Chapter of the American Guild of Organists. The editor is:
Susan LaGrande
12 Montrose Lane
Wappingers Falls, NY 12590
Phone: 845-226-6496 (home) - Fax: 845-226-1035
e-mail: SUSANEL2@HOTMAIL.COM