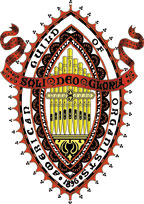 Newsletter
December 2009

Click here for the Newsletter Archive

Click here for a printable copy of the current newsletter



Dear Colleagues,

As I sit down to write this Thanksgiving is only a few days away. I hope you will all take a few moments to reflect on all that we have to be thankful for. For me, my church and its ministry are close to the top of the list along with my family and close friends. Iím thankful to have reasonable health Ė something I used to take for granted in my younger years. Thereís nothing like being a cancer survivor to make you realize what a gift it is to be alive. And Iím thankful to be a musician who can help lead the praises of others through my ministry. Iím sure you can each come up with your own list even as you may be struggling in some areas of your life.

This past month saw several AGO activities. We hosted Pedals, Pipes and Pizza on both sides of the river. Although turnout was small, the enthusiasm and interest were great. Thanks to Margaret Small and Eric Hepp who did the program in Newburgh, along with Laura Russell who hosted on the eastern side of the river.
On Saturday, the 21st a few of us gathered to hear a program on the Requiem given by Bob Chase. What an eye opener! Over a 10-year period he has become an incredible expert on the subject, having analyzed more than 1700 of memorial pieces from all periods of history. The majority of the composers are unknown to most of us, but from the examples we heard they should all be better-known.

Jack Davis has recently retired after 23 years at the Reformed Church in Poughkeepsie. He was honored at a luncheon and named organist emeritus. Congratulations, Jack! We hope to see you at some of our programs.

It may be of interest to some of you that the ACDA (American Choral Directors Association) and the AGO have signed an agreement to work together on collaborative goals and reciprocity between the organizations. If you are interested in more information go to http://acda.org/index.php?q=news/acda-and-ago-sign-collaborative-agreement.

I was asked to include the following announcement: The next Carlene Neihart International Pipe Organ Competition will be held on April 10, 2010 in Kansas City, Missouri at the Second Presbyterian Church. The 1949 MŲller Pipe Organ has been rebuilt and restored in 2009 and includes a new movable console. .Contestants from various places in the United States and other countries are expected to enter the competition. The web site organcompetitions.com has more information about the competition.

Again I would remind you to begin thinking about registering for our National Convention in Washington D.C. next July. It may seem early to plan, but you do get a discount if you register before February 14. A savings of $70 sounds pretty good to me! Unfortunately, they donít have their website (www.ago2010.org) ready to receive registrations yet. But keep checking, it should happen any day now.

Christmas is just around the corner. As usual we do not plan a chapter program for this very busy month. But do check our calendar of events and attend the ones you are able to. Many of us are also busy planning and executing our own Advent or Christmas programs. So take a deep breath, remember that we are doing this to the glory of almighty God, and make Him your focus as you practice and play for services.

Have a very Blessed Christmas and a Joyous New Year. Remember that we can gather and exchange stories at our annual Spuds and Sundaes in January. More on that next time.



Beverly Simmons, SPC, Dean

Membership News

ē Joanne Reed has a new e-mail address, effective immediately: joannereed4@gmail.com.

Deadline for Next Newsletter

We are always glad to receive input for the chapter newsletter in the form of calendar items, reviews of recent concerts and events, biographies, letters, photographs, etc. In order to make sure these submissions can be processed in a timely fashion, please make sure they are received by the 23rd of each month. You may submit newsletter material by mail, e-mail, fax or phone. Just contact the editor, Susan LaGrande, using the information given below. Remember, the deadline for the next newsletter, to be available the first week in January, is December 23rd.

Editorís Corner

This newsletter is published by the Central Hudson Valley Chapter of the American Guild of Organists. The editor is:
Susan LaGrande
12 Montrose Lane
Wappingers Falls, NY 12590
Phone: 845-226-6496 (home) - Fax: 845-226-1035
e-mail: SUSANEL2@HOTMAIL.COM