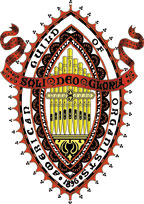 Newsletter
January 2010

Click here for the Newsletter Archive

Click here for a printable copy of the current newsletter



Dear Colleagues,

I hope you have had a wonderful, joy-filled Christmas full of the wonder of the birth of our Savior. And for our Jewish friends I pray that you had a Happy Chanukah. Since that festival began and ended on Friday night I had the opportunity to play for two Chanukah services this year.

As we begin a New Year you may want to make a musical resolution or two: more practice time? Not waiting to the last minute to choose music? Learn that hard piece for Easter that you've always wanted to play? Whatever it is, I hope you get off to a good start.

On a playful note I have a challenge for you. A friend sent this to me and I can't do it. Can you? How smart is your right foot? 1. While sitting at your desk (or anywhere, really) lift your right foot off the floor and make clockwise circles. 2. Now, while doing this, draw the number '6' in the air with your right hand. Your foot will change direction. This will confuse your mind and you will keep trying over and over again to see if you can outsmart your foot, but you can't. It is pre-programmed in your brain! (It is from an orthopedic surgeon.)

Now on to something slightly more serious. On Sunday, January 10th we will meet for our annual social event called "Spuds and Sundaes". I can't host it at Trinity this year as I have for several years since I will be in New Zealand for the month of January. So Gregory Citarella (784 Old Route 9 N in Wappingers Falls) is graciously opening his home to us. We will meet at 5 and be done by 8 (or sooner if you need to leave) Do plan to come and bring any choral or organ music you no longer want, including CD's. We put it all on a table and anyone can have it by making a donation to the chapter. It is always fun to get together without a specific agenda and just have time to talk and share stories. I will miss it!

Once again a reminder to register for our National Convention, to be held in Washington, DC, Sunday through Thursday, July 4-8. I have already registered and have also made a reservation at the hotel for 5 nights. Now I need a room-mate or two. With one room-mate the shared cost for lodging will be $89.50 per person per night. With three of us it goes down to $66.33 per night. So please let me know if you are interested. (No night owls, please, I need my sleep!) I would also like to go with a group either in a van (parking is expensive unless we have a large group to share the cost) or together on the train.

Next month you will hear from our Sub-Dean, Craig Williams, since I will still be away. (Yes, it IS summer in New Zealand although I do plan to hike on a glacier.)

A very Happy and Healthy New Year to each of you.



Beverly Simmons, SPC, Dean

Membership News

• Ruby Hyatt has a new e-mail address, effective immediately: Jhyatt4@gmail.com.

Deadline for Next Newsletter

We are always glad to receive input for the chapter newsletter in the form of calendar items, reviews of recent concerts and events, biographies, letters, photographs, etc. In order to make sure these submissions can be processed in a timely fashion, please make sure they are received by the 23rd of each month. You may submit newsletter material by mail, e-mail, fax or phone. Just contact the editor, Susan LaGrande, using the information given below. Remember, the deadline for the next newsletter, to be available the first week in February, is January 23rd.

Editor's Corner

This newsletter is published by the Central Hudson Valley Chapter of the American Guild of Organists. The editor is:
Susan LaGrande
12 Montrose Lane
Wappingers Falls, NY 12590
Phone: 845-226-6496 (home) - Fax: 845-226-1035
e-mail: SUSANEL2@HOTMAIL.COM