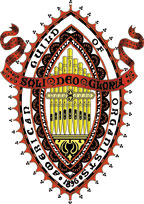 Newsletter
February 2010

Click here for the Newsletter Archive

Click here for a printable copy of the current newsletter



Dear Friends,

This is a letter from the sub-dean because our dean Beverly Simmons is visiting New Zealand this month. Please include her in your prayers for safe travels.

We church musicians are always at a disadvantage because, whereas we have so much we can learn from each other, most of us perform our duties at the same time! AGO conventions, activities and meetings can help us see what other organists and choir directors are doing and gain insights in improving how we administer our programs and ministries.

In this vein, I want to encourage all of you to attend our chapter meeting on Saturday, February 20th at 3pm. Christine Howlett will be leading a seminar on Choral Techniques in Tekla Hall at Vassar College. It is always valuable to gain perspective from an experienced choral director and singer into how to obtain better results from your own church choirs. I was one of those organists who got thrust into choral conducting "by default" – the churches which hired me needed me to conduct the choir in addition to playing. I found early on that good keyboard chops did not automatically translate into superb group vocal technique and wonderful interpersonal skills – just the opposite in my case! But I was very glad to receive additional training in that particular field, and I always welcome an opportunity like Ms. Howlett's seminar to gain further insights into choral leadership. I hope you will join me on the 20th.

Please take the time periodically to look at our calendar. You can see that the American Choral Directors Association is reaching out to the American Guild of Organists with their convention – a natural outreach given what I mentioned above. Also we do have many other opportunities to support each other here in the Hudson Valley other than Sunday mornings. Many of our members give recitals, concerts or special services. Also you see concerts by our local civic and school orchestras and choirs; additionally, groups like Kairos and Cappella Festiva give numerous concerts and opportunities to enjoy the high standard of musicmaking here in the Hudson Valley.

The chapter also encourages members to support your activities. If you have an event you want placed on our Calendar, please contact Susan LaGrande (details below).

I wish you all the best with your Lenten and Easter preparations.


Craig S. Williams
Sub-dean

Membership News

• Stuart Ballinger has a new e-mail address, effective immediately: wa2bss@gmail.com.
• Condolences to Rob Brown, whose mother Jean Brown died recently. She had suffered from Alzheimer's disease and had been in a nursing home for the past two years. The funeral will be at the end of January in England where Rob's two sisters also live. Please keep Rob and his family in your prayers.

Joint Task Force to Support Part-Time Church Musicians
AGO National Council Appoints New Task Force to
Focus Attention on the Needs of Part-Time Church Musicians with Generous Support Provided by Johannus Orgelbouw Ltd.
NEW YORK CITY — The American Guild of Organists (AGO), the largest organization in the world dedicated to organ and choral music, and Johannus Orgelbouw Ltd., one of the world's largest manufacturers of digital church organs with corporate headquarters in Ede, The Netherlands, are pleased to announce a joint partnership supporting the work of the Part-Time Church Musician. Recognizing that a majority of Guild members hold part-time church and/or synagogue employment and that many other organists engaged in part-time church positions are not members of the Guild, the National Council has requested this Task Force to focus attention on the needs of this important constituency within our profession.
To advance this cause, Johannus Orgelbouw Ltd. <www.johannus.com> has committed generous funding to underwrite the functioning of the Task Force on the Part-Time Church Musician. According to John Walker, Vice President of the American Guild of Organists, "This grant from Johannus Orgelbouw not only signifies their shared perception of the imperative need to address the needs of our colleagues in part-time church employment; but it also enables us to move dynamically forward with this important agenda."
Inspired by the Guild's statement of purpose "to encourage excellence in the performance of organ and choral music, and to provide a forum for mutual support, inspiration, education," this Task Force has recently undertaken its assignment to analyze the concerns of those in part-time church employment and to recommend the most effective ways for the AGO to address those areas. AGO Executive Director James Thomashower commented, "Part-time church musicians are a core constituency of the Guild. Many are extremely talented, professional organists, while others are new to the field. We are committed to understanding the scope of their concerns, so that we can develop programs and deliver services that are tailored to their needs."
For further information, please contact Dale Krider, FAGO, Director of the Task Force on the Part-Time Church Musician at <d.krider@comcast.net> or write to Dale Krider, 4512 College Ave., College Park, MD 20740.

Deadline for Next Newsletter

We are always glad to receive input for the chapter newsletter in the form of calendar items, reviews of recent concerts and events, biographies, letters, photographs, etc. In order to make sure these submissions can be processed in a timely fashion, please make sure they are received by the 23rd of each month. However, material such as calendar items may be submitted at any time; even if the material may not make it into the printed newsletter, it can be quickly posted on our web site at www.chvago.org.

You may submit newsletter or web site material by mail, e-mail, fax or phone. Just contact the editor, Susan LaGrande, using the information given below. Remember, the deadline for the next printed newsletter, to be available the first week in March, is February 23rd.

Editor's Corner

This newsletter is published by the Central Hudson Valley Chapter of the American Guild of Organists. The editor is:
Susan LaGrande
12 Montrose Lane
Wappingers Falls, NY 12590
Phone: 845-226-6496 (home) - Fax: 845-226-1035
e-mail: SUSANEL2@HOTMAIL.COM